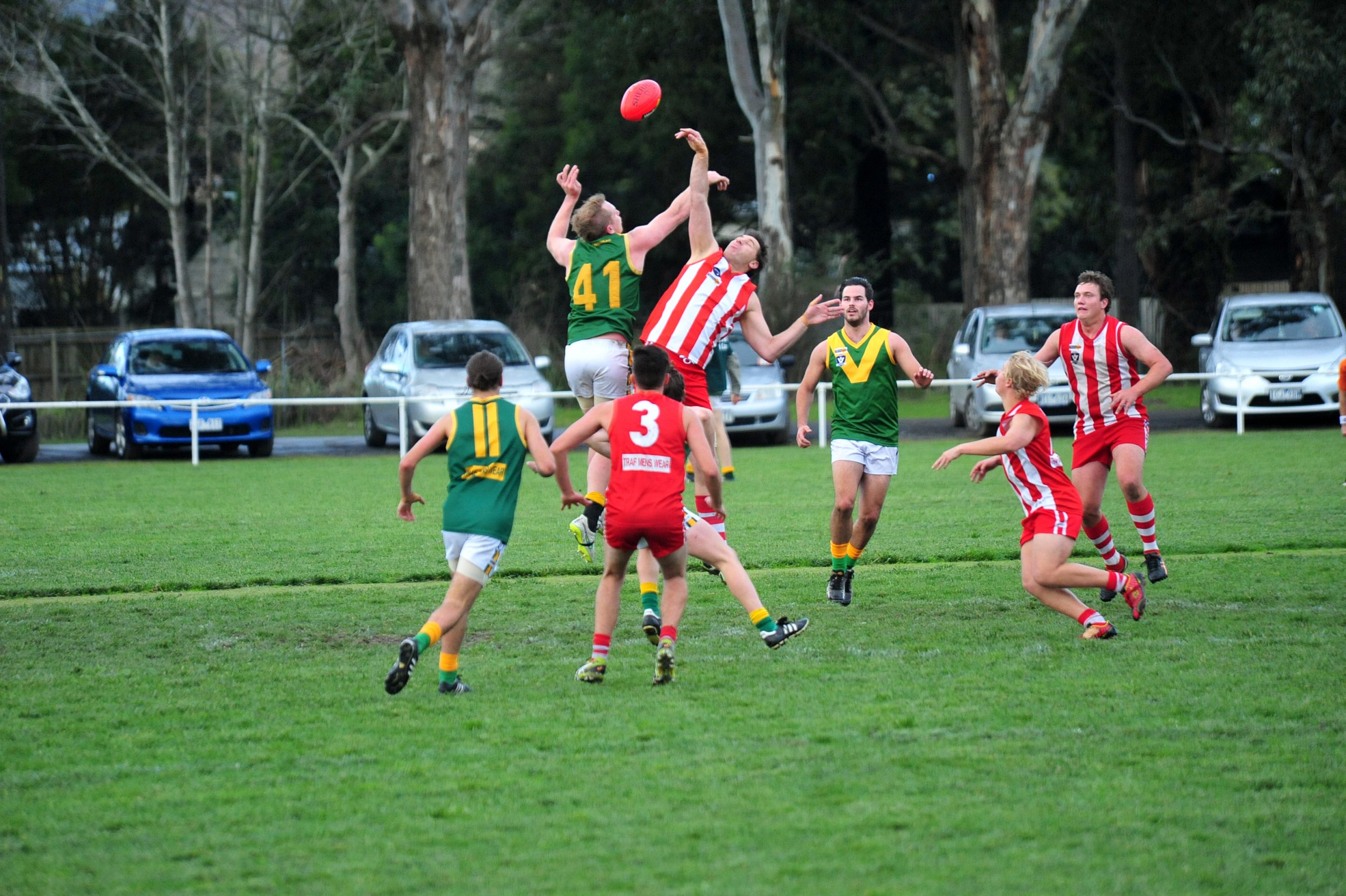 MORWELL East not only christened its new scoreboard with a win but also knocked Mirboo North from top to fourth on the Mid Gippsland Football League ladder.

The Hawks' 12.10 (82) to 10.9 (69) upset over the former competition leader pushed them up into second on the table, just two points shy of Newborough.
It was a record producing match for the East, which scored its first win over Mirboo North since 2010 and the second consecutive week in which it has beaten a top four favourite.
Mirboo North went into the match without some established players who had been the backbone of the team in earlier matches.
The Tigers started off better as Morwell East at times played poorly with disposal problems.
The cold conditions hampered good football but the action was going to get hot over the next three terms.
Mirboo North established an early break in the first quarter and went to a 16-point lead before the East turned up the jets.
Supporters at the huddle were urging the East on but coach Colin King was more respectful to his team and implored them to man up and make Mirboo North do the chasing.
As the second quarter unfolded Morwell East started to play more sensible football, looked for each other and made the breeze work for it.
Shaun Barnes was in everything up forward and experienced Paul Henry was getting plenty of possessions.
The East attacked relentlessly and was rewarded with an excellent quarter in which it added 7.2 (44) to Mirboo North's 1.3 (9) to go to half-time with a lead of 19 points.
At half-time Mirboo North supporters were not happy with the free kick count, 14-2 in the Hawks' favour, and vented their anger.
Mirboo North came out firing after half-time with Dwayne Gunn and Josh Taylor picking up possessions.
Goals to James Allan and Cameron Le Page brought the Tigers back into the match but the Hawks sharpened their talons and dug in to protect the lead.
By three-quarter-time the East still held sway but Mirboo North was within six points at the break.
It was game on in the last quarter; as the skies grew darker the game was evenly contested.
Morwell East's Andrew Brown, who was one of the best big men on the ground, took telling marks which held out an advancing Tiger camp.
It was goal-for-goal but Mirboo North couldn't break Morwell East's stranglehold on the game and the East came marching home by 13 points.
Trafalgar v Hill End
IN the battle at the bottom Trafalgar took over the Balfour Trophy after a hard-fought but entertaining match against Hill End.
It was the Bloods' first win for the season and they moved one step up the ladder, with their eight-point win dooming Hill End to the bottom of the table without a victory.
Hill End made many changes with five players coming back and it looked to be paying off as the Hillmen fought back from a two-point deficit at quarter-time to be ahead by five at half-time.
Tricky wind conditions made good football hard to play, with the boundary umpires having plenty of work to do on the western side.
Scoring was slow in the third with Trafalgar just sneaking ahead.
Matt Robertson got a couple in the third to put his team within a shadow of Hill End but two goals near the siren allowed Trafalgar to overtake Hill End to take a nine-point lead by three-quarter-time.
It was up for grabs in the last with both teams striving for that elusive four points.
Isaac Ketchen was proving a headache for the Trafalgar defenders and twice he snuck through for two good goals.
Trafalgar replied and it went down to the wire, with the Bloods hanging on to record their first victory for the season 11.11 (77) to 10.9 (69).
Hill End's Ketchen finished with four and Robertson was Trafalgar's best with three.
Thorpdale v Newborough
BOTH teams had 20 effective shots at goal but it was Newborough which finished ahead over Thorpdale.
The Dogs were more accurate to finish 20-point winners but the result could have been different had Thorpdale steadied in front of goal.
It was a 5.3 (33) first quarter which set the Bulldogs on their path to top spot on the ladder.
A loud cheer went up when news filtered through that Morwell East beat Mirboo North to give the Doggies pole position.
Thorpdale could not master the wind and many direct shots went astray.
The Blues' last quarter effort of 2.7 (19) to 1.0 (6) could have made a big difference but it was not to be as Newborough, with eight players scoring goals, finished ahead 11.9 (75) to 7.13 (55).
Yarragon v YYN
YARRAGON failed to eclipse last year's effort of four wins this round and went down to a more determined Yallourn-Yallourn North side.
The Bombers jumped into third after their 58-point win, the biggest margin of the round.
Led by league leading goalkicker Dean MacDonald (four) and Barry Brooks (three) the Bombers were always in command.
Last year's grand finalist was especially effective after half-time.
For the first two quarters it was a competitive match, with Yarragon keeping in touch, but after half-time it was one goal to 10 in a poor return for the Panthers.
YYN's last quarter of 7.2 (44) broke Yarragon down as the Bombers cruised to a 14.11 (95) to 4.3 (27) win.
Interleague representatives Tyler Brown and Todd Dobson were excellent for the Bombers.
Boolarra v Yinnar
ALTHOUGH Yinnar had a sound win over Boolarra the reigning premier still couldn't get back into the top four.
The Magpies were surprised by Boolarra's tenacity in the first term as the Demons racked up a season best 5.3 (33), but the Magpies were also on target and booted 4.1 (25) for a nine-goal opening term.
Boolarra fell into a hole in the second and could only manage four minors while Yinnar doubled its score.
It was one of Boolarra's better games this season with some positive aspects coming out and Yinnar had to work hard.
The Magpies eventually ran out winners 13.5 (83) to 11.8 (74).