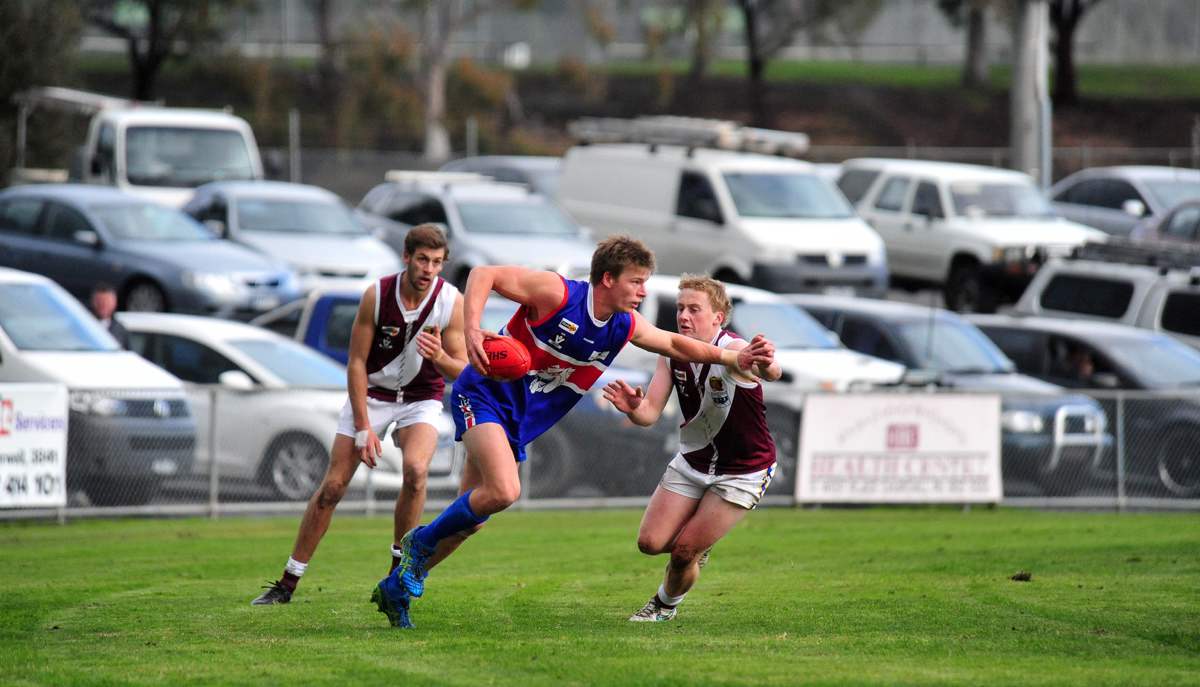 NORTH GIPPSLAND FOOTBALL-NETBALL LEAGUE

CHURCHILL and gruelling conditions conspired to bring Sale City's unbeaten run to an end in round 12 of North Gippsland Football Netball League competition on Saturday.
With Gaskin Park already heavy under foot from recent rain, a half-time downpour ensured the second half was a battle of attrition.
A Tim Darby major at the 12-minute mark of the final term proved the final goal of the game, as the Cougars hung tough to deny the visiting Bulldogs a 12th straight win, 9.8 (62) to 8.8 (56).
Churchill coach Allan Chandler was pleased with the way his players responded under pressure.
"The ball was more than 50 per cent in their forward half in the last quarter and the last 10 minutes especially we tried to batten down the hatches and stop them from scoring," Chandler said.
"We had to battle for four quarters and it gives us a bit of confidence and belief.
"It was nice to redeem ourselves after last week's loss to Heyfield and being the first side to knock off Sale City is a feather in our cap as well."
Sale City shaded a tightly-contested first half, in which both sides registered 11 scoring shots, but scoring dried up after the main break, with the Bulldogs only managing one goal to the home side's three.
Midfielders Chris Williams (two goals) and Travis Brighton shone for the Cougars, while Jarrod Broadbent and Jordan Fenech held firm in defence – the latter holding Jacob Schuback to one goal.
Harrison Kaandorp and Josh Tollner maintained their good form for Sale City and Tom Bowman kept Churchill star Brendan Holt to one goal.
Matt Lutze got through his return from long-term injury unscathed, while coach David Piasente got another game under his belt after a two-month layoff.
Piasente conceded his side was second best on the day.
"Watching the reserves you could tell it was going to be one of those days when you try not to go too wide, come through the corridor and limit possessions," Piasente said.
"We didn't make the most of our opportunities and gave away some early goals from our kick-outs, but we while we lost we didn't raise the white flag. The attitude and effort we showed was still good."
Piasente would happily have continued winning, but said defeat showed the health of the current competition.
The Bulldogs remain two games clear of Churchill and Woodside at the top of the ladder.
Heyfield v Yarram
Heyfield moved ahead of Yarram with a narrow win at Gordon St Reserve.
On a day when both clubs paid their respects to Indigenous culture, it was the Kangaroos that got the job done on the scoreboard, winning 8.7 (55) to 5.12 (42).
Nick Dowse, Scott Anderson and Jack Woodland were the home side's best performers, but Jesse Jackway's three goals proved crucial in the low-scoring contest. Playing coach Chris Pettitt and leaders Griffin Underwood and Chris Bruns all battled hard for Yarram.
Cowwarr v Rosedale
Rosedale kept its finals hopes alive with a much-needed 24-point win against Cowwarr.
After three see-sawing quarters, the Blues tightened the screws in the final term to secure a 15.7 (97) to 11.7 (73) win and keep within one game of the top five.
Jack Tatterson booted four goals and Brandon McDonald and Frazar Brouns three apiece, while skipper Dale Fleming and Luke Stuckey led from the front.
Pat Tainsh and Simon Ferguson and stood tall for the Saints and Vincent Johnston and Brad McBride finished with three goals each.
TTU v Glengarry
A blistering final term led Traralgon-Tyers United to a 39-point win against Glengarry.
Trailing by a point at the final change, the Bombers upped the ante with six goals to none on their way to a 14.12 (96) to 8.9 (57) win.
Ricky Cochrane, Jay Neagle and Nick Albanese booted three goals each, with Brendan Chapman and Jayden Steers other notable contributors.
Usual suspects Chris Wangman, Leigh O'Mara and Ben Truin were best for Glengarry.
Gormandale v Woodside
Gormandale Recreation Reserve played host to another goal-fest, as the home side continued its attack-first approach against Woodside.
The visiting Wildcats made the most of the open ground to pile on 25.12 (162) to Gormandale's 11.16 (82).
Adrian Fazioli (seven goals) and Rob Michaelides (five) did the damage, with Tom Glenn, Aidan Fitzgerald and Cameron Whiteoak (four goals) among the other standouts for Woodside.
Joseph Colaciello starred with five goals for the Tigers, who were well served by Matt Griffiths, Luke Francis and Sam Marks.
LEADING GOALKICKERS
Brandon McDonald Rosedale 3 46
Corbin Sutherland Yarram 0 43
Jacob Schuback Sale City 1 43
Robert Michaelides Woodside 5 40
Bradley McBride Cowwarr 3 38
Jordan Sandy Gormandale 0 35
Allan Chandler Churchill 1 32
Jack Tatterson Rosedale 4 31
Ryan Foat Woodside 4 31
NETBALL
Magpies rise into five
Glengarry moved one game clear inside the top five on the North Gippsland Football Netball League A-grade netball ladder, with a 51-28 win against Traralgon-Tyers United.

Sixth-placed Cowwarr fell short 36-51 against high-flying Rosedale, while Sale City remained seventh following a 53-30 defeat to Churchill.
Heyfield beat Yarram 59-32.
Round 12 results
A grade
Cowwarr 36 def by Rosedale 51; Traralgon-Tyers United 28 def by Glengarry 51; Churchill 53 def Sale City 30; Heyfield 59 def Yarram 32
B grade
Cowwarr 23 def by Rosedale 52; Gormandale 33 def by Woodside 45; Traralgon-Tyers United 36 def by Glengarry 48; Churchill 53 def Sale City 45; Heyfield 58 def Yarram 16
C grade
Cowwarr 27 def by Rosedale 38; Gormandale 26 def by Woodside 63; Traralgon-Tyers United 26 def by Glengarry 33; Churchill 18 def by Sale City 35; Heyfield 31 def by Yarram 34
D grade
Cowwarr 40 drew Rosedale 40; Gormandale 24 def by Woodside 31; Traralgon-Tyers United 19 def by Glengarry 26; Churchill 18 def by Sale City 45; Heyfield 46 def Yarram 12
17 and under
Cowwarr 19 def by Rosedale 41; Gormandale 21 def by Woodside 49; Traralgon-Tyers United 32 def Glengarry 14; Churchill 24 def by Sale City 40; Heyfield 36 def Yarram 16
15 and under
Cowwarr 21 def Rosedale 4; Gormandale 4 def by Woodside 47; Traralgon-Tyers United 33 def Glengarry 18; Churchill 17 def by Sale City 29; Heyfield 37 def Yarram 20