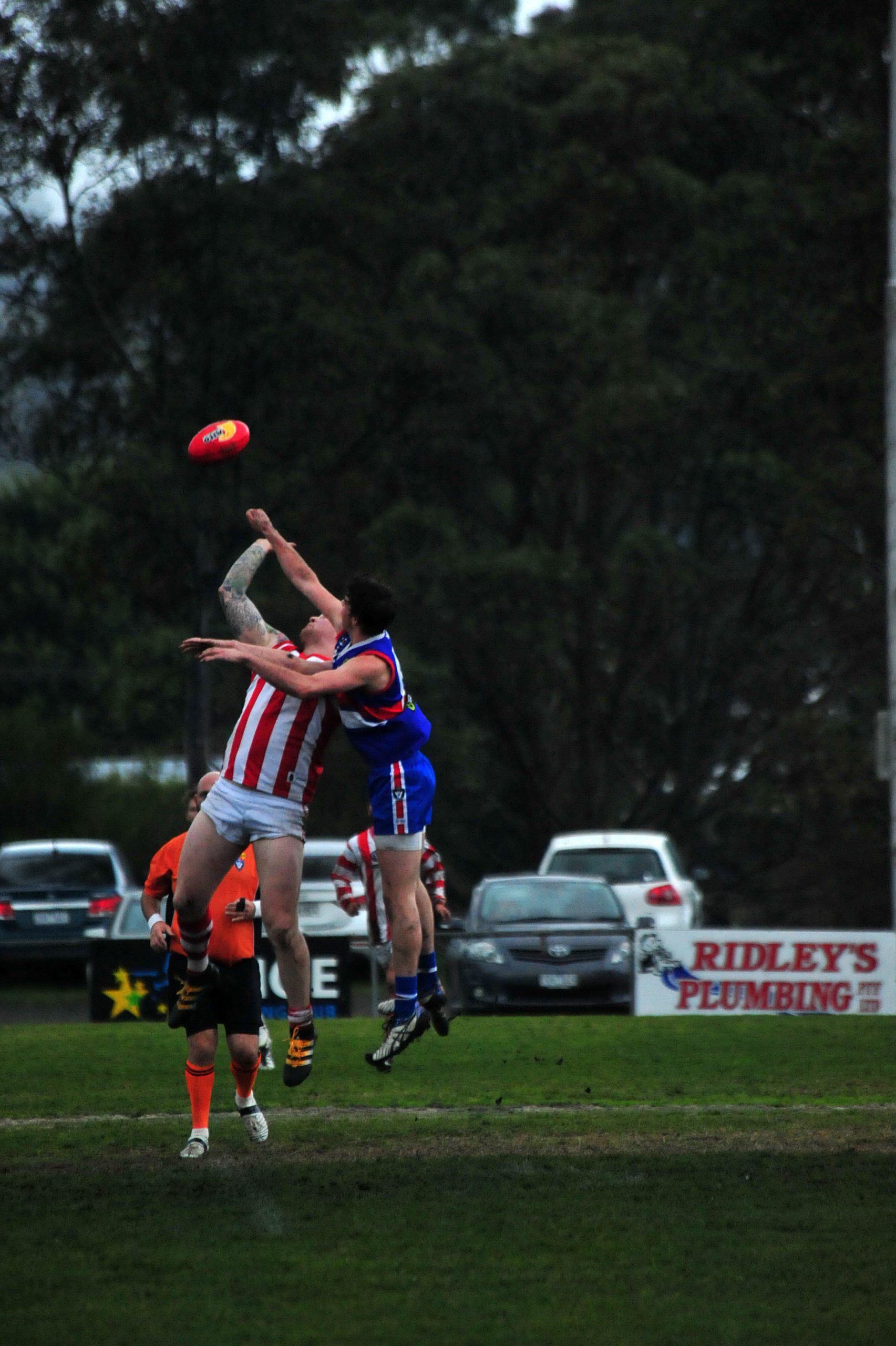 The Waterloo Trophy is up for grabs when Yarragon hosts Trafalgar in round 15 of Mid Gippsland football.

The trophy has been contested for more than 110 years, with Trafalgar the dominant holder.
The Bloods have a real chance of winning the trophy back, especially after their gutsy win against Morwell East last week.
Trafalgar was down at three-quarter-time but fought back to overtake the Hawks in a mud-soaked scramble.
Yarragon fought a record-low score draw against Thorpdale with only three goals scored in the match.
The Panthers won the match earlier in the season but can expect Trafalgar to be more competitive on Saturday.
Morwell East defeated Yinnar by one point when they last met in a game the Hawks should have won.
In that match Morwell East kicked eight goals, 18 behinds to Yinnar's 10.5 (65).
This time Yinnar will be wiser and should be able to take the game away from the East.
Although both lost last weekend in difficult conditions, it is expected to be a lot better at Yinnar with the Magpies going in as favourites.
Yallourn-Yallourn North scrambled home in the mud last week and there were casualties on the way.
With finals around the corner it is important the Bombers have a near full-strength team heading into the finals.
Boolarra put in an insipid performance against Newborough, scoring its lowest ever total of two behinds and will need to pick up on that performance to give YYN a competitive match.
The Bombers are sitting nicely on the ladder just waiting for Newborough to fail, but with four games to play it looks like they will have to be content with a minor placing.
YYN should win but Boolarra usually lifts when playing at home.
The Byrne/Fanning Trophy is up for grabs between Hill End and Newborough, and the Dogs are destined to add it to their cabinet.
It is top versus bottom and it is not a point of Newborough winning, but by how much.
Percentage is not important to Newborough at this stage but any additional points would create a good buffer between it and second place.
It would be unreasonable to suggest that Hill End could break Newborough's spirit as the Dogs are sailing smoothly and are a good tip for the flag.
The Bright/St Ellen Trophy is on offer in an important match for Mirboo North and Thorpdale.
The Tigers are hanging on to a good ladder position while the Blues are still fighting for fifth position.
Thorpdale's draw with Yarragon last week threw away a good chance of making inroads on a finals position (as Morwell East was beaten).
Now, with only four games to play, the Blues' chances are slim.
Mirboo North, even with its heavy injury list, should be too strong for Thorpdale and will snuff out its chance for a finals position.
Newborough (1st)
Newborough will look to finish on top and will play teams outside the top five, which is an added bonus.
The Dogs have gone 12 matches without a loss and over the next few weeks should go into the finals series on the back of a 16-game winning streak.
Newborough plays Hill End, Thorpdale, Trafalgar and Yarragon
Mirboo North (2nd)
Mirboo North currently sits in second spot but has two hard matches to play with Morwell East and Yinnar capable of beating the Tigers.
They hold onto second by only four points so in the long run percentage may decide who will finish second.
Mirboo North plays Thorpdale, Morwell East, Boolarra and Yinnar
Yallourn-Yallourn North (3rd)
YYN is sitting in third with a four-point advantage over Yinnar and has a good run home to the finals.
Three of the teams the Bombers will face are outside the five and fifth team, Morwell East, will give them a run.
YYN plays Boolarra, Yarragon, Thorpdale and Morwell East
Yinnar (4th)
Last year's premier, Yinnar, is expected to finish fourth.
Good players have left this season and multiple injuries have left their toll, but the rise of good junior players is a positive sign.
The final four matches will be a big test for the Pies, with their match against Hill End their only sure pick.
Yinnar plays Morwell East, Boolarra, Hill End and Mirboo North
Morwell East (5th)
By default Morwell East should finish fifth after having an indifferent season with ninth-placed Trafalgar its main nemesis.
Recording a draw and a loss to the Bloods has put the Hawks in a dangerous position.
Morwell East plays Yinnar, Mirboo North, Yarragon and Yallourn-Yallourn North
Trafalgar (9th) v Yarragon (7th)
Waterloo Trophy
Played 84 | Trafalgar 71, Yarragon 13
Last time: Yarragon 13.14 (92) d Trafalgar 7.7 (49)
Yinnar (4th) v Morwell East (5th)
Played 93 | Yinnar 49, Morwell East 44
Last time: Morwell East 8.18 (66) d Yinnar 10.5 (65)
Boolarra (8th) v Yallourn-Yallourn North (3rd)
Played 140 | YYN 106, Boolarra 33, drawn 1
Last time: YYN 23.12 (150) d Boolarra 5.5 (35)
Hill End (10th) v Newborough (1st)
Byrne/Fanning Trophy
Played 111 | Newborough 83, Hill End 27, drawn 1
Last time: Newborough 21.8 (134) d Hill End 4.2 (26)
Mirboo North (2nd) v Thorpdale (6th)
Bright/St Ellen Trophy
Played 102 | Mirboo North 63, Thorpdale 38, drawn 1
Last time: Mirboo North 13.14 (92) d Thorpdale 9.8 (62)