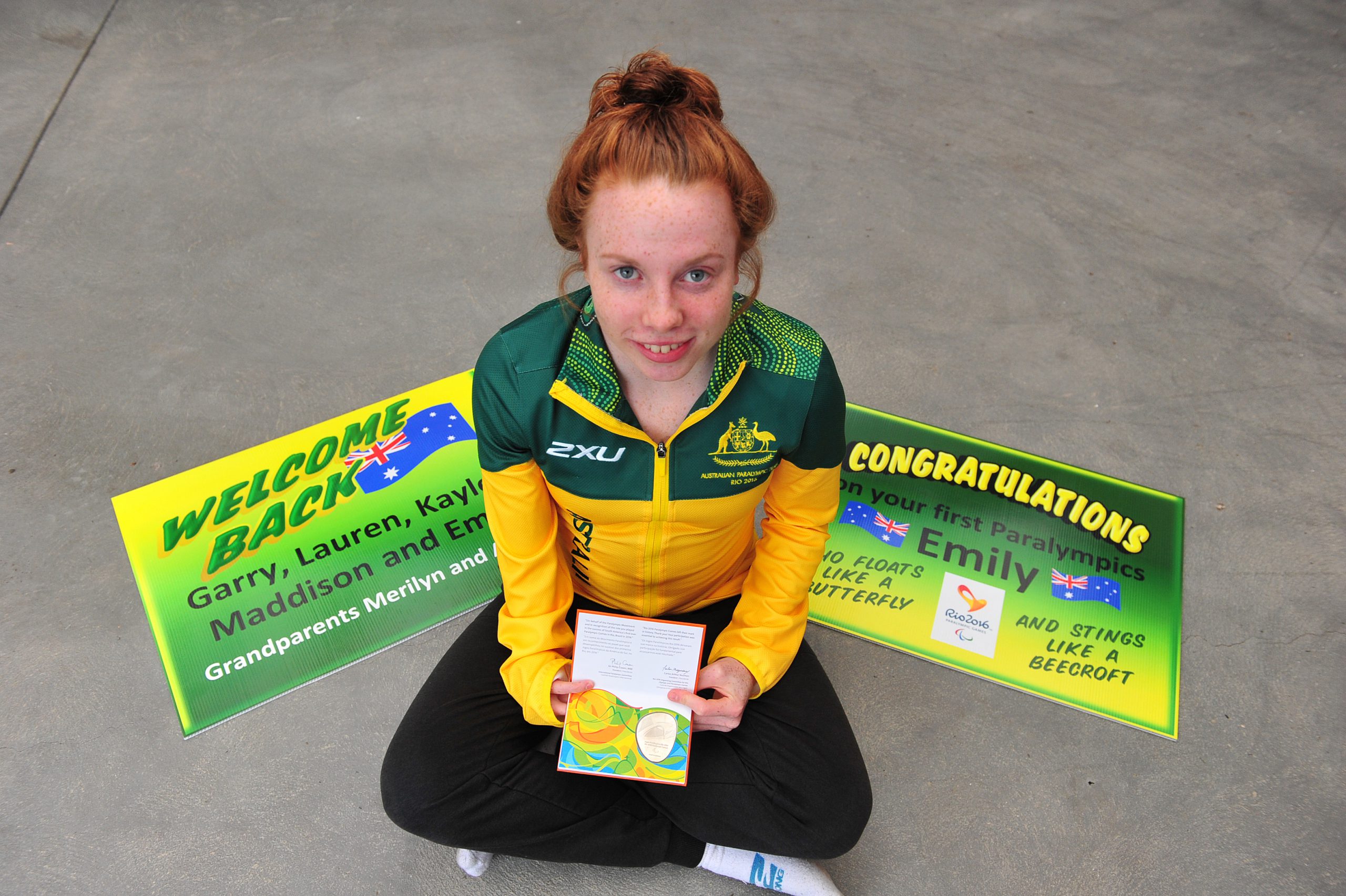 When Traralgon's Emily Beecroft took her place on the block ahead of her first swim at the Paralympics in Rio de Janeiro, the 16 year-old was a model of serenity.

There were no signs of nerves as she took her place on the block ahead of the women's 200-metre individual medley on Sunday, 11 September.
"Everyone says I looked okay, but I was actually quite nervous at the time," Emily said.
"But I think I handled it pretty well, considering I got all PBs (personal bests, in each of my races) which was really good.
"It definitely felt a lot bigger, but I was quite surprised, because as soon as I dived in all the nerves went away and it was like a normal race."
Emily finished fifth in her heat, behind Chinese swimmer Ping Lin with a time of two minutes and 45.91 seconds – a personal best.
But the event, which was not her main focus, had served its purpose by allowing her to have a taste of Paralympic swimming and clear her nerves before her other events.
"The 200 (metre) IM was not one of my best races, but my coach wanted me to do it so I definitely got in (the pool) before one of my main races because my main race was the next day," Emily said.
"I think it definitely helped."
Emily competes in the S9 and SM9 categories, which includes swimmers who have a limb deficiency.
The following day she competed in the 100 metre freestyle, posting another personal best to finish fourth in her heat and secure a spot in the final.
Emily finished sixth in the final, but her teammate and idol, six-time Paralympic gold medal winner Ellie Cole, claimed bronze.
On 13 September Emily had her best day of the competition in her main event – the 50 metre freestyle.
"I do 50s (metre races) because they're so much shorter and I'm quite good off the start, so 50 is always good for me," she said.
Emily finished second to Cole in her heat, before coming agonisingly close to winning bronze in the final – finishing .03 seconds behind third-placed Chinese swimmer Jiexin Wang.
She said she enjoyed competing in the same team as her idol.
"Ellie was so much fun over there, she was really supportive to me especially," Emily said.
"She's very welcoming, but there's two S9 girls, which doesn't happen in a class and we were all making finals together.
"She's very happy that there's (a) younger generation coming up after her."
In Emily's final event, the 100-metre butterfly, she again qualified for the final after finishing fourth in her heat.
Emily completed the Paralympics by finishing sixth in the final.
Looking back on the Paralympics, she said she was impressed by how well-organised it was.
"When we got in (to the airport), we got all the shortcuts through security," Emily said.
"We obviously drove straight to the village and I was just like amazed by the village, it was so nice."
To travel between their apartments and facilities like the dining hall and entertainment facilities the athletes would travel by bus.
While there was a pool at the site, Emily said the swimming team would use the competition facilities for training.
"There was a competition pool and a warm-up and cool down pool at the back (of the competition site)," she said.
As a result of her performance at the Paralympics, Emily is expected to be invited to compete at the Para Swimming Championships in Mexico City next year.
She said she was happy with her performance.
"I wasn't expecting (to compete in) as many finals as I did," Emily said.
"I was ranked outside the finals going in, but when I got such massive PBs I got into the finals which was really good."