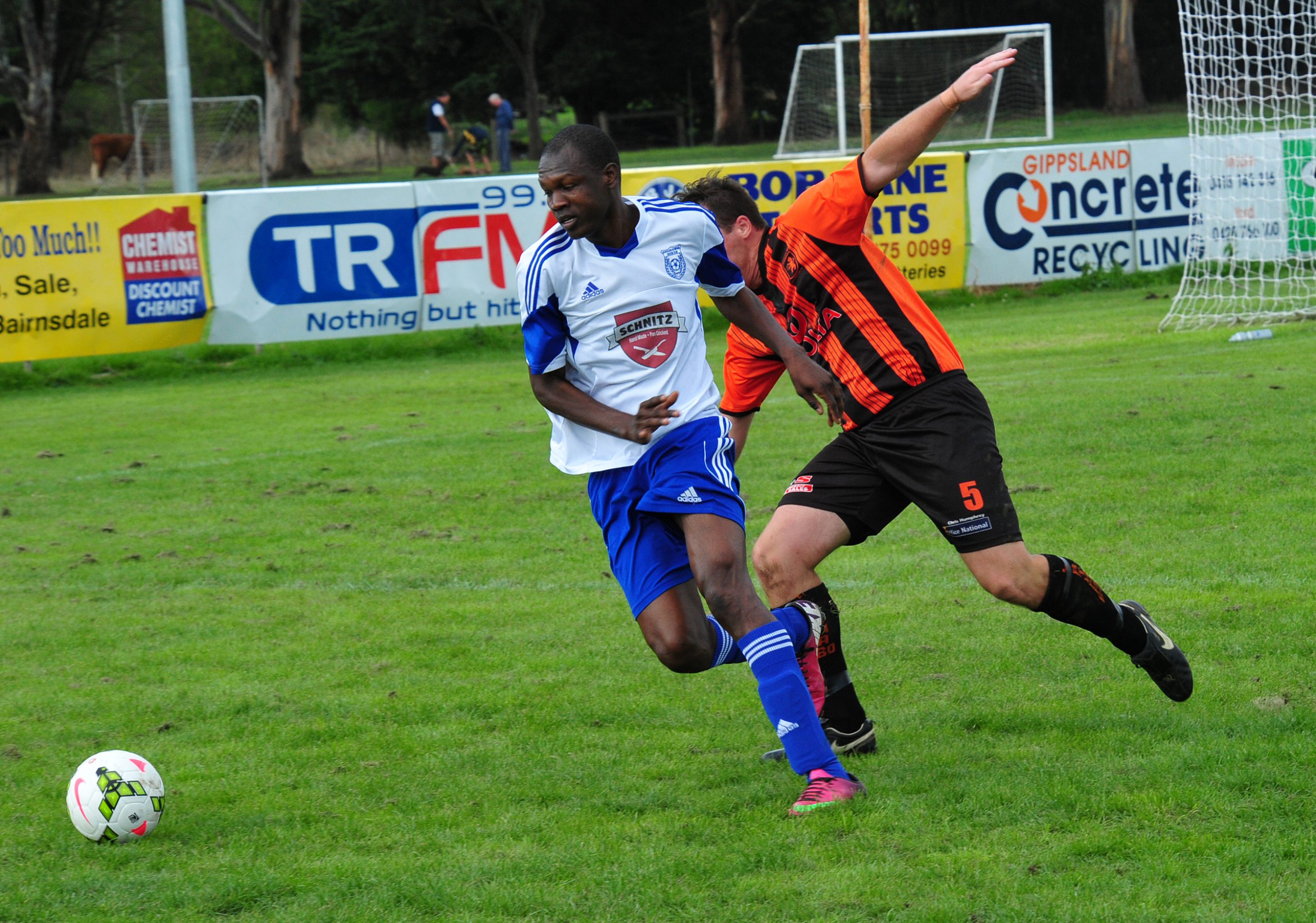 As the Latrobe Valley Soccer League title race gradually dwindled to a two-horse race, the goalposts shifted for the remainder of the field.

The reintroduction of a top eight finals series ensured the jostle for ladder position continued until the final matchday of the season.
Sudden death playoffs now loom in the hunt for the final piece of silverware on the 2016 calendar and a last shot at glory for the mid-table sides.
Sides five through eight, Monash, Traralgon City, Olympians and Fortuna respectively, have been eyeing off October action for weeks and will be ready to fire come Sunday.
The top dogs still have plenty to prove as well.
League champion Moe United and Battle of Britain winner Falcons 2000 will be fighting for a second trophy and bragging rights, while Newborough-Yallourn United and Churchill will be out to salvage something from their season.
Here is The Express' look at this weekend's first round of finals matchups.
NYUSC (3rd) v Traralgon City (6th)
2016 head-to-head
Round 5: NYU def Tgon City 3-0
Round 18: NYU def Tgon City 4-1
The Combine has had the wood on Traralgon City this season and goes into Sunday's final with the favourite tag.
City has been hit with injuries in the second half of the fixture and dual red cards to key players in the final round of the season means suspension is also a concern.
NYU has been well served by sharpshooter Mark Fairbrother and rangy winger Brandon Scott in attack, with 25 and 24 goals respectively this season, and the duo will hold the key to this match.
Roosters mentor Steve Riess is an experienced coach in the crunch and will need to engineer something special to advance in lieu of missing troops.
Churchill (4th) v Monash (5th)
2016 head-to-head
Round 7: Churchill def by Monash 0-3
Round 20: Churchill drew Monash 1-1
The Wolves have been a thorn in Churchill's side this season and will be looking to maintain their unbeaten 2016 record against the Rams on Sunday.
Churchill's tilt at the league title was crippled by five dropped points to Monash in the home and away fixture.
Monash showed its quality in the final round of the season when it pushed league champion Moe for 90 minutes, succumbing only to a late penalty to lose 3-2.
The Wolves have the form while the Rams are proven performers in finals over the past decade.
Monash marksman Ty Christy has 24 goals this season and will be the man to watch.
Falcons 2000 (2nd) v Olympians (7th)
2016 head-to-head
Round 11: Falcons drew Olympians 3-3
Round 24: Falcons def Olympians 2-1
Olympians have proved stiff opposition for Falcons 2000 this season.
The Traralgon side forced a thrilling 3-3 draw against the Morwell men in their first meeting of the year and their second encounter was another close affair which fell the way of the Birds.
Fresh from their Battle of Britain Cup triumph Falcons will be full of fire to back up in the finals series, led by league-leading goal scorer Jesse Kennedy (39).
The ladder disparity of second versus seventh is no metric for measuring the gulf in quality between these sides ahead of a match which will go down to the wire.
Moe United (1st) v Fortuna '60 (8th)
2016 head-to-head
Round 12: Moe def Fortuna 5-0
Round 25: Moe def Fortuna 6-0
The Red Devils have crushed Fortuna throughout the regular season.
An 11-0 differential in twin Moe victories paints a grim picture for the Orangemen, but Luke Cheney's side will come into this weekend's do-or-die encounter full of fire.
Expect a closer outcome than previously witnessed this season, but Moe should have too much class across the park.