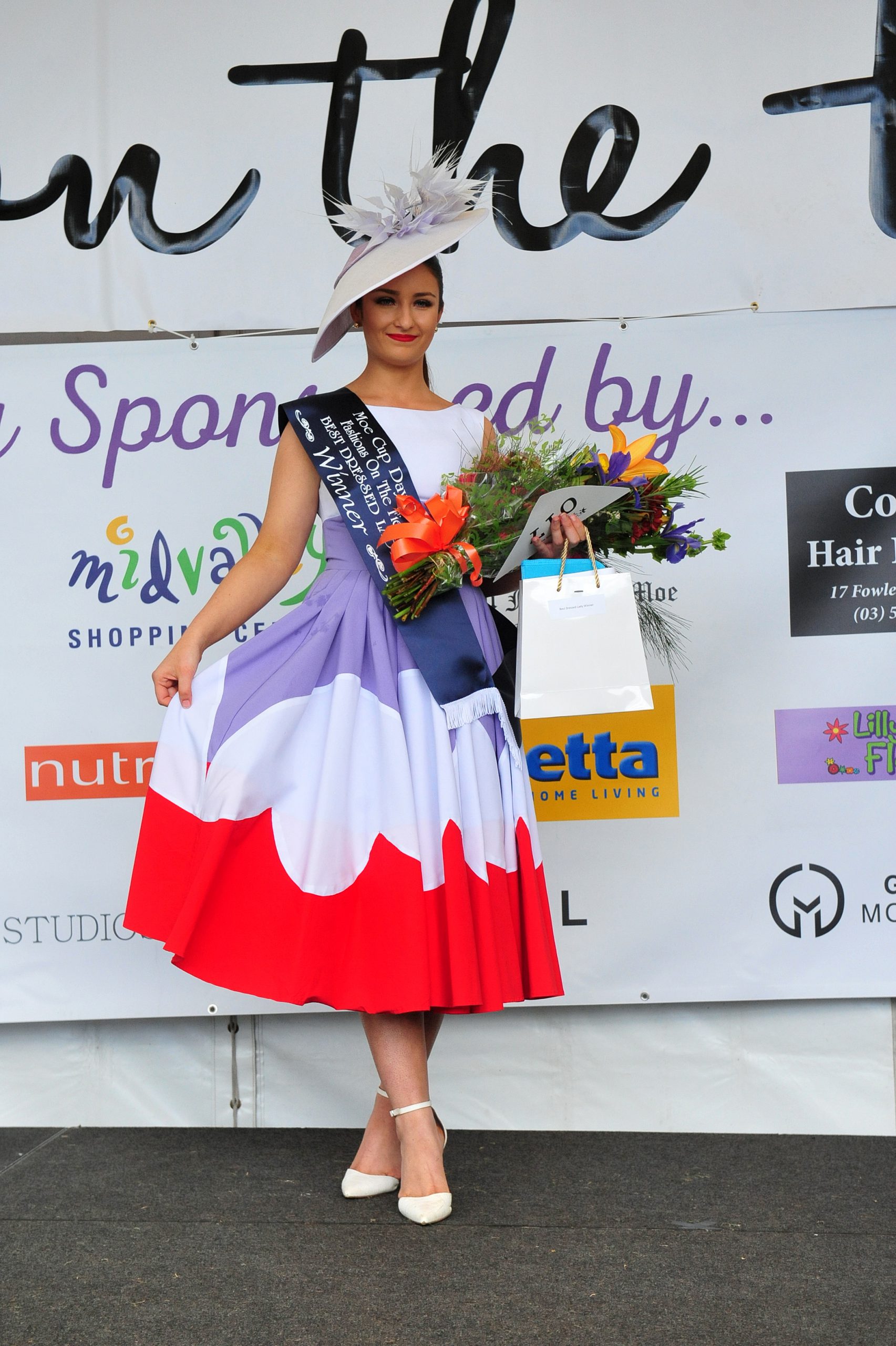 Traralgon's Chloe Davis was named best dressed at the Moe Cup for her white dress, which featured clashing mauve and red sections.
The 22 year-old said she was "very happy" with her win – her sixth since she began taking part in the fashions on the field competitions.
"I've been doing it for two seasons now," Davis said.
"I love doing all the fashions and stuff – I was just really hoping I'd take out the win.
"(The outfit's) all handmade and I wanted to make everything clash.
"It's just made by a friend's mum and the millenary is by Jack and Jill Millenary."
This year's fashions were judged by MARVEL Clothing's Nikkie Dunkin, Ruby Wyntjes from Leon's Hair Studio and hairdresser Rodney Kyle.
Davis was clear about what made a good racing outfit.
"(It's) just when everything is clean, cut and polished – I think that either you create a piece of art or you wear a piece of art," she said.
Tanjil South's Phil Town was judged best dressed gentleman for his grey suit, brown leather shoes and grey and black chequered tie.
Town said when he attended the races he had no intention of competing.
"My wife put me in there and I thought I'd give it a shot and all of a sudden (I won)," he said.
"I don't know why, but they picked me."
This year's fashions on the field featured a best beard competition, judged by bearded Melbourne footballer Max Gawn.
With five entrants in the competition, Gawn quickly judged Erica man Gordon Casey's facial hair the finest on show.
"They were all classy beards – one of them had been growing for about 20 years, so he was the clear winner," Gawn said.
He said the key to a good beard was "you've got a little bit of length, a little bit of work put into it" and "not too much ginger".
Casey said he had not been planning to attend the races and decided to stop in after attending a grandparent's event.
He was awarded a prize pack that included an electric razor for his troubles.