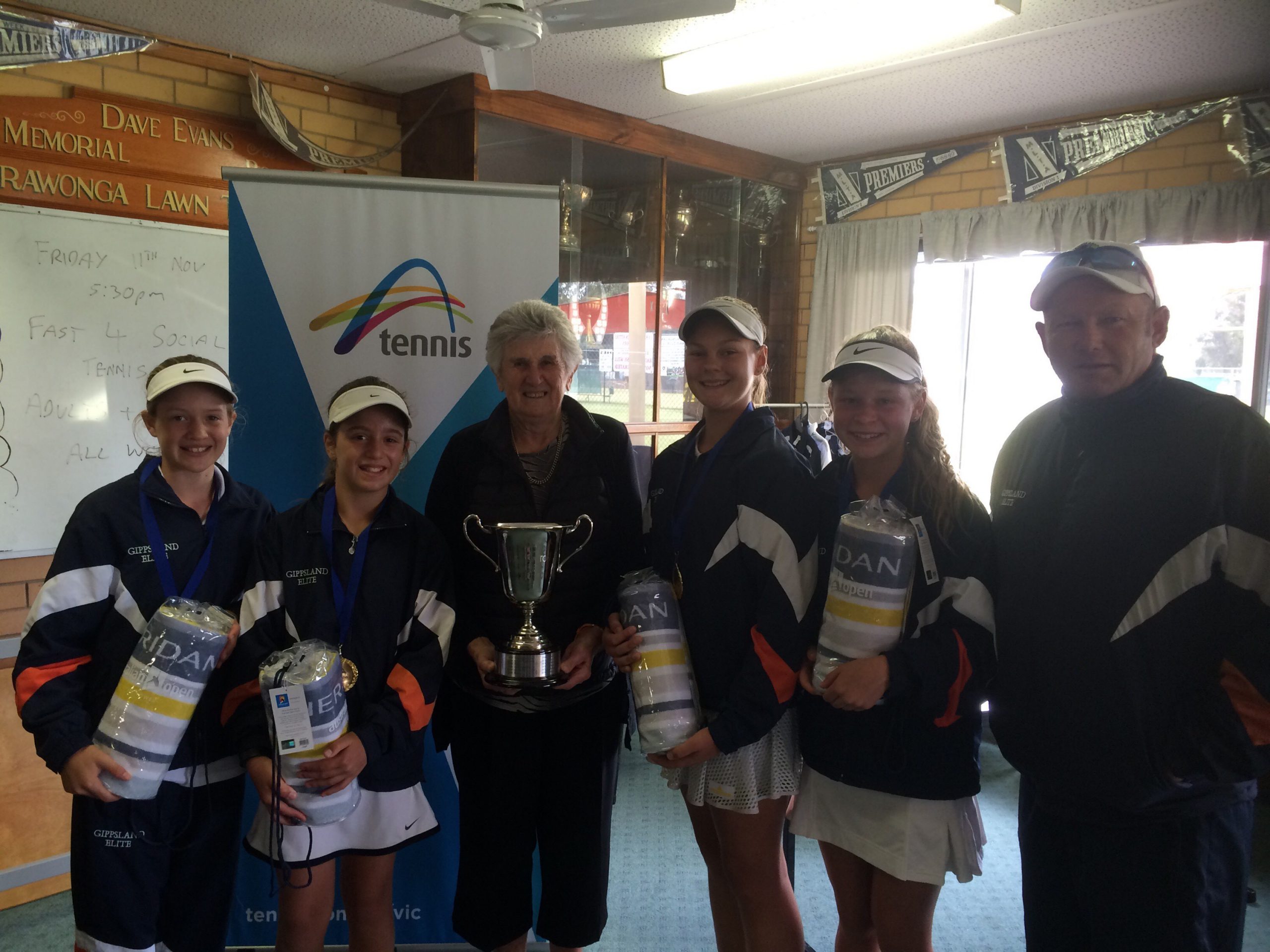 Central Gippsland's 13 and under girls team has put aside a group stage loss to Loddon Campaspe to defeat its opponents in a grand final rematch and claim the recently renamed Judy Dalton Cup.

The two-day Regional Team Event was held at Yarrawonga Lawn Tennis Club on 12 and 13 November.
Coach Graham Charlton said he was pleased with the team's performance, which was made up of Jayla Morcom, 12, Alexandra Luders, 13, Jemma Ashe, 13 and Chelsea Elliot, 10.
"The girls were brilliant on the weekend, they did a great job," Charlton said.
"It's not easy winning an event like that; I'm very proud of the girls to be able to finish the deal."
The event featured seven teams representing regions from across Victoria with the Central Gippsland girls getting off to a good start – winning all but one of their matches on Saturday.
Loddon Campaspe, which takes in a swathe of central and northern Victoria, including Bendigo, was the only team to get the better of Central Gippsland.
In a close encounter, Loddon Campaspe edged out Central Gippsland three sets, 28 games to 3-26.
The next day the Central Gippsland girls took on Barwon, based around Geelong, and Central Highlands, which takes in Ballarat and surrounds, to set up a rematch against Loddon Campaspe in the grand final.
Central Gippsland bounced back to take the grand final 4-30 to 2-21.
The victory marked Central Gippsland's first victory in the tournament since it went back-to-back in 2002-2003.
Charlton was brimming with enthusiasm about the team's potential.
"Jemma and Alex Luders, who played number two, would be a good chance of making the state team in my opinion," he said.
"They're 13 (years old) but Chelsea Elliott is 10 years old – she's a star.
"She's only 10 and it's her third year in this event.
"Jayla's 12 but it's her second year in the event too."
The Central Gippsland region stretches from Traralgon in the east to Pakenham in the west and extends south to Phillip Island.
The event was originally known as the Evonne Goolagong Cup before it was renamed and known as the Foundation Cup for 15 years.
This year marked the first time it carried the name of Victorian tennis legend Judy Dalton, with the nine-time Grand Slam doubles winner attending the tournament in Yarrawonga.