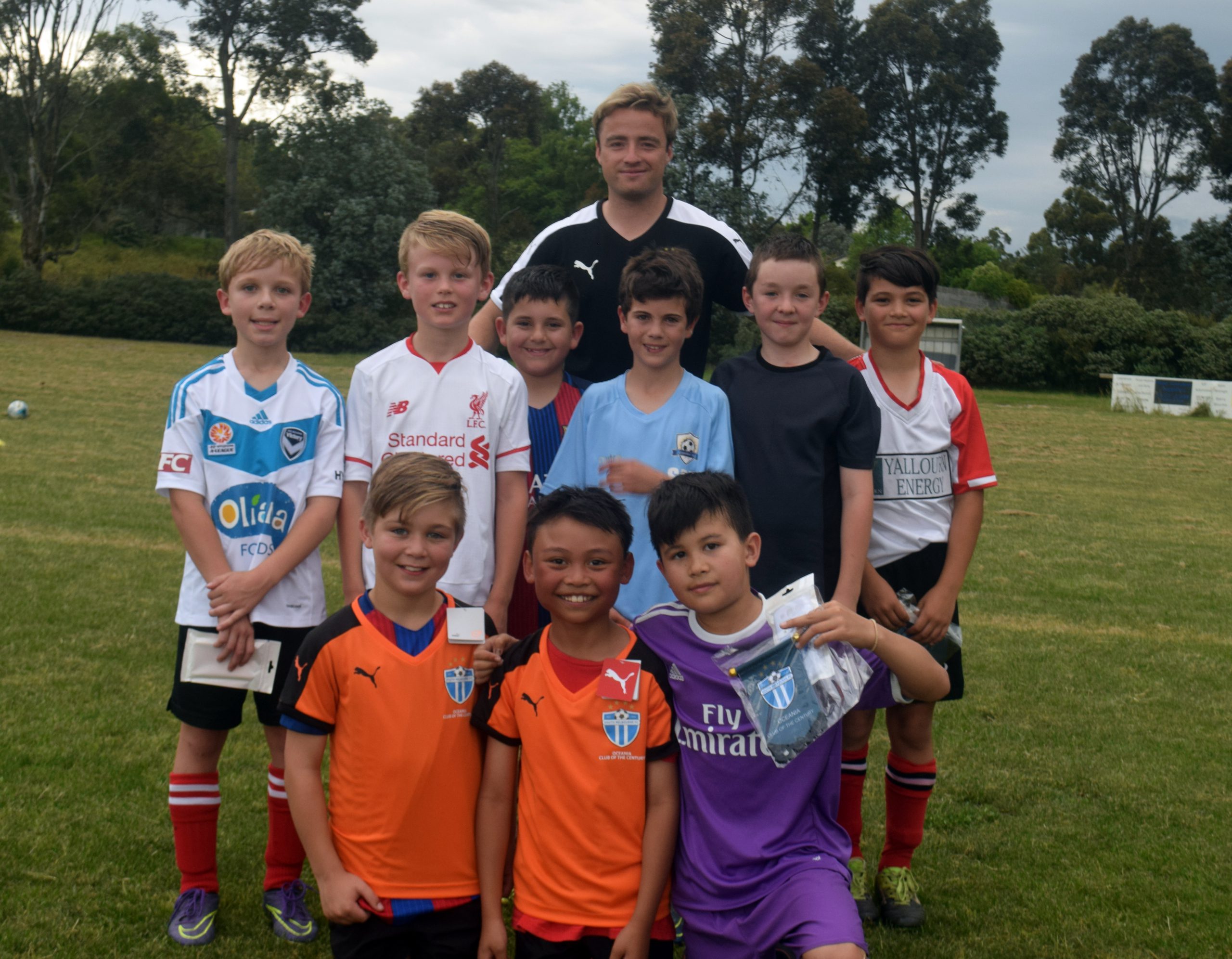 A group of eager Moe United youngsters have been put through their paces at a clinic organised by National Premier Leagues Victoria heavyweight South Melbourne FC.

South Melbourne youth development officer Samuel Young travelled to Moe's Olympic Park for the clinic on Monday night, which focused on key skills.
The group of 10 under 10s took part in a range of activities, including shooting drills, first touch exercises, five-a-side games and one-on-one and two-on-two activities.
After the clinic some participants were rewarded; gifts included South Melbourne shirts.
Young said the clinic was about engaging the youngsters while allowing the NPL club to build regional partnerships.
"It was definitely an opportunity to see what the talent's like out here and obviously engage with some really good regional clubs," he said.
"It's key in these age groups that they have as much fun as possible.
"So, a lot of emphasis (was) on having fun, scoring goals and just getting them playing and buzzing about football."
The clinic comes just a week after the former National Soccer League powerhouse announced it would bid for an A-League licence.
Following the clinic, Young said he was "pleasantly surprised" by the standard of the Moe juniors.
He said it was difficult to spot talented players at such a young age but it was important to watch for kids who loved the game and "always have a ball at their feet".
"They're the ones that can go to the next level – having that love of the ball is a big thing," Young said.
The clinic came about after Liam Bednarski, an assistant coach with Moe United's under six and under eight teams, met Young while he was working with South Melbourne during the club's school holiday program.
The two clubs have been in preliminary discussions about potential opportunities to work together and Young said discussions about what form an association would take were ongoing.
"We've already talked about working together with school holiday clinics (and) potentially getting some gala days organised with the little ones," he said.
"That'd be very good for both clubs… for example, having the kids from Moe on the pitch at half-time for small-sided games."
Bednarski welcomed the prospect of a link between the two clubs.
"That's really fantastic and just to have their resources for a small rural club, everyone knows clubs in country Victoria you don't have much volunteer-wise or money-wise," he said.
"So it's really great to have a connection.
"To send our best kids down there, that would be the dream or to even have a kid from Moe playing at South Melbourne."
He said United's under 10s enjoyed the session with Young.
"He's really engaged the kids," Bednarski said.
"That's a really important part of the coaching that he's brought. He's learnt all their names within an hour and he's played different games with them in-between the sessions."