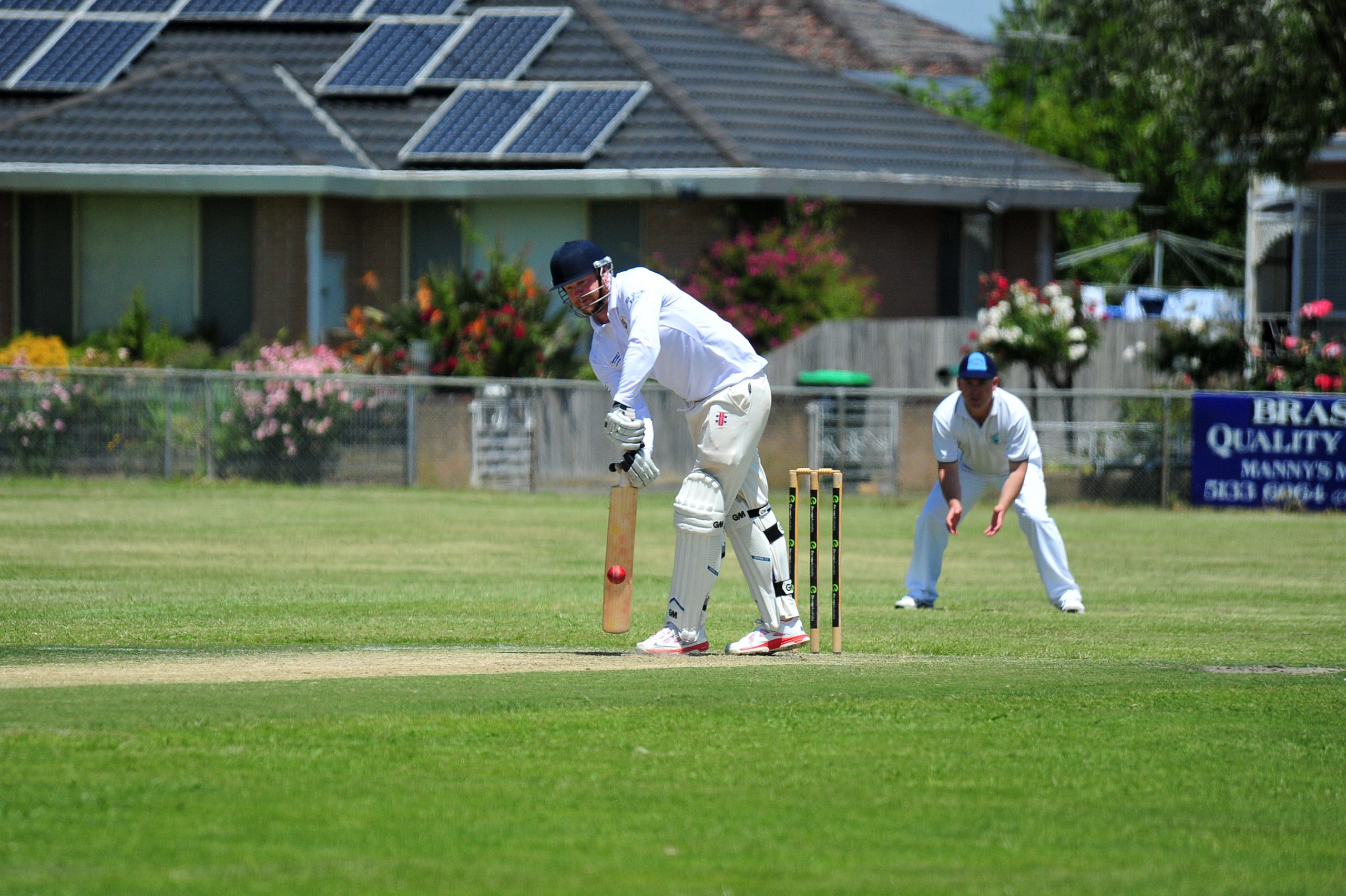 A monster 181-run partnership between Mirboo North skipper Shane Peters and Will Cheatley has powered the reigning premiers to a thumping victory over Latrobe.

This round the energy reserves of the Central Gippsland Cricket Association's first grade teams were tested as they played their two-day matches across the weekend.
Winning the toss and electing to bat at Peter Siddle Oval, the reigning premier was in trouble after losing opener Adam Mates (duck), Jesse Giardina (19) and Brett Pedlow (duck) early.
With the score at 3/22, Peters and gun all-rounder Rob Phoenix combined to lift the score to 56 before Phoenix was out caught for 18 off the bowling of Tyron Gamage for 18.
The wicket brought Cheatley to the crease and at 4/56 the Sharks would have been smelling blood.
But they did not reckon with Peters' determination to stay at the crease and the firepower of Cheatley.
In a case of bad cop/worse cop, Peters carefully set about accumulating runs while his partner blazed away at the other end.
The pair was separated after 45 overs when the captain was caught off the bowling of league-leading wicket taker Chris Johnson for 93, scored off a patient 202 balls.
He walked off the field with the score at 5/237 and with the Tigers in firm control of the match.
The Tigers added 20 more to the scoreboard before Cheatley joined his captain back in the pavilion, finishing with 107 off just 134 balls in a knock which included 12 boundaries and three sixes.
Despite his departure Mirboo North was not finished, with Cameron Le Page knocking up a quick-fire 34 off 42 balls with the Tigers eventually all out for 313 at the end of day one.
Johnson was the best performer with the ball, in an innings where Latrobe used eight bowlers, with 3/36 off 21 overs.
Lawrence, Gamage and Brendan Wynne each took two wickets.
Mirboo North's dominance continued on day two with the home side slumping to 5/40.
Adam Duncan (38 not out) and Johnson (20) were the only Sharks batsmen to reach double figures as their team was bowled out for 95.
Jed Alexander was the destroyer with 4/9, while spinner Dale Banks took 3/16.
Cheatley took two wickets and Brandon Bradshaw took one.
Mirboo North decided not to chase the outright and batted again to make 4/155 off 36 overs.
Giardina (47), Mates (49) and Pedlow (30) all made the most of the opportunity to bat again.
Trafalgar v Moe
Trafalgar will be ruing the name Andrew Philip after the Moe captain sealed victory for his team with his second unbeaten ton against the Ships this season.
Playing at home, Trafalgar won the toss and elected to bat and got to 189 before declaring nine wickets down.
Openers Brodie Burgess (45) and James Heslop (36) got their team off to a good start, posting an opening stand of 86.
Heslop was bowled by Aaron Walshe in his first grade return with only two runs being added to the score before Burgess joined his opening partner back in the sheds.
It was then time for gun import Marco Higgins (31) and Liam White (36) to get among the runs with the pair adding 46 for the third wicket.
Higgins was stumped by Noah Kane off the bowling of Pat Spiteri with Leo Connolly taking his place at the crease.
Connolly was dismissed for 18 by Philip with the score at 4/157.
From there the wickets tumbled as White batted with a succession of partners.
When he was dismissed with the score at 9/189, Trafalgar captain Anthony Clarke-Bruce decided there was more to be gained from making Moe bat in the tricky final overs of the day and declared.
Walshe finished with 3/24 off 11.1 overs and Philip ended with figures of 3/44 off 15 overs.
Spiteri did the lion's share of the bowling with 2/50 off 24 overs and Robert Blunt claimed one scalp.
Moe openers Kane O'Connell (30) and Kane finished (8) day one unbeaten with the score at 0/19 off nine overs.
Day two was all about Philip who knocked up 128 – his third unbeaten ton of the season as Clarke-Bruce tried nine bowlers in an effort to remove the Moe captain.
He received able support from Nathan Lee (41) and Sam Price (26) at the Lions batted out the day to register 8/225.
The knock shot Philip back to the top of the league run scorers list.
Connolly took 5/31 off 14 overs.
David Bremner Junior, White and Burgess each took one wicket.
Jeeralang Boolarra v Yallourn North
Jeeralang Boolarra has claimed its second outright victory in as many weeks after defeating Yallourn North.
The Panthers won the toss at Boolarrap Recreation Reserve and decided to insert their opponents.
It was a decision which immediately yielded results as the new ball pair of captain Stanley Urbanic Junior and Matt McGrath soon reduced the Bombers to 4/11.
Yallourn North was in desperate need of a partnership which Jason Wiseman (60) and 'keeper Dylan Keyhoe (20) delivered as they combined to lift the score to 63.
When Keyhoe was caught and bowled by Luke Heath another collapse followed with Wiseman the ninth wicket to fall as the Bombers were all out for 92 off 31.4 overs.
McGrath took 5/13 off 9.4 in a performance that included five maidens and Urbanic took 3/28 off 10 overs.
Tom Holley and Luke Heath took one wicket each.
In response, Jeeralang Boolarra declared at 5/202 off 68 overs.
Luke Heath (20) and Ossy Brennan (12) got the home team off to a good start with an opening stand of 30.
Wiseman proved the all-round star for the Bombers, removing both openers and number three Ben Heath (18).
Urbanic came to the crease batting at four and combined with Craig Blackberry (14) to take the Panthers to the brink when Blackberry was stumped off the bowling of Gavin Pearson with the score at 4/87.
From there Urbanic continued, finishing 41 not out with Ben McCormack unbeaten on 20 with the score at 4/132 at the end of day one.
The Jeeralang Boolarra skipper was dismissed for 45 on day two while McCormack continued on to 52 not out. Ben Duffy finished 33 not out.
Wiseman demonstrated his all-round worth with 3/34, while William Lawrey Junior and Pearson took one wicket each.
The Bombers managed 115 in their second innings with Jason Hurst (25) and Daniel Martini (22) the biggest contributors. Urbanic and Christopher Blake did the bulk of the damage with three scalps apiece.
Needing just eight runs to seal the outright victory, the Panthers chased down the total in just two balls.