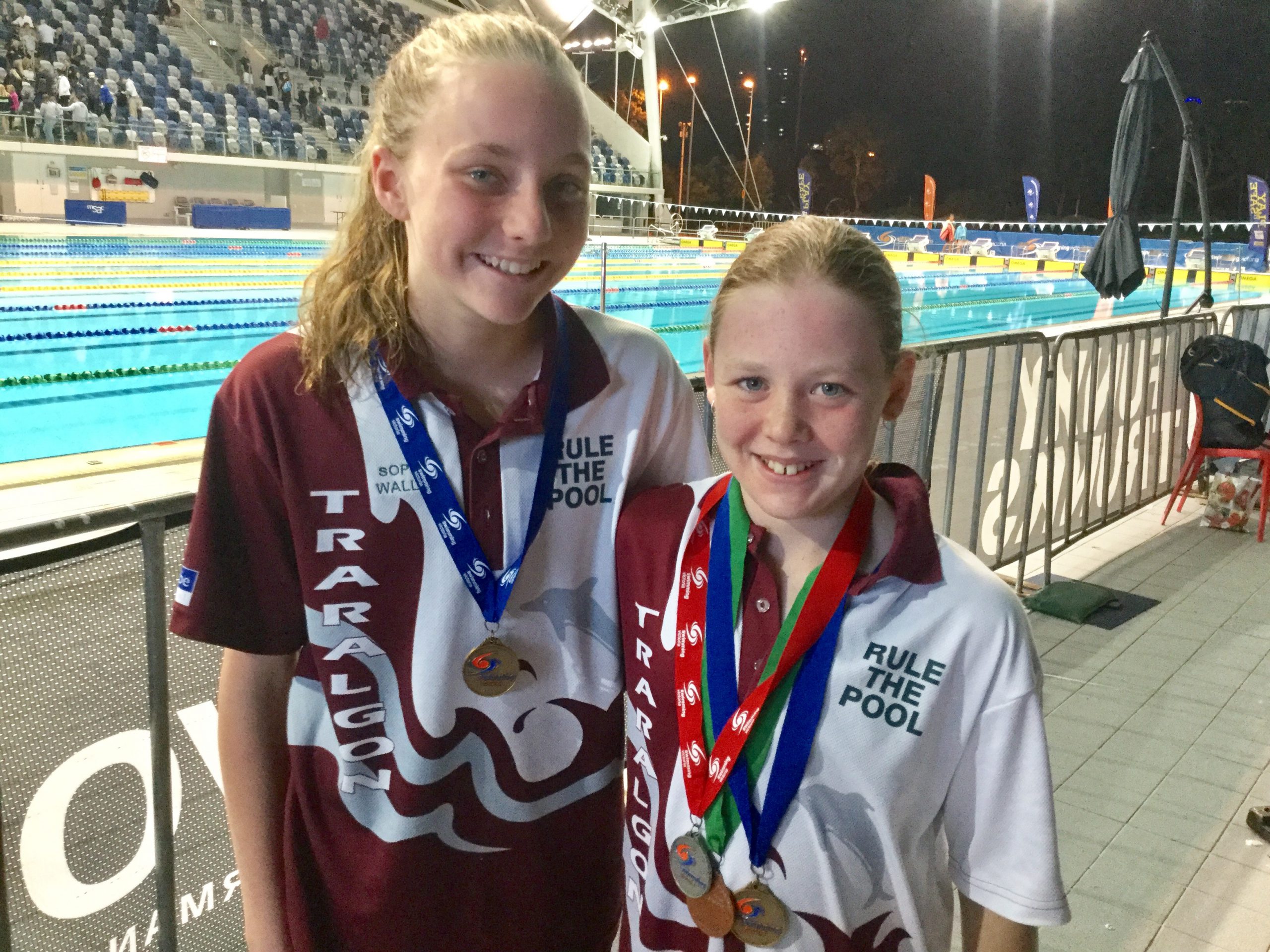 Forty swimmers from the Traralgon Swimming Club returned victorious from the Victorian State Championships, as the top group of country competitors for the 18th year running.
Swimmers competed in 60 finals with a medal tally of four gold, six silver and 10 bronze and its overall goal of a top 10 finish in the state firmly achieved after ending the carvinal in sixth position.
The stand-out performer was Molly Cargill, 11, with two gold (100 metre and 200 metre freestyle), two silver (200 medley, 100 fly) and 2 bronze (50 free, 200 back) with 12 year old brother Jordyn picking up a silver and four bronze.
The tournament marked the last time Mikaela Cornelissen, 18, would compete at the championships before heading to the University of Texas on a three-year scholarship.
Cornelissen won the 100 metre butterfly after a year where she was only able to complete minimal training due to her school obligations.
Sophie Waller, 13, showed why she is a star of the future, winning the 50 metre dash (27.34) and coming second in the 100 in 1.00.79.
Melina deCort, 16, also enjoyed success with a silver and three bronze.
The final individual medal winner was 16 year-old Alex Tsebelis.
Alex won bronze in the 50 freestyle and made a host of other finals for the club.
The girls' 12 years and under medley team of Caydence Bezzina, Zoe Dowler, Molly Cargill and Ashleigh Mihaly didn't disappoint with a strong silver just behind the powerful Nunawading team.
Club senior head coach Brian Ford spoke highly of the team's performance.
"We went into this meet with a goal of a top seven finish in the state and top country club in Victoria," Ford said.
"Both goals were achieved with a young team which augers well for the future.
"Great compliments to our coaching group of Dean Gooch, Cameron Juha and Sam Fenton who prepared the team in an outstanding manner."
The Traralgon Swimming Club now looks forward to the long weekend in January, as it prepares for the challenge of winning its 17th country championship title in 18 years.
This year the meet will be held at the Sale Aquatic Centre.
"Countries is the best meet of the year and to have it locally is a bonus for the club and the district," Ford said.
"We are primed to take on the best teams from country Victoria in our endeavour to win this title for the 17th year.
"If we are successful it will be a mighty achievement."