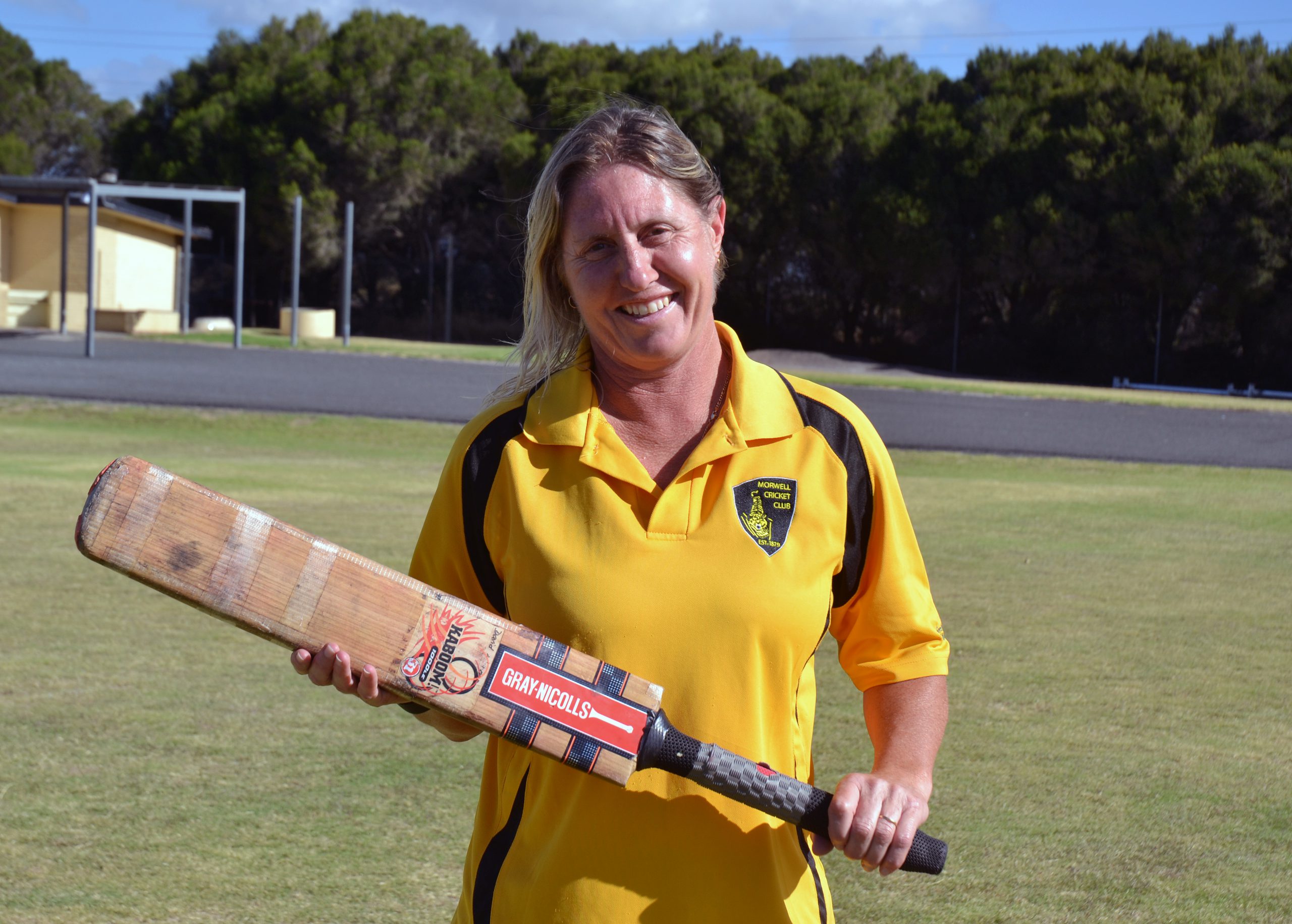 With eight premierships, a batting average of 48.95 and rapidly closing in on 200 wickets, Robin Fitzpatrick has had the type of career most cricketers dream of.

A foundation member of the Morwell women's cricket team, her success stretches beyond individual achievement as one of the core players behind the Tigers' dynasty which has dominated the women's game in Gippsland for more than a decade.
On 15 January she broke another milestone when she played her 100th game for Morwell an incredible feat given the Gippsland Cricket League women's division plays between six and 10 games a season and is often affected by forfeits and wash-outs.
Fitzpatrick first started playing cricket as a student in Melbourne on Saturday mornings in an interschool competition before moving on to play for Hawthorn.
But she gave it up once she finished university and moved to the Latrobe Valley.
"I moved down here and started teaching there wasn't really anything down here so I just stopped playing," Fitzpatrick said.
"I started playing hockey down here and one of the girls said 'there's a (cricket) competition down here and can you play?'
"I said okay and I came and the first year was with Traralgon."
She became part of the Traralgon-based Latrobe Valley team before it became part of Morwell in 2003-2004.
It was a match made in heaven.
Morwell was eager to have the women's team and make it an integral part of the club and the women were happy with the support offered by the Tigers.
"The Morwell Cricket Club has embraced us as a women's team, embraced us as a member of the club," Fitzpatrick said.
"Barry Mathieson is our coach and he used to play cricket here and his dad (club legend Allan Mathieson) came along and he was retired, so he came along and he's our team manager.
"Allan's really special – he comes along to all the games and he does square legging (umpiring) and he's already here before us on home games and has marked out the field."
Fitzpatrick credits the club's support and the camaraderie between the players for the team's success over the years with those bonds meaning that as players have moved on it has been able to recruit fresh blood.
As time has gone by, she has had plenty of opportunity to hone her skills.
With Morwell preferring a left/right-hand combination to open the batting – and as the team's only left-hander – she has become an opening batter out of necessity.
"My batting improved considerably," Fitzpatrick said.
"I had to get really dogged because if you opened the batting and you go out early it's a long day to sit in the field for 40 overs and watch your team bat.
"So I got very good at defence and very good at batting and blocking.
"I still make runs and… I think I've made over 2800 runs or so now in my hundred games."
Her batting record includes 29 half centuries, the total at which a women's GCL cricketer has to retire.
Fitzpatrick is no slouch when it comes to bowling either, having taken about 185 wickets – with many taken during some games for Morwell's men's teams.
She said she gets her wickets "a bit like Glenn McGrath", consistently bowling in difficult areas to limit scoring opportunities and frustrate her opponents.
"I don't get a lot of runs hit off me because I make it really difficult if they miss it they get bowled," Fitzpatrick said.
"For an old person, technically, I'm probably one of the fastest bowlers in the league."
Now with 2000 runs to her name Fitzpatrick now has her eyes set on making more runs and the one last batting milestone that has eluded her – hitting a six.
"I've made 2000 runs and I possibly will get to 3000," she said.
"I'd like to think if I can get to 200 wickets that would be really good."