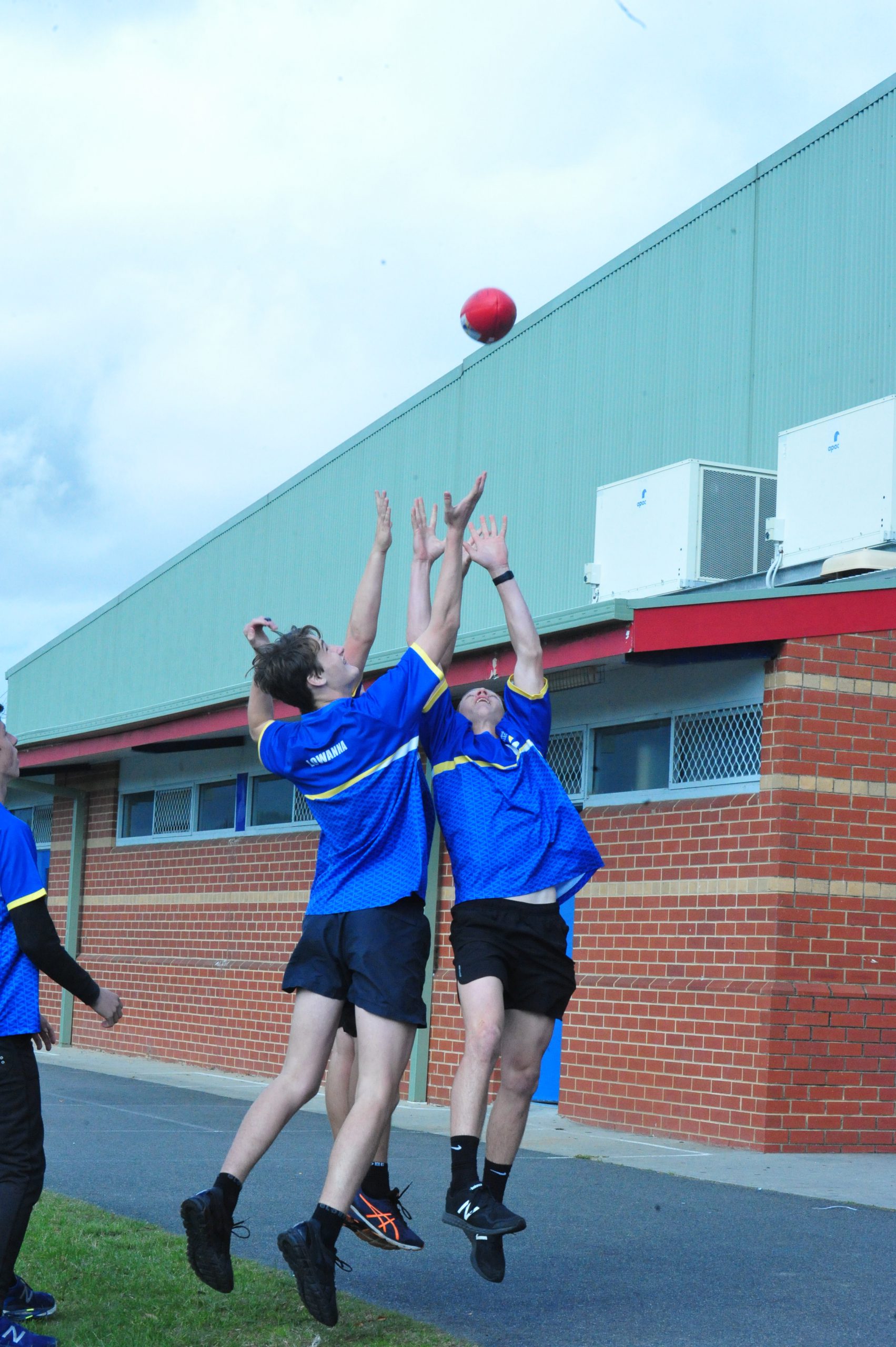 Eighteen months after Lowanna College started a formal system of combined sporting and academic achievement, the project is showing strong signs of success.

Launched with the help of AFL superstar Garry Ablett Jr in November, 2015, the Sports Excellence Program involves students in years 9 and 10 taking part in high level sports, if their grades are good enough.
Lowanna chose sport as an area of focus because its students were doing well in school competitions, but weren't making high-level, external squads.
"When I first got here in 2008 through to 2010 there was no one who made Gippsland Power, there just wasn't one," program coordinator and football head Allan Chandler said.
"So I developed a football development program to try to help kids at year 9."
There are 50 students at Lowanna undertaking the program and as part of their involvement they must take part in either a basketball or football competition outside of school.
In year 9, participants get involved in many aspects of sport and the sports industry.
By year 10, students are starting a Vocational Education and Training course in sport and recreation.
"So they follow that through to year 11 and then they have a qualification they can use," Chandler said.
"The year 9 course, before it goes to year 10, really becomes a precursor for VCE (Victorian Certificate of Education), so those kids are getting the basics for what they need in year 11 PE and biology.
"So it's starting to scaffold beautifully."
Both Chandler and basketball head Mike Santo are level two accredited coaches in their respective sports and it's a standard they want to maintain when others are added.
They are assisted by Newborough Bulldogs seniors captain Josh Whittaker who runs strength and conditioning and joined at times by Gippsland Power coach Leigh Brown.
The program also places an emphases on academic achievement.
If students don't get minimum marks, they are out until things improve.
And it seems to work.
Before starting in Lowanna's Sports Excellence Program, basketballer Sam Flanders wasn't doing great on the books.
Now, things are different.
Originally from Fish Creek, Sam moved north just to attend the school.
His attendance has jumped from 50 per cent to near perfect and his grades have improved.
Sam said the improvements were a result of getting to do more of the things at school he's keen on.
"It's going well, so far," he said.
"I think it's because with the two classes of sport a day it helps me just relax and focus a bit more on school than having just four periods of class work."
A key measure of success for the program is its output, which Chandler described as "scary".
So far one former student has been drafted to the AFL, Sam Skinner was taken by the Brisbane Lions, and basketballer Jazmin Shelley is at the Australian Institute of Sport and has played in national representative teams.
Below them is a whole crop of talented sports people with a number in Gippsland Power's boys' and girls' teams, and others playing basketball in metropolitan Melbourne.
"The quality of those students is quite scary as in we have numerous Vic Country basketballers, we have four trying out for Vic Country footy," Chandler said.
"Then you have six that were in the Power squad and then the under 15 Power squad under that with three in it as well.
"So, there's quite a good amount of talent coming through."
In 2018, as the current crop of students enter VCE, the program will extend into the senior years.
While still not even two years old, Santo and Chandler said the program was showing good results across the board.
The data gathered so far cannot show long-terms trends, however the short-term ones were promising with both saying there was increased engagement, attendance, improved behaviour, and better overall outcomes.
All going well, participants should come out of the program with at a minimum, a Certificate III in Sport and Recreation.
That means even if the students don't become professional sportspeople they still have opportunities in the sector.
"We don't want them to be just great athletes, we want them to be great people as well," Santo said.
"It just gives them an extra qualification that can have under their belt moving forward.
"We put them through the referee certificates too, for most sports, so they can get jobs on the weekend."
Sam agreed the program had opened doors for him.
"It definitely has given me different pathways of which way to go," he said.
While the program currently just offers football and basketball, there are plans to add more sports.