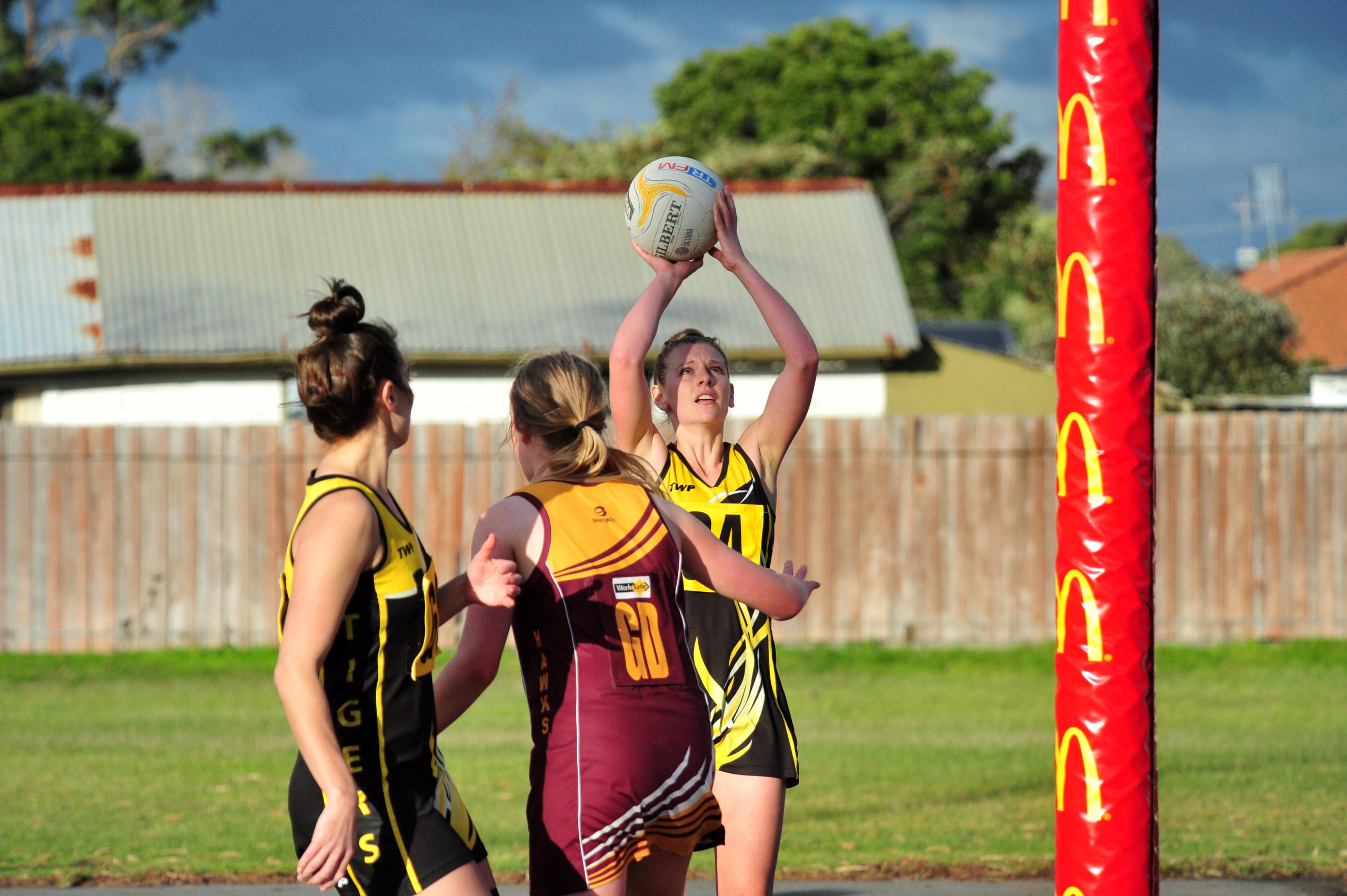 NETBALL
GIPPSLAND LEAGUE
Morwell was left licking its wounds on Saturday after a 21-goal loss to Drouin at home, 50-29.

The win has seen Drouin move into second position on the Gippsland League ladder, shortly trailed by Morwell who sit third with seven wins, two losses and a draw behind the Hawks.
Morwell coach Gail MacFarlane said her team had the right mindset from the get-go but struggled with getting "fire into the shooters-end early in the game".
"Our defence became a bit hesitant after our wing defence and centre were given a warning for going offside when challenging a contest," MacFarlane said.
"I guess we had a few tough calls that went against us that put our defence into two minds."
Casey Sherriff received a notable mention for her effective work around the court after snatching five intercepts in the first half.
Courtney Garth performed well in defence, leading to Drouin's deployment of Stacie Gardiner into shooter while Samantha Pearce provided consistency across the court.
"Sammy was our centre and did a brilliant job against Kristie Edwards, but because our attacking end wasn't firing as it should, we switched her into goal attack and it didn't take long for her to find momentum," MacFarlane said.
Morwell hits the road to Warragul on Saturday while Drouin hosts Sale at home.
Traralgon v Wonthaggi
Traralgon added another notch to its belt on Saturday after securing its 10th win for the season, defeating Wonthaggi by 40 goals, 69-29.
The Maroons led at every break, using the inclement conditions to their advantage.
Traralgon coach Kate French said she "couldn't have asked for a more pleasing performance".
"It was a wet and miserable day and we often rely on our speed through the court so even though the weather slowed us down a bit, we were able to walk away with a win," French said.
The 'twin towers', sisters Taylin and Ramayer Gourley, received notable mentions from French, who acknowledged their consistency throughout the game.
"Taylin was certainly our strength at our goaling end, she had a solid effort shooting a majority of the goals," French said.
"Ramayer was goal keeper and made it difficult for Wonthaggi to score… she's the reason they walked away with a reasonably low score."
Wonthaggi sits seventh on the Gippsland League ladder, with four wins and six losses while Traralgon sits undefeated on top.
Traralgon hosts Moe in on Saturday while Wonthaggi will travel to Leongatha.
Moe v Warragul
Moe continues to hold onto its top five spot after defeating Warragul by 11 goals on Saturday, 52-41.
The win puts Moe in a strong position on the ladder, behind Leongatha by percentage, but equal on points.
A finals spot is not out of reach for Warragul, but becoming more challenging as the season progresses, sitting sixth on the A grade ladder with four wins and six losses.
Moe will travel to Traralgon this weekend to take on the top-placed Maroons as Warragul looks to host Morwell at home.
Sale v Maffra
In the bottom-of-the-ladder clash, Maffra defeated Sale by 19 goals, 48-29.
It wasn't the result Sale was hoping for, which remains ninth after winning one game all season.
The Eagles took an early lead in the game in what turned out to be their second win for the season.
Maffra remains eighth on the ladder following a poor start to the season.
Sale plays second-placed Drouin on Saturday while Maffra hosts tenth-placed Bairnsdale.
Bairnsdale v Leongatha
In the last game of Gippsland League netball, Leongatha continued its fine form by defeating Bairnsdale on the road by 35 goals, 77-37.
The Redlegs hit the road to face Maffra this round while Leongatha hosts Wonthaggi.