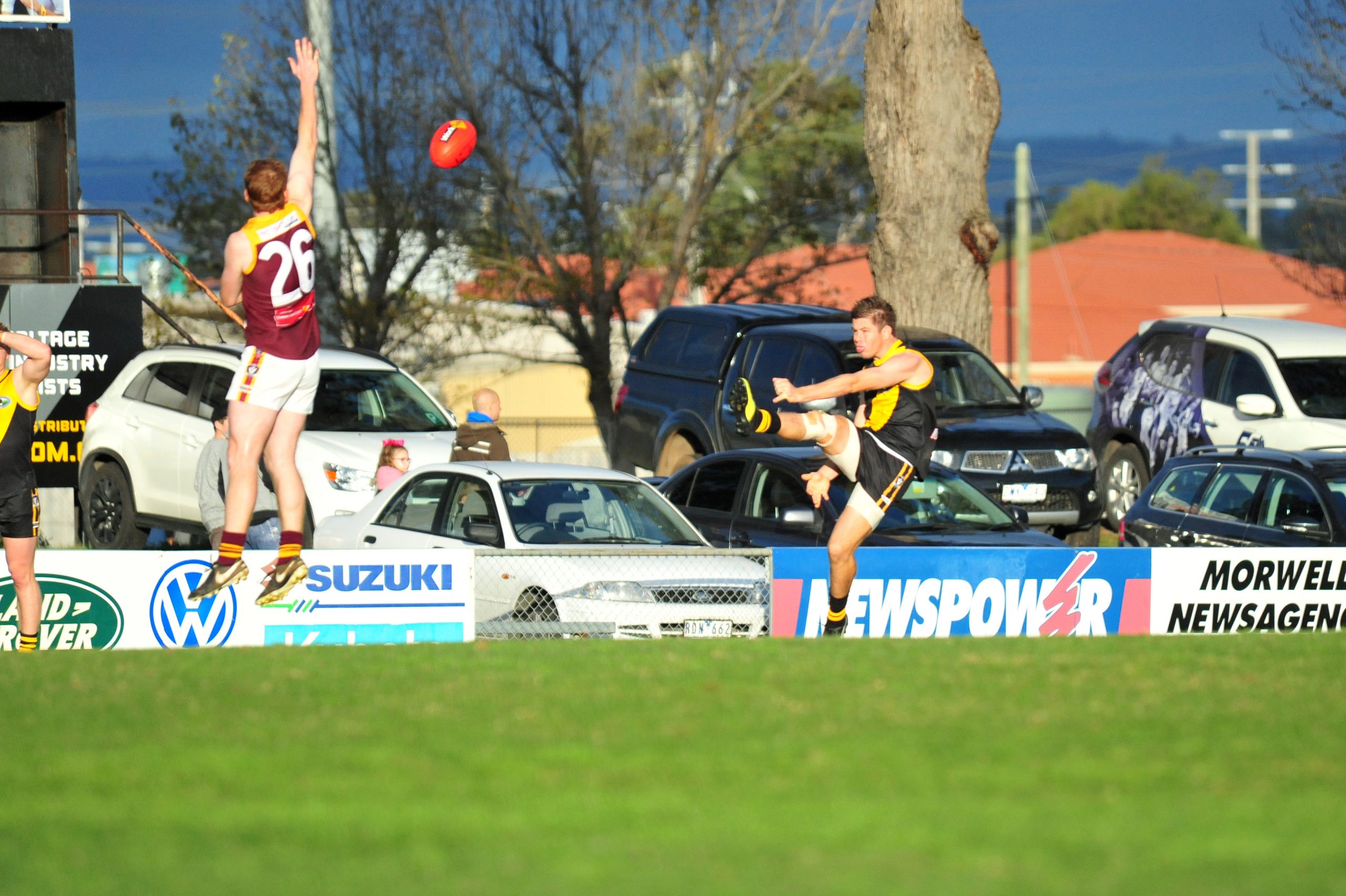 FOOTBALL
GIPPSLAND LEAGUE
Tralralgon continue to reign the Gippsland League ladder after knocking over Wonthaggi by 25 points, 8.5 (53) to 3.10 (28) on Saturday.

The Maroons hit the road with a desire to nab their eighth win of the season, following an impressive performance against Warragul in round nine.
The match went the way of Traralgon all game, as the Power led into the final term with one goal and 10 behinds.
Traralgon coach Mark Collison said the inclement conditions made it difficult for either side to score.
"We kicked fairly straight, that was the difference of the game I think," Collison said.
"It was a hard-fought contest for most of the game, Wonthaggi played some good footy so it was nice to get away with the win."
Michael Stockdale added some class to the backline for the Maroons while captain Ben Amberg led by example in the ruck and made for some "clean hard ball movement".
"We had about 20 more inside 50s compared to Wonthaggi… but they were good with their numbers in defence," Collison said.
The win sees Traralgon remain on top of the ladder with Wonthaggi lagging behind at seventh with four wins and six losses.
Power coach Stuart Gilmour credited a "slippery ball" and a lack of accuracy and skill to the "average performance".
"Our score shows we were aiming for the point posts and we did that really well," Gilmour joked.
"We had to go in there and play a fair bit of stoppage footy and if we had've kicked straight, we would've been a lot more competitive."
Darren Gardiner stepped up for the Power to play his first senior game, rotating through the forward line, while Jarrod Membrey played a strong game in defence.
Jordan Sandy and Jay Neagle were the Maroons' only multiple goal kickers, with two apiece, while Dominic O'Connor, Tom Davey and Aiden Lindsay kicked singles for the Power.
Traralgon hosts Moe at home in round 11 while Wonthaggi travel to Leongatha.
Moe v Warragul
Moe are hungry for a prime finals position according to its coach after taking on, and beating, Warragul at home by 37 points, 17 13 (115) to Warragul 11 12 (78).
The Lions led at every break, taking 16 point lead into quarter time..
The win has put Moe in fourth position on the Gippsland League ladder, well ahead of its position in previous years.
"We were happy with the result, we controlled the game for most of the day," Lions' coach James Blaser said.
"They challenged us in the third quarter, kicking three or four in a row and got within a goal of us, but we managed to fight back and kick away."
Col Sanbrook performed well in the midfield, registering about 35 touches with stand-out performances by Jai Massese in the backline and Nathan Lee in the midfield.
"Nathan provided plenty of run, and really helped the boys up front," Blaser said.
Ash Dugan and Scott Van Dyk bagged three apiece for the Lions with doubles to Harrison Sim, Rhys Anderson, Dan Risol and Blaser.
Warragul coach Steven Kidd said his team was disappointed with how the game turned out.
"We had another five changes yesterday so we've been struggling to find some consistency and stability in the line-up," Kidd said.
"We had to bring in an additional two under 18 players, totalling four under 18s, because of injuries and availabilities in the senior side"
Kidd said the execution of his team's skills were the main problem, citing "poor" disposals by foot and "average" targeted shots.
Matt Rennie recorded about 15 marks in defence while Nathan Paredes played consistently, gaining plenty of possession throughout the contest.
Warragul remain down the bottom end of the ladder, sitting at eighth with four wins and five losses.
In round 11, Warragul host Morwell while the Lions venture up the Princes Highway to Traralgon.
Morwell v Drouin
In an unsurprising result, Morwell defeated Drouin by 96 points, 24.10 (154) to 8.10 (58).
The Tigers hit the scoreboard early, with a 34-point lead at quarter time before taking a 55 point lead into the main break.
Morwell coach Joel Soutar said he was pleased with the result but disappointed his team did not play "four decent quarters of football".
"I think we are good but we forgot about our structures and what we've been training for," Soutar said.
"We kicked reasonably well, that was a positive I suppose, but Drouin chopped us up a bit in the second and third quarters."
Brandon McDonald and Michael Duncan had a field day in front of goals, kicking five apiece for the Tigers while captain Ryan Tatterson received acknowledgment for his work out of the midfield.
Ryan Hearn had an impressive game in the backline after returning to the side from a corked thigh earlier in the season.
The win sees Morwell secure fifth spot – two points behind Moe – with five wins, a loss and a draw while Drouin sit tenth and are yet to register a win.
But it wasn't all doom and gloom for Drouin, with coach Bob McCallum optimistic about sections of the play.
"If we have a look back at our previous results, it's certainly not the worst result," McCallum said.
"We've been struggling for numbers first and foremost, it's made things even worse with the amount of injuries we've had this season.
"We've been competitive, we have our forward attacks but we just don't convert our play to goals."
Jordan Kingy returned to the Hawks' line-up after a stint with Casey Demons in the VFL while notable mentions went to Liam Axford, Tom Barr, Darcy Irwin, and Michael Theodoridis – who kicked two goals.
Drouin hosts Sale in round 11 in what could be the Hawks' last chance to register a win this season while Morwell hits the road to Warragul.
Bairnsdale v Leongatha
Leongatha secured its eighth win of the season in what was a closely-contested match after defeating Bairnsdale by 10 points on the road, 10.18 (78) to 10.8 (68).
The Redlegs travel to Maffra on Saturday as Leongatha host Wonthaggi in a special Sunday fixture clash this weekend.
Sale v Maffra
In the final Gippsland League game, Maffra defeated Sale by 46 points yesterday as the Eagles hit the road to take on the Magpies in the traditional Sunday clash, 12.21 (93) to 7.5 (47).
Sale travels to Drouin this weekend while Maffra host Bairnsdale.