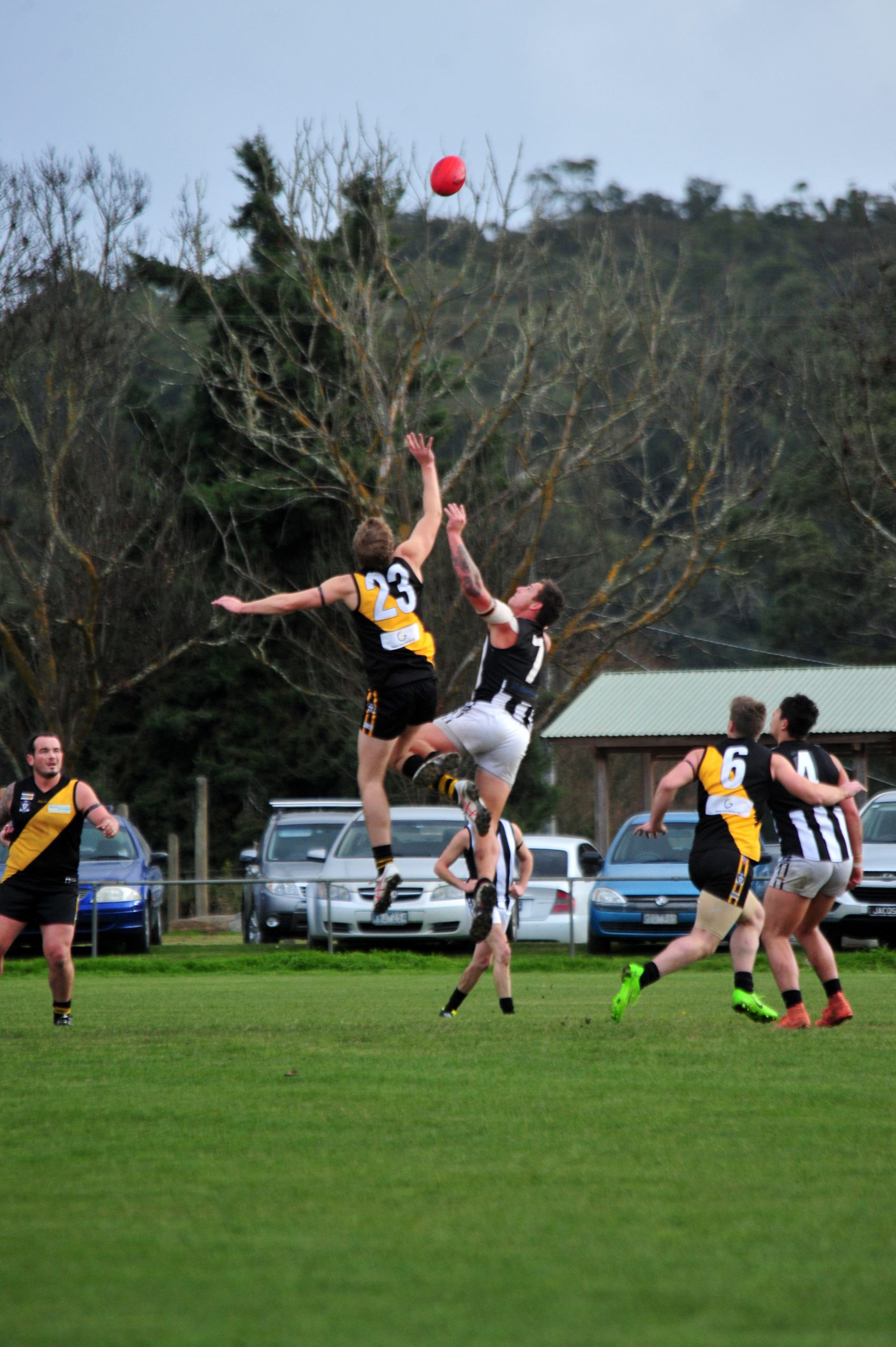 FOOTBALL
NORTH GIPPSLAND
In the biggest upset of the round, ninth-placed Rosedale secured its second win for the season defeating sixth-placed Cowwarr on the road by 11 points, 10.9 (69) to 8.10 (58).

The Blues trailed in the first half, down by seven at quarter time and eight at half time before nabbing the lead by nine points leading into the final break.
Rosedale coach Sam Bristow said it was the first time this season his team played four quarters of football.
"We've played halves and quarters all year but the difference was we played a full game on Saturday… it was good to see the players execute what we have been practising all season," Bristow said.
"Our defence didn't get beaten all day, they played really well, our back six were really solid."
The win comes after the Saints won by eight points against the Blues back in round two.
Jack Tatterson and Corey Beaver had stand-out performances in front of goals, booting four apiece with Adam Diamond and Matt Royal slotting home singles.
It was Diamond's third game for the season, playing two games for the Blues last year, after struggling with an ongoing head injury.
"Out of the 22 blokes we didn't carry anyone, there were no passengers, everyone contributed," Bristow said.
"We're just looking to get some improvement on the board and get some wins together."
Cowwarr coach Brett McMaster said his side did not make the most of its opportunities in the second half.
"Siaosi Lay-Blake played well down back, he took a lot of intercept marks and rebounded well the ball for the side," McMaster said.
Simon Ferguson received a notable mention as "one of the side's most consistent players all year" for his work down back for the Saints while Bill Phelan was praised for his work in the ruck.
Rosedale takes on Heyfield at Gordon Street Reserve on Saturday, while Cowwarr hits the road to face Glengarry.
Sale City v Churchill
Sale City continued its fine form on the weekend after a 95-point win at home against Churchill, 20.18 (138) to 5.13 (43).
Matthew Ferguson booted six in front of goals for the Bulldogs, with Bohdi Walker adding class to the scoreboard with an additional three majors.
Inaccuracy on the Bulldogs' behalf prevented the game from being a 200-point blow-out, after Sale City tabled 18 behinds.
Bulldogs' coach David Piasente said light rain before the game made the deck slippery, allowing the Cougars to apply pressure in their back half.
"It was pretty messy football until half time," Piasente said.
"The conditions dried up a bit and we really started dictating the play and getting good contested footy, our ball movement was good from defence to forward and we gave our forwards some really good opportunities with delivery inside forward 50."
At quarter time, the Bulldogs trailed by two points but took the lead at half time with a seven goal improvement before kicking away in the third to lead by 59 points leading into the final term.
The Cougars struggled to make up numbers in the second half, with six players injured, including two on field.
"We had no bench after half time… we were okay up until then but after that it fell away and we weren't competitive," Churchill coach Brendan Holt said.
Bulldogs' forward Jake Schuback sustained a corked thigh in the first quarter, but battled through until three quarter-time, before sitting out the last term.
Justin Mclay received a notable mention for his work around the backline for the Dogs while Bohdi Walker brought the house down with a torpedo goal from 60 metres from near the boundary line.
"Harry Kaandorp and Chris Kelf had on top performances in the ruck giving the midfield first look at the footy too," Piasente said.
Sale City reigns supreme on the North Gippsland ladder with nine wins and two losses with Churchill at fifth with six and five.
The Bulldogs take on Gormandale at home in round 12 while Churchill travels up the road to play Traralgon Tyers United.
Gormandale v Glengarry
Glengarry has nabbed a percentage-boosting win after defeating Gormandale by 176 points, 31.12 (198) to 3.4 (22).
The Magpies led at every break at Gormandale, kicking 10 majors in the first to the Tigers' one goal.
At half time, the lead had stretched out to 87 points before Glengarry took a 131-point lead at three-quarter time.
Magpies coach Chris Day said the win would boost his side's percentage and help it "get back on track with other teams competing for top six spot".
"Without being disrespectful to Gormandale, they were pretty undermanned and sides that don't tend to look they'll make finals normally drop off around this time of year," Day said.
He said his side used the game as an opportunity to make a few positional changes on the ground.
"We moved Josh King to centre half back (from a key forward position) and he played really well, he gave a lot of drive off the centre half backline," Day said.
"Ben Truin went from centre half back to centre half forward and he balanced our side up really well, he's a taller, mobile type player and he had a really good game."
Chris Wangman was put into ruck, and described by Day as "influential in play" for the Magpies, after struggling with hamstring and back injuries throughout the season.
"It was a good team effort, obviously you can't kick 31 goals without all players contributing in some way," Day said.
The win sees Glengarry in seventh place with five wins and six losses, while Gormandale sit tenth and are yet to secure a win for the season.
Glengarry host Cowwarr on Saturday while Gormandale makes the trek to Sale to play the top-placed Bulldogs.
Yarram v Heyfield
Pressure and intensity has been attributed to the low-scoring heavyweight clash at Yarram on Saturday after the Demons walked away 30-point winners against Heyfield, 11.9 (75) to 6.9 (45).
Yarram has moved into equal-second place with Heyfield after the win, separated only by percentage, after the Demons led at every break during the game on Saturday.
Yarram coach Chris Pettitt said the conditions provided a good atmosphere for football after a slight breeze swept across the ground for most of the game.
"It's always nice when you can knock off a top side," Pettitt said.
"I looked at the scoreboard on Sunday and even though it was a low scoring game, it wasn't the conditions that kept us to that low score, it was just the bloody high pressure.
"We laid about 107 tackles throughout the game which was outstanding and some of our better players really enjoyed the hard pressure and competitive style."
Demons' captain Chris Bruns was a "great instigator" for the high number of tackles and pressure after he was moved into the midfield from centre half back in the latter stages of the second term.
"He was everywhere, it felt like he was playing every position on the ground," Pettitt said.
Trek Davis and Jack Moore repelled a lot of Heyfield's attacks down back, setting the side up for plenty of movement in the forward line.
"Griffin Underwood played in the midfield, he had a tagger (on Saturday) but that didn't worry him… he had an outstanding and consistent game."
Heyfield coach Josh Stubbe said Yarram's pressure throughout the game was the "quality of finals football".
"It was something we weren't expecting, we couldn't control the game or the ball," Stubbe said.
"In the second quarter, they got on top and led for the rest of game… we were just trying to keep up for the rest of the match.
"Jack Woodland and Michael Coleman were in and under all day and Nicholas Dowse and had a role on Corbin Sutherland and performed really well, (Sutherland) only kicked two goals."
In round 11, Yarram travel to Woodside while Heyfield hosts Rosedale.
Woodside v TTU
In the final North Gippsland round 10 game, Woodside secured its seventh win for the season after defeating Traralgon Tyers United by seven points, 13 5 (83) to 11 10 (76).
The Wildcats trailed at every break at home but managed to break free in the final term, booting five goals to TTU's two.
"We had a few guys out but we were definitely happy with the result, we didn't play our best footy but we were pleased," Woodside coach Gary Jones said.
"Either team could've got the win, but TTU had a few more missed shots at goal but it was a pretty balanced game.
"The biggest margin was about 14 points (during the game) I think, so it was pretty full on."
Cameron Whiteoak was good in the midfield, covering a lot of the ground and using the ball "really accurately".
"He hardly turned the footy over," Jones said.
The win sees Woodside remain fourth on the ladder with seven wins and four losses while the Bombers sit eighth with three and eight.
Gav Stevenson had a big job down back for the Wildcats, positioned on Tim Aitken who was at full forward for the Bombers.
"He scored five goals but Gav was able to win a few one-on-ones and bring the footy to ground," Jones said.
Ryan Foat also received a notable mention, kicking four goals for the Wildcats on Saturday.
Next round, Woodside hosts Yarram while TTU hosts Churchill.