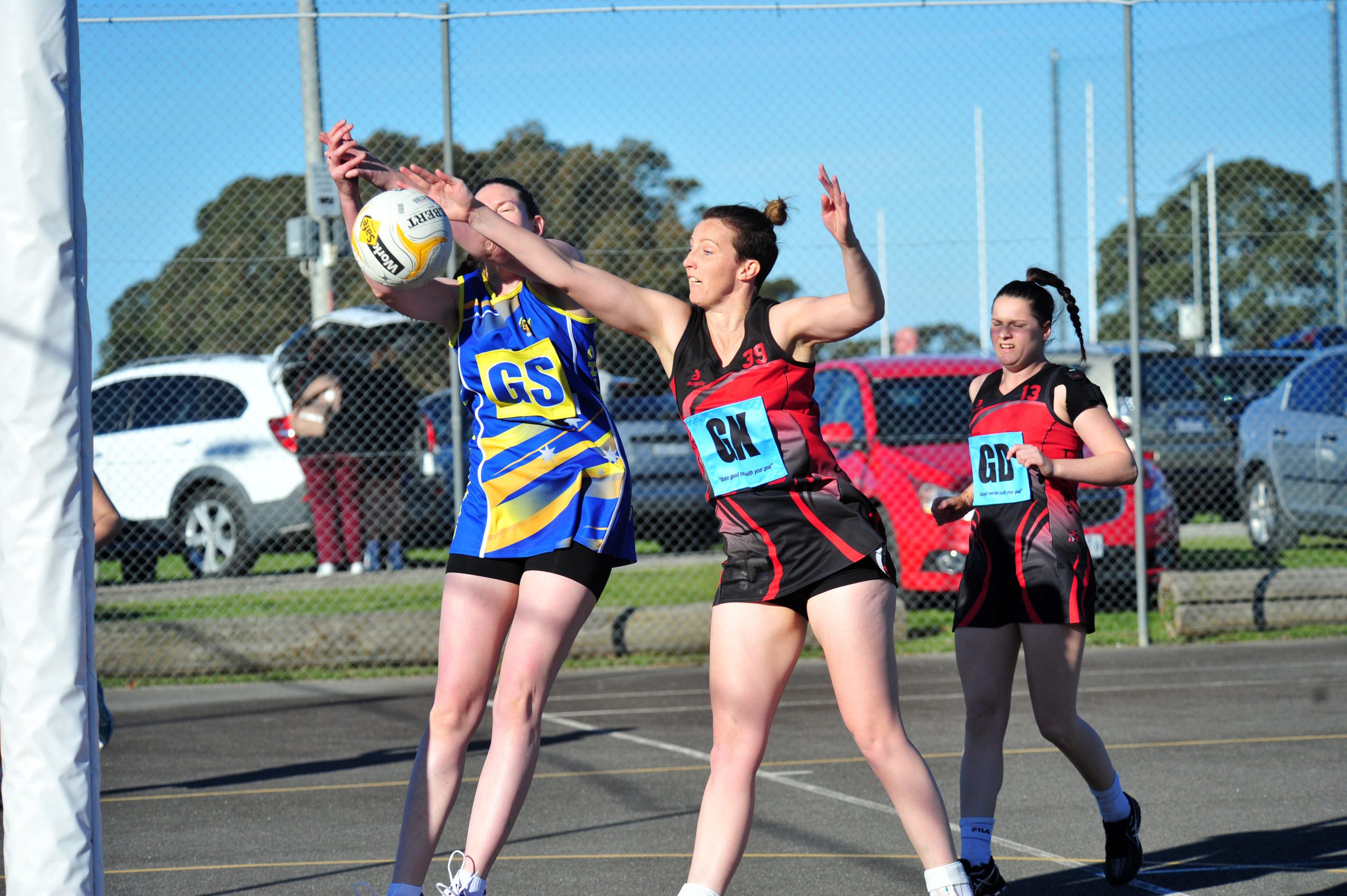 NETBALL

NORTH GIPPSLAND
Churchill was lucky to escape with a win after close game against Traralgon Tyers United on Saturday, 40-37.

The Cougars sit fifth on the North Gippsland ladder with six wins and six losses while TTU sit tenth with one win.
Churchill A grade captain Kat Hutchinson said the "passionate" game led to several impressive performances by some key players.
"It was great to see Kassie Meal in goals for the first time who found her feet really well," Hutchinson said.
"Lauren Hornibrook also put on a dominant display in the defensive end seeing Churchill pull off a three goal victor."
TTU netball manager Sharon Rodgers said TTU were determined to snatch their second win for the season, following a win over Gormandale earlier this season, "but couldn't make it over the line".
"We were four goals down at half-time and fought hard in the second half," Rodgers said.
"With only a few minutes to go in the final quarter, scores were level but a couple of turnovers went the way of Churchill which saw them a few extra goals and taking the game by three.
Sam Webb teamed well in defence with Meghan Keast, according to Rodgers, and took a number of intercepts and "tried really hard to get rebounds against taller goalies".
In round 13, Churchill hosts Cowwarr at home while TTU head to Rosedale.
Heyfield v Rosedale
Heyfield remain undefeated 12 rounds into the season following a 15 goal win over eighth-placed Rosedale at home, 40-25.
Heyfield Netball Club president Kerri Chivers said she was surprised Rosedale "put up that much of a fight" during the round 12 clash.
"It was a really good game, it was a bit of a struggle against Rosedale," Chivers said.
"Our defence played incredibly well, with 14 turnovers contributed by Caitlin Ponton and Mel Johnson who played in goal defence and goal keeper, respectively.
"There was a lot smooth transition in the attack end with Serrin Stobie and Bec Berry at the helm."
Rosedale remain third from the bottom with three wins and eight losses.
On Saturday, the Blues hosts Traralgon Tyers United while Heyfield travel to Glengarry.
Woodside v Yarram
Following a smoking ceremony to recognise NAIDOC week, Woodside and Yarram battled it out in a close-fought clash as the Wildcats took the lead in the dying stages of the fourth quarter to win by eight goals, 38-30.
Woodside remain in the top five, on second, with 10 wins and two losses while Yarram sit at seventh with seven and three.
Wildcats' A grade captain Carly Foat said the team's defensive pressure helped secure the win.
"We really gelled well together as a team, we were in front at every break including one by quarter before stretching the lead out to three at three-quarter time," Foat said.
"The lead really took place in the final quarter and I would put that down to our experience and strong defensive pressure."
Laura Foat was named best on court for her work in the centre, also adding to the Wildcats' defensive pressure.
The Wildcats will travel to Gormandale on Saturday while Yarram hosts Sale City.
Glengarry v Cowwarr
Glengarry were too strong for Cowwarr at home, securing its ninth win for the season after a 11 point victory over Cowwarr, 53-42.
The win sees Glengarry remain third on the North Gippsland ladder with Cowwarr sitting just out of the top five at sixth, with five wins and seven losses.
Only four points separates the Saints from fifth-placed Churchill.
This round, Glengarry hosts Heyfield while Cowwarr head to Churchill.
Sale City v Gormandale
IN the final North Gippsland A grade game, Sale City dominated Gormandale at home, securing an 11 goal lead over the Tigers.
The win sees Sale City remain at fourth with seven wins and five losses while Gormandale linger second-last with one and 10.
On Saturday, Sale City travel to Yarram while Gormandale host Woodside.