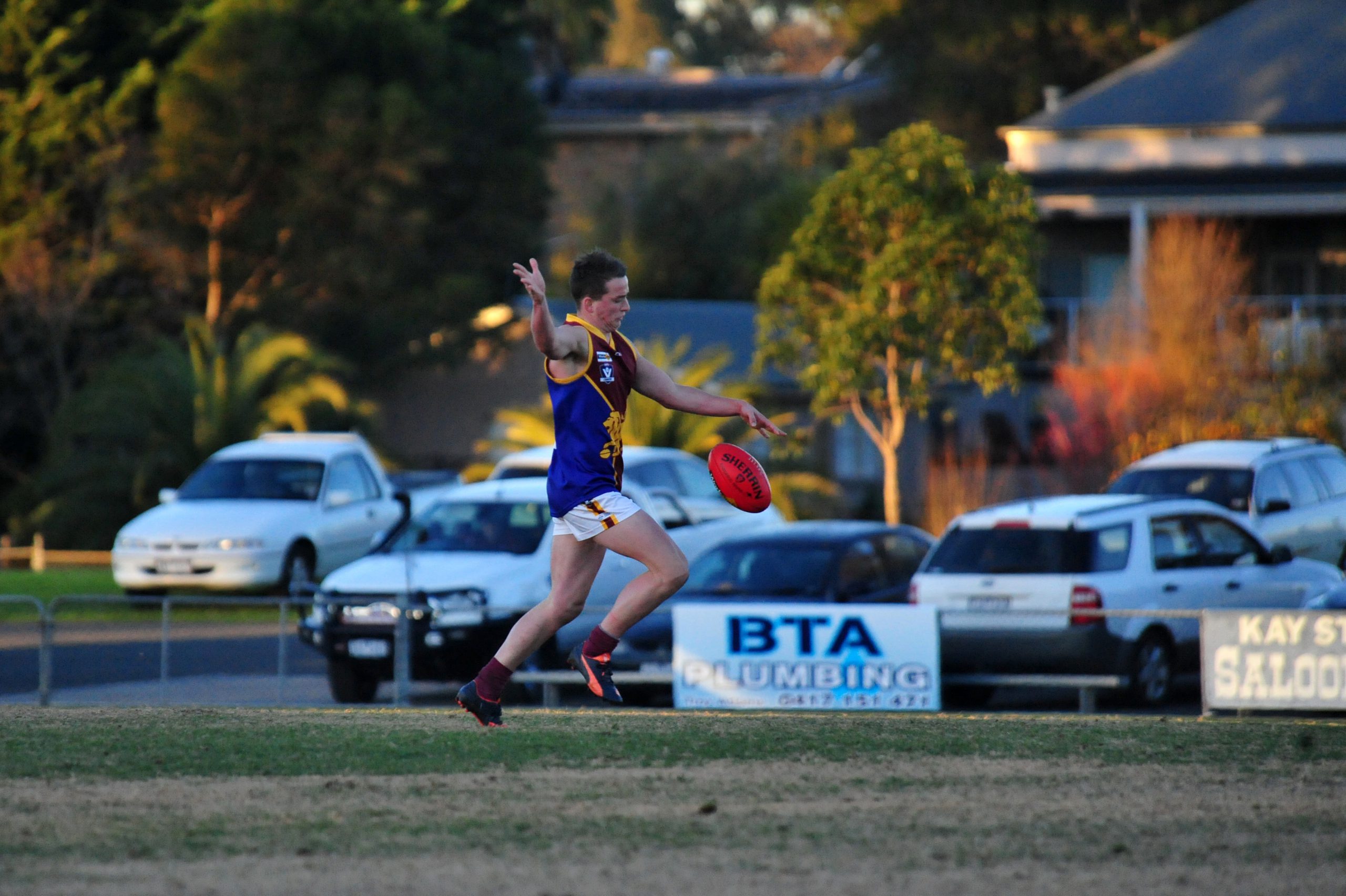 FOOTBALL

GIPPSLAND LEAGUE
All eyes will be on Moe this weekend after it knocked Traralgon off the top of the Gippsland League ladder with a five goal win over the Maroons.

Second-placed Maffra take on fifth-placed Morwell as both teams head into the game with round 11 wins, while Traralgon will be looking to flex some muscle when it hosts ninth-placed Sale.
Moe coach James Blaser said his team was in good form, winning four of its last five matches, but admitted there was a lot of work to be done heading into the game against ladder leaders Leongatha.
"We haven't been able to figure out Leongatha and why they've been so good in the last few years," Blaser said.
"I think playing on a home ground at Moe is going to work as an advantage but we have to be as good as we were against Traralgon to compete with Leongatha."
It's the second time in two weeks fourth-placed Moe will take on the number one side, after the Parrots secured top spot following Traralgon's shock loss last round.
But the Lions will be hoping for a more competitive performance following a 73-point loss to the Parrots in round three.
Leongatha coach Beau Vernon said his team would have a big emphasis on defence, acknowledging Moe would be one of the "biggest challenges" his team has faced this season.
"It will be an exciting game of footy, we played on Sunday (in round 11) so we have a day less to recover than Moe… that will come into consideration at training this week," Vernon said.
"Our focus will be centred around a lot of skills work and defensive pressure."
Leongatha reign supreme on the ladder, but equal on points with Maffra, while Moe sits fourth with eight and three.
Morwell v Maffra
Morwell will be looking to make it seven on the trot following a five-goal win over Warragul on Saturday when it heads to Maffra to take on the Eagles.
Maffra heads into the game in good form too, following a 72-point win over Bairnsdale in round 11.
The Tigers round out the top five with six wins and four losses while the Eagles sit second, equal on points but separated by percentage with ladder leader Leongatha.
Morwell coach Joel Soutar said "the only way we'll win a game is to put in a four quarter performance".
"They use the ball pretty well so our pressure is going to have to be pretty hard so we can put some heat on them," Soutar said.
"We'll have to maintain a four-quarter performance to beat them, we cant have a lapse at all."
But for reigning premier Maffra, the focus will be different.
"Tackling is key to win this contest, plenty of hard pressure around the ball and hitting targets, if we can do these three things right, we'll win the game," Maffra coach Wayne Butcher said.
If prior history is anything to go by, the Eagles well feel somewhat comfortable after a seven-goal win over the Tigers in round four earlier this year.
Traralgon v Sale
Following a shock loss to Moe last round which saw Traralgon knocked off the top of the ladder, the Maroons will look to make amends when it hosts ninth-place Sale at home on Saturday.
The five-goal loss left Traralgon coach Mark Collison tight-lipped about what the focus would be heading into the game against the Magpies but said "pressure up forward" would be key to securing a win for the now third-placed Maroons.
These teams last met in round three, with Traralgon comfortably tabling an 85-point win.
Sale coach Shane Fyfe said he expected Traralgon to come out "guns blazing" following its loss to Moe last round.
"They're a top-three side in the competition, so we're going to have to work really hard to try and match their performance," Fyfe said.
"They spread really well so we're going to have to defensively run and put pressure around the footy for four quarters."
The Magpies sit ninth with two wins and nine losses, eight points behind eighth-placed Wonthaggi.
Warragul v Bairnsdale
Bairnsdale will be looking for redemption following a 74-point loss to Maffra last weekend when it hits the highway to face Warragul.
The Gulls will also be keen for a win following a 28-point loss to the Tigers at Western Park on Saturday.
Bairnsdale coach Stuart Anderson said the game was a "must win contest" to keep the Redlegs' finals hopes alive.
"We're starting to move into that part of the season where the destiny of finals action is in our hands and still very much well alive," Anderson said.
"Down at Warragul, they're always four or five goals better than when they play away."
Bairnsdale went to town on Warragul at home last time these two teams met, securing a seven-goal defeat against the Gulls.
Warragul coach Steve Kidd said "pressure and intensity" would be a key focus of the game, acknowledging a "great first quarter performance" was essential to nab the win.
Bairnsdale and Warragul sit sixth and seventh respectively, both with four wins and seven losses, and equal on points.
Wonthaggi v Drouin
Drouin will venture down the highway to Wonthaggi on Saturday following a 70-point loss to Sale last round.
The Hawks have had a rough trot this season, the only Gippsland League club yet to secure a win.
Wonthaggi heads into the game with similar form, losing to arch-rival Leongatha by 80 points on Saturday.
Drouin coach Bob McCallum said his side would need to concentrate on putting in a four quarter performance to "turn the game into a win" for the side.
"We'll stick to putting in a consistent effort because if we can stop these teams from scoring big numbers against us, that will mean more opportunities for us to go forward," McCallum said.
While the Power sit eighth on the ladder, with four wins and seven losses, Wonthaggi coach Stuart Gilmour said it was important to "get a big score on the board early in the game".
"We want to aim for the goal posts nice and early, we couldn't capitalise on opportunities against Leongatha early in the first quarter, so that's the aim for us," Gilmour said.
"We've lost three players for the season due to injury and we're waiting on two to come back in Michael Kelly and Jesse Smith.
"They should make their return to the reserves this week and join us in the seniors soon after that."