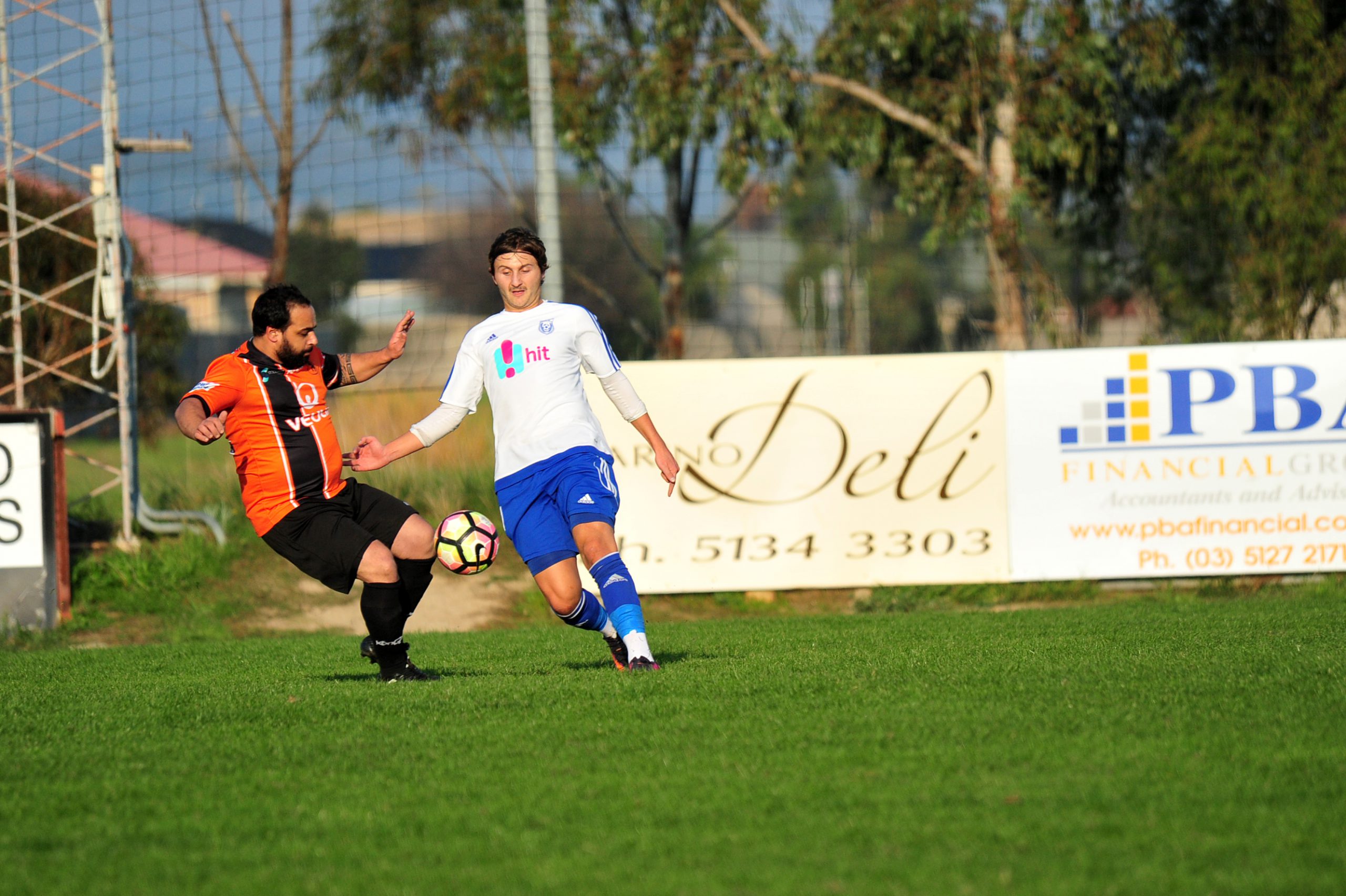 SOCCER

LVSL

Traralgon Olympians have returned to winning ways in its local derby with Traralgon City, defeating their cross-town rival 4-1.

After losing their last two matches to City, the Olympians came out firing but it was City who bagged a goal in the first minute through leading-scorer DJ Matar.
It took Olympians 20 minutes before they were able to equalise through Bryson Tanti.
They then scored goals in the 25th minute through Chris Panayiotou and then a brace by Dragan Milesevic in the 35th.
Another was added in the 45th minute to give Olympians a 4-1 half-time lead.
After the break neither side could goal as play went back and forth with the both keepers not being troubled.
The result was Olympians biggest win over Traralgon City since 2010.
Falcons v Moe United
League leader Falcons 2000 and Moe United fought out a thriller with the Falcons winning 3-2 in a game that was hard and physical.
The Falcons lost their cup match midweek and were able to focus their efforts on the league championship.
Aaron Daniels scored in the third minute but Moe's Luke Bathgate replied five minutes later to tie the scores.
The Birds' Sam Amaira broke the deadlock at 26 minutes and both teams played hard to the break with Falcons leading 2-1.
United's Michael Melnyzenko equalised three minutes into the second half and it was game on as Moe took it up to the Falcons.
Falcons had to turn to prolific goal scorer Jesse Kennedy to get them out of trouble and the deft marksman made no mistake in the 67th minute for his 14th goal of the season to give Falcons a 3-2 victory
NYU v Churchill United
Newborough/Yallourn United's 5-0 win over Churchill United was only their fourth victory against Churchill in their 34 matches played.
The combine showed its dominance with three early goals, the Fairbrother brothers deep in the action during the match with Mark scoring a hat-trick and Dylan one.
The Rams were defensive in the second half and held out until NYU had a purple patch to score three goals within five minutes to take them to a healthy 5-0 finish.
Monash v EGUFC
Monash came in for a tough game against East Gippsland United playing away at Bairnsdale where the visitors always have to earn a win.
The Wolves opened up with two goals in the first half with Marc Koolen scoring in the eighth minute, before Callum Polo doubled the tally in the 21st.
The second half was full of scoring opportunities, with the Eagles' Paul Apostoleris scoring twice at the 60th and 70th minute marks.
But it was the skill of Andreas Nilo who ensured victory with a hat-trick including the final goal which broke the deadlock to earn the Wolves a 5-4 victory.
Trafalgar Victory v Tyers Lightning
It was an all brother effort for Trafalgar as they steamrolled Tyers 7-0.
Joshua Paredes scored a hat-trick with goals in the 55th, 62th and the 64th minutes.
His brother Nathaniel beat the keeper in the 61th and 78th minutes.
Connor and Dylan Wyatt also scored goals in Trafalgar highest ever win over Tyers.
Sale United v Fortuna
Sale continued its winning streak over Fortuna, chalking up its seventh successive victory over the Lions.
The Swans won 5-1 after leading 2-0 at half-time.
Ivan Vekic got one back for Fortuna just after the break but then Sale swung back into action with two goals in two minutes through Jon Piefke and Anthony Wainwright to give them a 4-1 lead.
Kieran Smith added a goal at the 71st minute to wrap up the match 5-1.
Next round ninth-placed Moe United takes on eight placed Fortuna '60 at Olympic Park, fourth-placed Traralgon City hosts seventh-placed Trafalgar Victory and Monash hosts the combine in the Newborough derby.
In other matches, Churchill United hosts Sale United, Tyers hosts Falcons 2000, and East Gippsland United hosts Olympians.