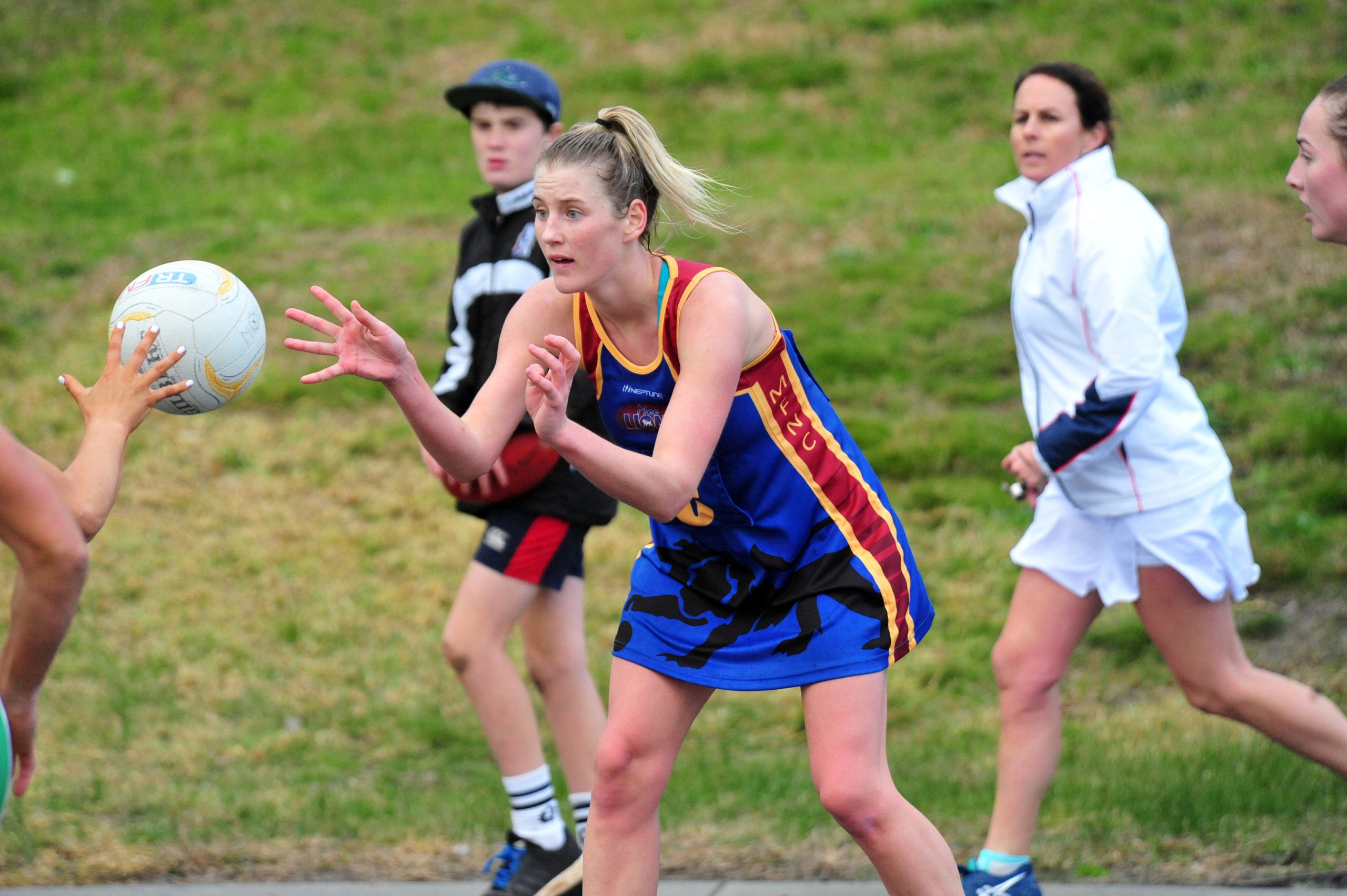 NETBALL
GIPPSLAND LEAGUE
Leongatha and Traralgon headline this weekend's round 13 netball action when fourth plays first in the Gippsland League.
Last time the sides met in round four, powerhouse Traralgon flexed its muscle to record an impressive 34-goal win.
Traralgon is poised atop the ladder with a clean scorecard for season 2017, but coach Kate French said the Maroons would not take Leongatha lightly.
"From my point of view Leongatha is a quality side and they've got some really key goalers who we'll be looking to shut down," French said.
She also said the different playing conditions this weekend would factor in the end result.
"It's indoors this time, which definitely suits them because it impacts on the speed of the game and they've got the ability to transition from turnovers into goals really quickly," French said.
Last time the teams met in round four, Traralgon ran over the top of the Parrots and French said her side would look to carry its winning form through this weekend.
"We were really happy with the result last time; we started slow which was a credit to the Leongatha defence, but we were able to take them out in the end."
With a side full of fresh legs, Traralgon is primed to continue its unbeaten run towards finals.
"We're looking fresh which is nice," she said.
"We'll be looking to continue our quick transitions through the middle, but we will also focus on trying to slow them down on the wooden courts.
"Their goalers are very accurate, so ideally we want shut it down in the mid court before it gets there."
The Maroons annihilated Sale by 53 goals last weekend and are firming as hot favourites for the 2017 premiership, while Leongatha drew with Moe on 41 goals apiece.
Drouin v Moe
Defending premiers Drouin is well placed to defend its title, perched second on the Gippsland Netball League ladder behind runners up Traralgon.
Drouin edged out the Lions last time they met in round four, hanging on in a hard-fought contest to win by four goals.
Moe will look to prove its worth as a premiership contender after bundling out in the preliminary final last year.
After winning its last four on the trot, Drouin sit in second place on the Gippsland League ladder, just a game shy of leaders Traralgon.
Moe drew with Leongatha in Round 12
Drouin won by 12 goals over Wonthaggi Power
Bairnsdale v Wonthaggi
Bairnsdale will look to secure just its second win of season 2017 after a disappointing string of nine losses.
Wonthaggi was out-classed by 2016 premiers Drouin in Round 12, putting up a valiant defensive effort in the first half before being outscored by 12 at the final siren.
The Redlegs have come agonisingly close in the past two weeks, falling just short of Warragul and Maffra by four and six goals respectively.
Bairnsdale A grade coach Katelyn Wheeler said her troupe have "definitely improved" in the last two weeks.
"Compared to the first half of the season we're definitely that bit better this time around," Wheeler said.
The Redlegs line-up will be bolstered by the return of gun goalkeeper Emma Richards after three weeks on the sidelines with a strained knee.
Monash Storm defender Sally Deller is also back for Bairnsdale, and is expected to help gap the defensive deficit.
"Sally was out last time we played Wonthaggi, so she's a massive in for us this weekend," said Wheeler.
Maffra v Warragul
Maffra and Warragul will battle it out for sixth spot on the Gippsland League ladder this weekend when they face-off in round 13 action.
The Eagles edged out the Gulls in their last encounter in round four, hanging on to clinch a six-goal win.
Maffra never asserted itself during last weekend's clash with Morwell and was overrun by 31 goals.
Warragul scraped through against bottom-of-the-table Bairnsdale by four goals.
Sale v Morwell
Sale will be in search of its second win for 2017 this weekend when it hosts the formidable Tigers outfit from Morwell.
On the trail to finals, Morwell was impressive in its 31-goal lashing of Maffra last week.
Sale was belted by Traralgon to the tune of 53 goals in round 12, but Morwell coach Gail MacFarlane said she expected a feisty encounter with the "really young" Magpies side.
"We want to make sure we're not complacent and that we look to work on the things that we have been doing," MacFarlane said.
"They are developing every game they play, so we really need to make the most of playing some of these bottom sides so that when the end of season comes we're at our absolute best."
With Casey Sherriff a standout performer so far this year, MacFarlane said every member of the Tigers line-up was lifting to a new level every week.
"What is working so well for us is those one on one contests, where every player is beating their opponent," she said.
"We'll be sure to make Sale feel the pressure all the way up the court this weekend and that's what we continue to do really well."