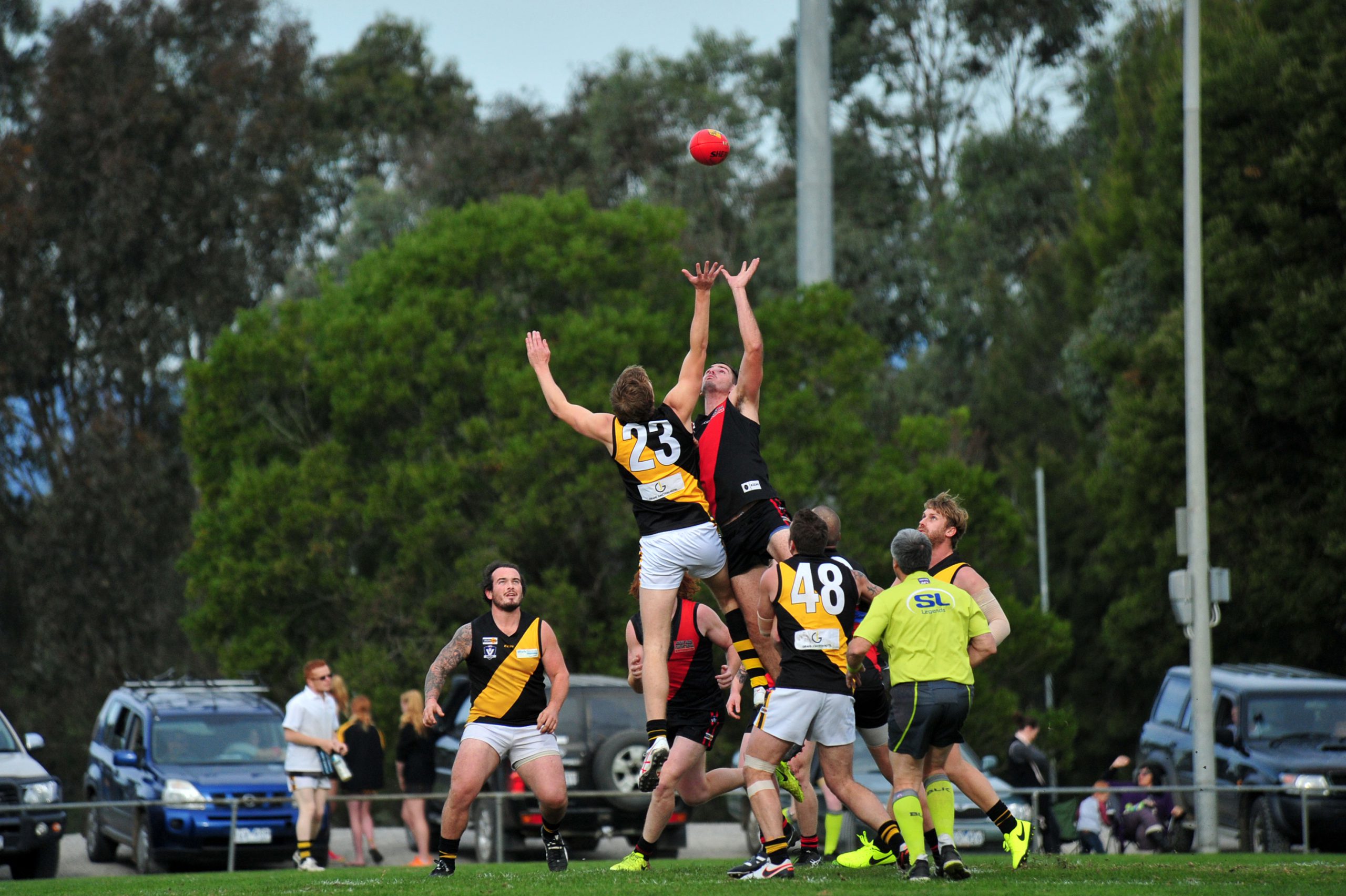 FOOTBALL
NORTH GIPPSLAND
Six out of the 10 North Gippsland teams will receive some reprieve this weekend with the mid-year split round taking place over the next two weekends.
Heyfield and Gormandale will battle it out in a second-versus-10th clash at Gordon Street, while up the road Rosedale will host Churchill in a round 14 showdown.
While there's only six rounds to before the finals, Tigers coach Steve Hazelman remains optimistic after announcing six key signings for next season.
Joey Colaciello, Al Jenkin, Chris Potalej, Daniel Domallie, Doug Grinning and Daniel Goldchick have all committed to "go around again" and don the black and yellow in 2018.
"It's going to be a tough battle this week, Heyfield is one of the top three teams to beat in the competition but we're just going to give it our all," Hazelman said.
The side will be without Al Jenkin this weekend following a hamstring injury at three-quarter-time, while Jordan Stubbe will be out for the Kangaroos for the next three weeks as he jet sets overseas.
The Tigers showed some improvement last week against Woodside, recording one of their highest scores for the season after kicking 7 10 (52) to Woodside's 18 22 (130).
But Gormandale will be hoping for a more competitive performance following a 79-point defeat in round five at the hands of the Kangaroos.
Heyfield heads into the game following a 10-goal loss to Glengarry last weekend.
"(Gormandale) haven't been travelling all that well but we still need to roll into this week like it's any other game," Stubbe said.
"We set the game up in the first quarter last round (against Glengarry) so we want to do that but also carry on and put together four solid quarters."
The Kangaroos sit third on the North Gippsland ladder with 11 wins and two losses while Gormandale sits last.
But Stubbe said his chargers would treat Gormandale like "they are the top side".
Rosedale v Churchill
Rosedale will look to recover from the one-point loss to Traralgon Tyers United last round when it hosts Churchill on Saturday.
The Blues sit ninth on the North Gippsland ladder with two wins and 11 losses, six spots behind fourth-placed Churchill with eight and five.
The Cougars head into the game with reasonable form, following a 39-point win of Cowwarr last weekend.
Churchill coach Brendan Holt said he'd been pleased with his side's performance this season but said there was "plenty of work to be done".
"We just need to play the way we can, we need to execute our plans and exercise our structures, we are pretty confident," Holt said.
"Our skills need to improve, we'll focus on that for this weekend, certainly."
Churchill will be looking to add to its form following a round five 42-point defeat of the Blues earlier this year.
Rosedale coach Sam Bristow said "consistency" and "pressure" would be the keys to winning the game.
"Hopefully we can stick to it for four quarters, we've shown if we can play a full four-quarter effort, we're not a bad team," Bristow said.
"But little lapses in concentration can be very costly as we saw against TTU when they kicked three of four goals within a five minute period.
"When we stick to our structure and play how we want to play, it just works… it's so pleasing."
Next weekend, Traralgon Tyers United hosts Cowwarr, Woodside takes on Sale City and Yarram battles it out against Glengarry.