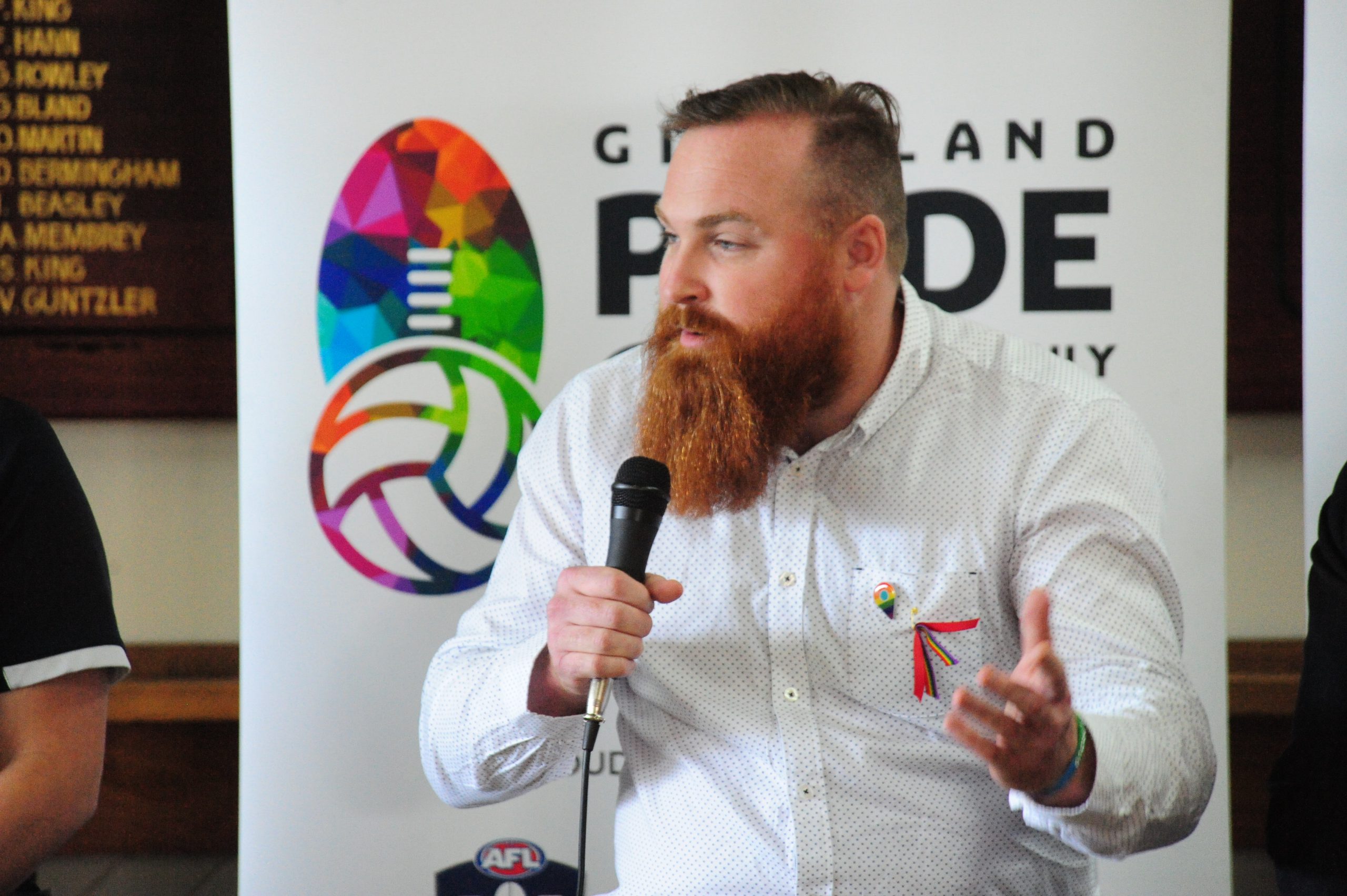 Related: Cup a 'symbol of acceptance, belonging'
When Dean Sutton played junior football for Glengarry in the North Gippsland league he was lucky enough to be coached by his father.
If it weren't for his dad's watchful eye, Dean said he wouldn't have felt safe on the footy field.
"Kids can be quite cruel and they look for somebody that's different in any way and hone in on that," he said.
In his early teenage years, Dean realised he was different and so did his teammates.
"I played up until under 14s and I think from that age I knew I was a little bit different, but then the teasing just became too much," he said.
Struggling to deal with taunts about his sexuality, Dean was forced to leave football in favour of an individual sport.
"I kind of got into horse riding and found that was a lot more accepting and I found I could be who I wanted to be and still have that connection," he said.
Two decades on, Dean watched with delight as the inaugural Pride Cup kicked off yesterday between his old side Glengarry and Traralgon Tyers United.
"I come from a big family, I've watched all my brothers play football and it was still very much a boys' club 20 years ago when I was playing junior football," he said.
"As I stand on the outside and look in, there is no way that I could have imagined the Pride Cup happening 20 years ago when I played junior football or even five years ago for that matter.
"It goes such a long way to changing the conversation and making people have those conversations, which makes it a lot easier for people to be themselves out on the field."
Dean's coming out wasn't an easy one and it proved a learning experience for his whole family.
"It was an education for my parents because they had never been exposed to anyone that was gay, so they had lots of questions, and as time has gone on it's gotten easier for everyone," he said.
With education and initiatives like the Pride Cup, Dean is hopeful the stigma surrounding sexuality in sport will one day be eradicated altogether.
"When you invest so much energy and time into trying to protect who you are then you cant really go out there and play to your full ability," he said.
"Something like this makes it harder for people to treat people differently because it's not accepted anymore.
"Judge people on what they bring to society and not who they love. If we've got the opportunity to save one life with days like the Pride Cup then that's enough."