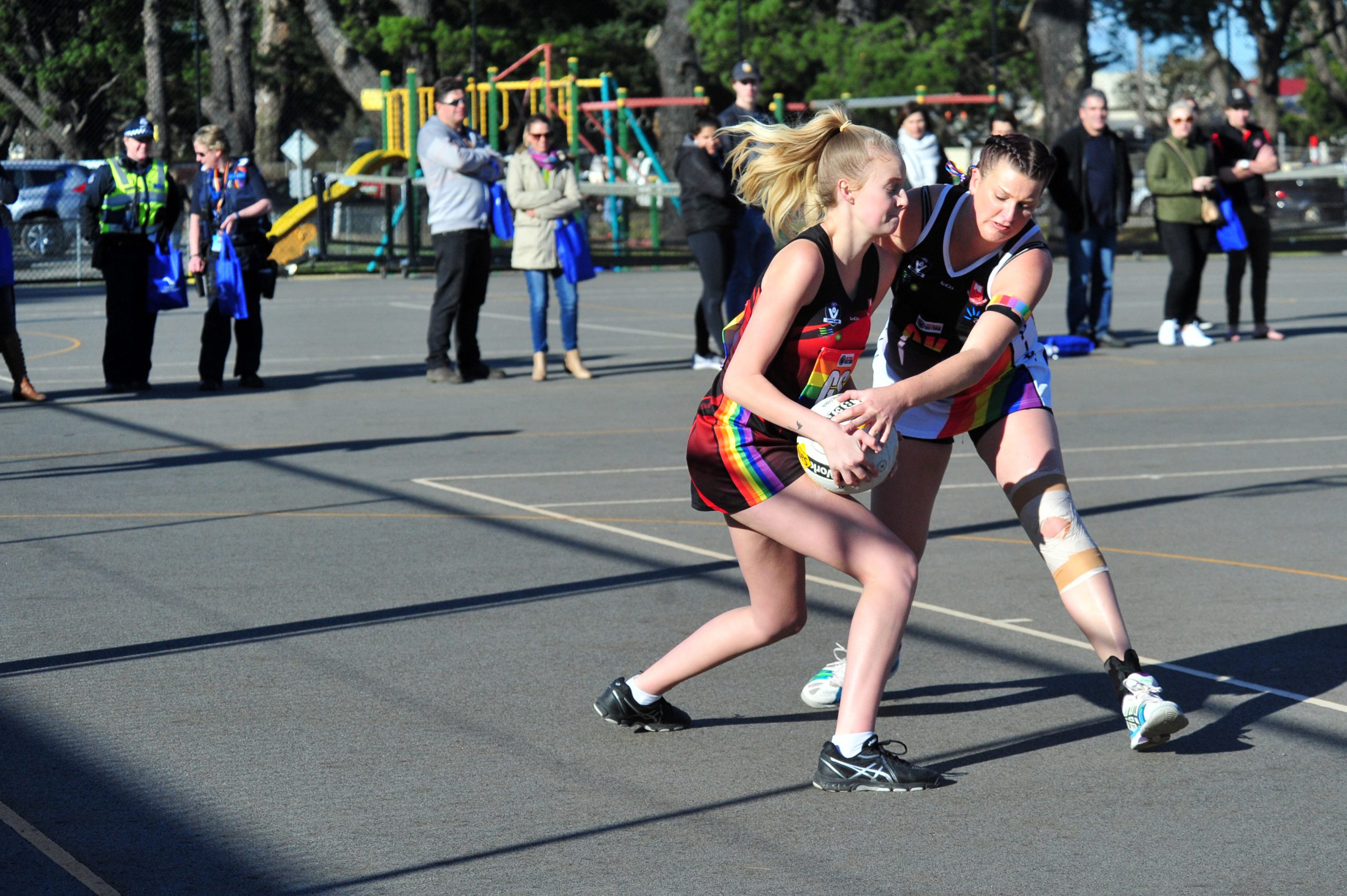 NETBALL
NORTH GIPPSLAND
The A grade clash between Traralgon Tyers United and Glengarry for the inaugural Pride Cup fixture was played in fitting spirit.
TTU burst out of the blocks in the opening term, with goalers Samantha Labros and Tayla Ven Der Meulen putting on five goals in rapid succession.
The Magpies seemed stunned by the Bombers' speed through the midcourt and struggled to keep up with the pace of play early on.
When Glengarry did manage to move the ball forward, Meghan Keast and Samantha Webb were hot in defence for TTU and forced the turnover at every opportunity.
A different Glengarry outfit fronted the second quarter, and a two successive defensive centre breaks for as many goals moved the Magpies to within a goal.
Tayla Gatt and Megan Garlick hit their straps, scoring five goals to TTU's one to take Glengarry to a 20-15 lead midway through the second.
A 27-22 lead to Glengarry at half-time forced TTU to change tact, with Saskia Eenjes subbing on for Alesha Rogers in centre.
The Magpies midcourt benefitted from a set of fresh legs early in the second half and goalers Garlick and Gatt were back on song.
A goal-for-goal spell saw the Bombers etch the lead back to three goals midway through the third and a Glengarry goal on the buzzer saw scores stand at 39-33 at three-quarter time.
TTU started the final term determined to notch its third win for season and broke two Magpies centre passes and converted goals.
But that's where the joy ended for TTU.
Glengarry tore away late in the final term through Rachel Kemna and Paxton Farley in the centre to run out 50-43 victors.
The win is Glengarry's ninth for season 2017 and cements it in third on the North Gippsland ladder.
The Magpies will face Woodside in round 16.
TTU sits in ninth with just two wins for season 2017 and will host fourth-placed Sale City next weekend.