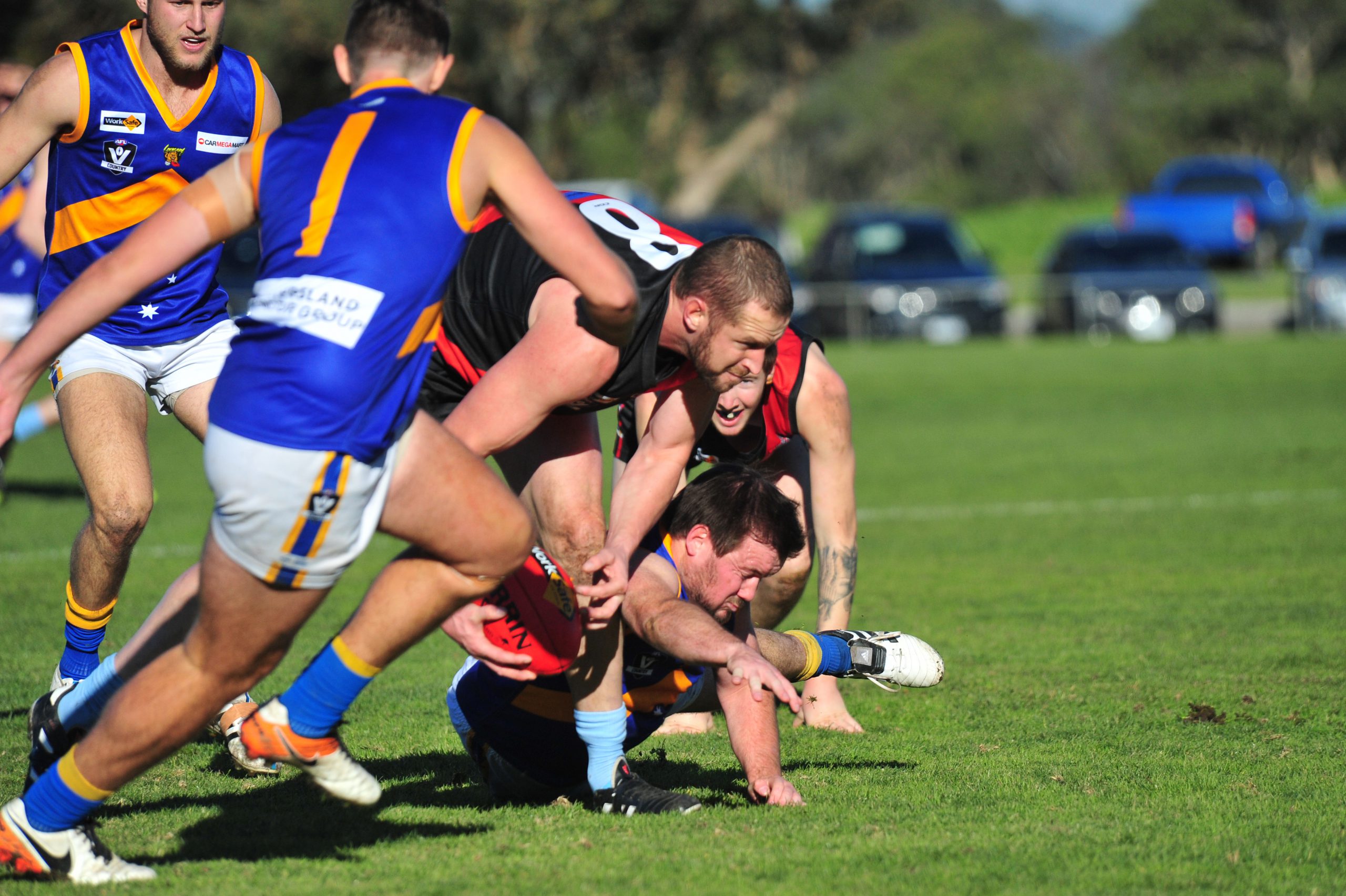 FOOTBALL
NORTH GIPPSLAND
Woodside travelled well at the weekend, putting on a dominant display to run out 55-point victors over Cowwarr, 14.15 (99) to 6.8 (44).
The Wildcats burst out of the blocks, putting on six first-half goals to Cowwarr's one.
With just two majors to three-quarter time, Cowwarr redeemed itself in the final term with four goals but it was too late to halt the Woodside onslaught.
Woodside solidified its hold on fifth spot on the North Gippsland ladder and moves two games clear of Cowwarr in sixth.
Todd Bryant, Alex Policha and David McKean scored three each in a dominant display from the Woodside forwards.
Shane Morgan kicked three of Cowwarr's six for the day and Bradley McBride two.
Gavin Stevenson, Ryan Foat and Ben Johnson were given best-on-ground gongs.
Cowwarr faces a tough task when it travels to Heyfield to meet the Roos in round 16 while Woodside hosts Glengarry.
Churchill v Heyfield
Churchill was too strong for Heyfield when it hosted Roos at Gaskin Park in round 15, leading at every change to run out with a 20-point victory, 14.10 (94) to 10.14 (74).
Leigh McDonald starred for the Cougars with five goals, while Ben Kearns managed three and Brendan Holt two.
Blake Slater took best-on-ground honours and Leigh McDonald's bag of five was enough to see him feature in the votes.
Jesse Bedggood scored three for the Roos in the loss and Josh Stubbe's two goals were enough to give him five votes for best-on.
The loss doesn't dent Heyfield's finals hopes as it remains two games clear of Churchill in third position on the North Gippsland ladder.
The Cougars will look to firm as finals contenders when they face the winless Tigers in round 16 while Heyfield will host Cowwarr at Gordon Street Reserve.
Gormandale v Yarram
Yarram proved why it is the team to beat on the run to finals with a demoralising 32.23 (217) to 7.4 (46) pasting of Gormandale on the road.
Corbin Sutherland kicked seven, Josh Swift six, Kyle Sleep five, Ryan Coulthard, Tyler Chisholm and Luke Le Blanc three.
Jake McFarland was awarded six votes for best-on while Shem Rendell was given five and Ryan Coulthard four.
In an otherwise forgettable outing, Joseph Colaciello scored three for the Tigers and Ben Julin two.
Gormandale dwells in last position on the ladder, yet to record a win for season 2017.
Yarram tightened its stranglehold of top spot and remains a game clear of Sale City in second.
Things don't get any easier for the Tigers as they travel to Woodside to face the Wildcats.
Yarram will look to continue its dominance when it meets Rosedale in round 16.
Sale City v Rosedale
Sale City hosted Rosedale at Stephenson's Park at the weekend and put in a 12-goal second half to run over the top of the Blues, 17.15 (117) to 8.3 (51).
Playing coach David Piasente was vital for the Bulldogs in their win, kicking three goals and featuring in the best-on-ground honours.
Stuart Buckley also kicked three for City while Thomas Love and Jack Tatterson kicked two each for the Blues.
The Bulldogs sit in second spot on the table, while Rosedale lags in ninth position.