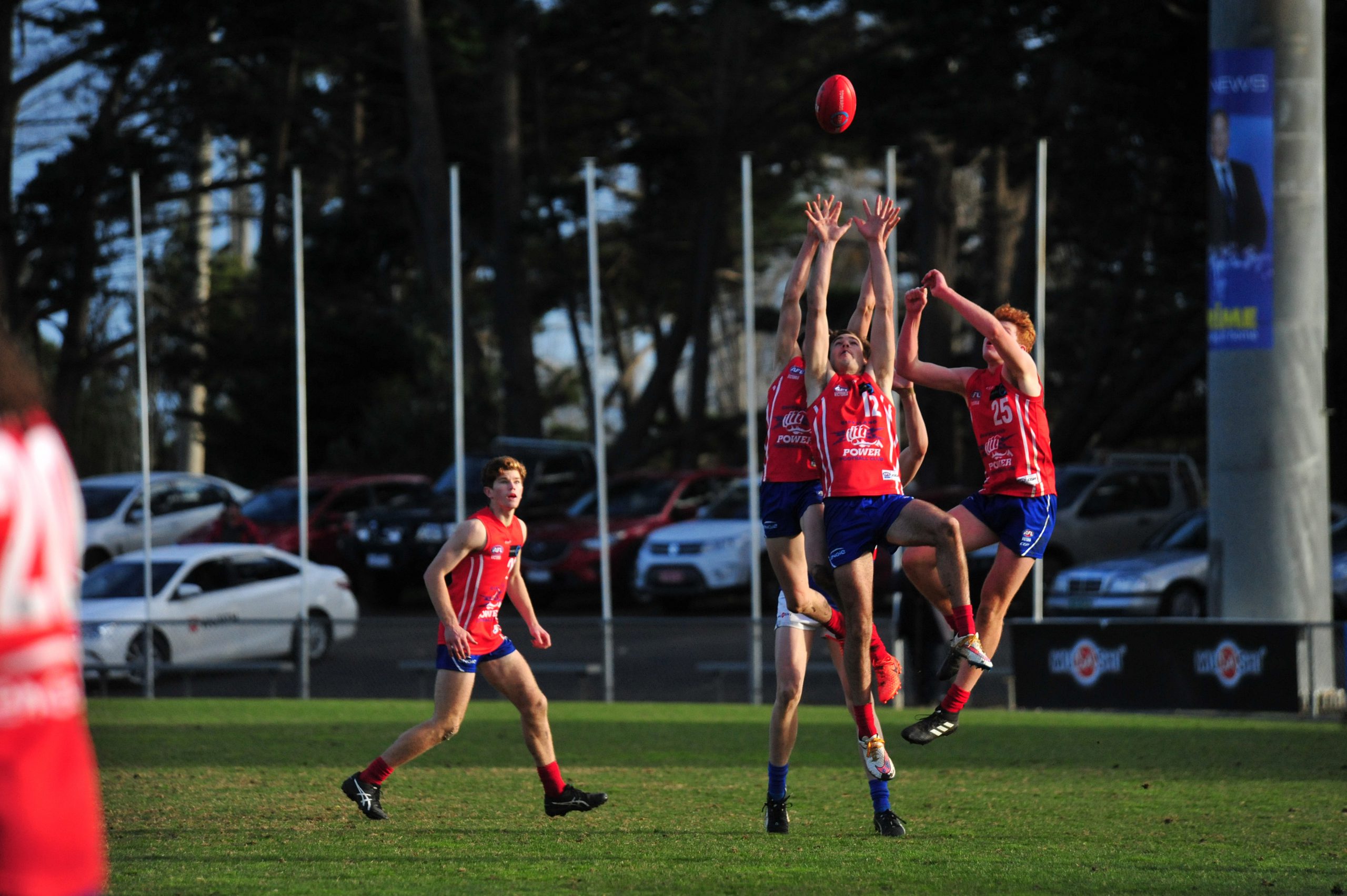 FOOTBALL
TAC CUP
Gippsland Power held off a surging Dandenong Stingrays to register its fifth win of the TAC Cup season.
The two-point win means Power remains in the top eight with four games of the home-and-away season remaining.
It was a younger than usual Power line up that took the field against the Stingrays at Frankston oval, with three under 16 players making their TAC Cup debut.
Caleb Serong (Warragul), Sam Flanders and Brock Smith (Moe) have been training with the TAC Cup squad since their selection in the under 16 Vic Country team.
After competing in the under 16 National Championships, Serong, Flanders and Smith were given their first taste of TAC Cup football.
A strong, gusty wind blowing straight off Port Phillip made for tough conditions.
Kicking with the wind in the first quarter, Power jumped out quickly to a 14-point lead.
It could have been greater with Power having nine scoring shots for the quarter and numerous entries inside 50.
That inefficiency proved costly with the Stingrays kicking two goals against the wind and cutting Power's lead to just six points at the first break.
In the second quarter Power applied their trademark pressure and showed plenty of run, but the wind advantage proved to be too strong.
Despite goals to Serong, Kim Drew and Xavier Duursma the Stingrays kicked away, going into half-time with a 13-point lead.
At the half-time break, Power coach Leigh Brown implored his team to lift the intensity but also play with a level of freedom and enjoyment.
His players did just that in the third term.
It was the under 16 players that lead the way in the third quarter.
Flanders was in everything, taking pack marks, kicking three goals and applying forward pressure.
Serong kicked another two goals and Smith was taking courageous marks in defence.
In the middle Callum Porter, Nick Hogan and Callan McKeon also lifted, winning clearances and stifling their opponents.
Power went into the final break holding a 10-point lead.
Early fourth quarter goals against the wind to Hogan and Austin Hodge drew quick responses from the Stingrays, it was goal for goal.
A second goal to Hodge was also match by the Stingrays, midway through the term Power held a 16-point lead but it was evident that the game was going to go down to the wire.
A surging Stingrays kicked three unanswered goals to cut the deficit to just two points with two minutes remaining.
Sean Masterson and Cody Henness stood tall in the pressured filled final minutes, and when Hogan's clearing kick from defence was marked on the wing by Serong the Power bench erupted knowing they had done enough to secure the win.
After so many narrow loses this season Brown was pleased his team was able to break through that barrier and win a close one.
"It was a really good win, it's fantastic to be on the right side of a close game for once," he said.
Brown also had high praises for under 16 players Serong, Flanders and Smith.
"I thought the three young guys coming in were unbelievable in their first game," he said.
"It shows a good future for the football club."
The only negative from the game was a serious injury to in-form wingman Matthew McGannon.
In the same week that he was one of the 83 players from across the country to receive an invite to the AFL Draft Combine in October, McGannon was taken to hospital by ambulance with a suspected broken ankle.
Power faces third place Geelong Falcons at home in Morwell on Saturday, 5 August.