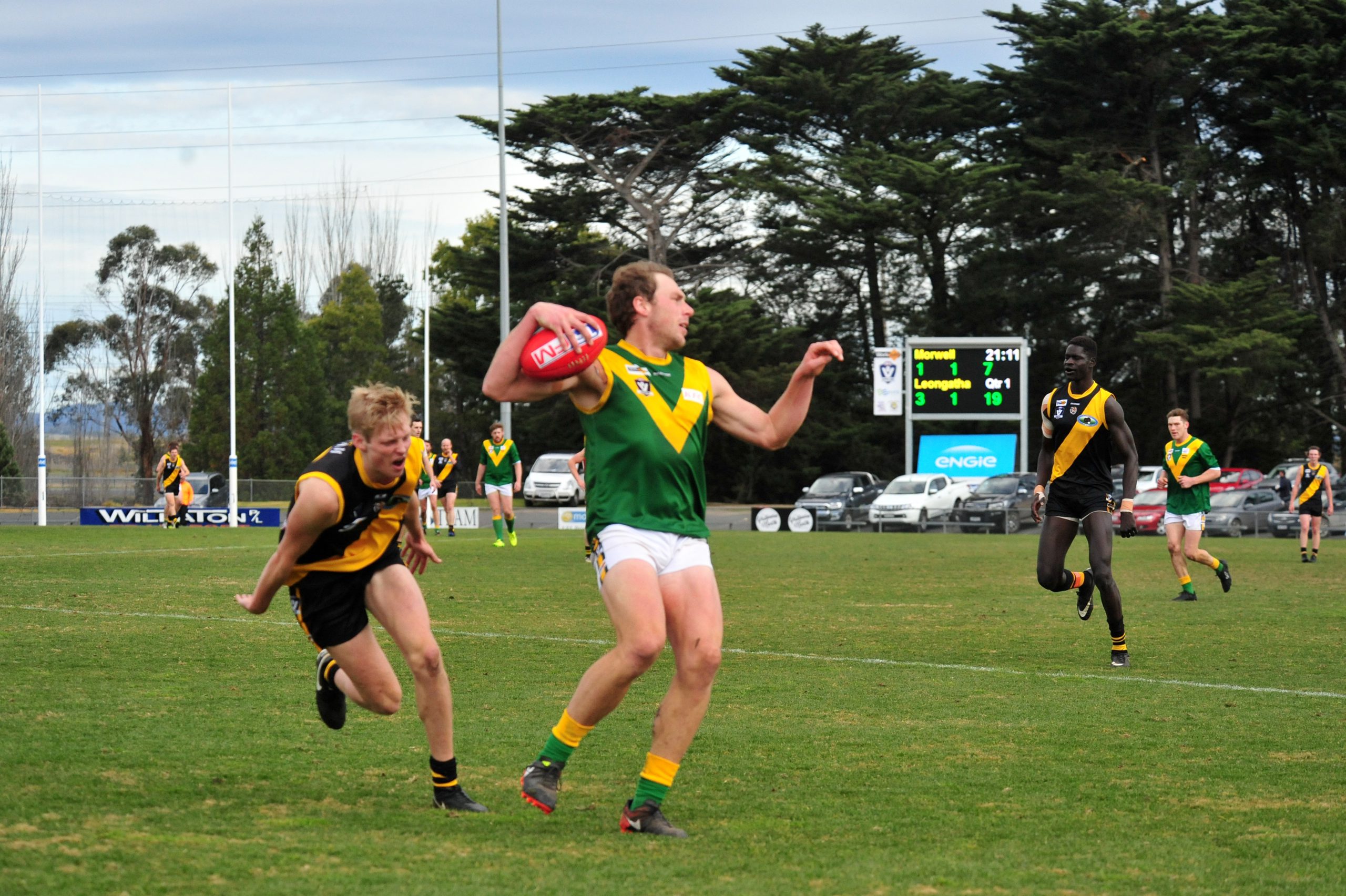 FOOTBALL
GIPPSLAND LEAGUE
Maffra and Traralgon headline round 15 action in the Gippsland League this weekend when second takes on third.
The Eagles are in second spot on the ladder with 12 wins, trailing Leongatha in first on percentage while Traralgon is two games off the pace in third.
The Maroons gave way to a 42-point lead at three-quarter time and were lucky to come away with a nine-point win after allowing the Eagles five last quarter goals.
Maffra was lucky to notch a two-point win over Wonthaggi before the bye while Traralgon was convincing in its 72-point destruction of Drouin at home.
Last time the sides met, a close encounter ended with Traralgon emerging eight-point winners.
Traralgon coach Mark Collison said his side would take little out of the round six win.
"I think we deserved to win," Collison said.
"We don't take too much out of it because both teams have changed a fair bit and they're playing really good footy but so are we.
"We were a little bit inconsistent in some areas for a while but we're ironing those things out now.
"They've got some good footballers and they play some really strong attacking footy and they're a good contested side.
Collison also said the bye last week came at the perfect time for the Maroons, who are starting to hit their straps ahead of finals.
"We had a bit of grey patch but it's good to have them sometimes," he said.
"The last couple of games we've started to find real form and we're starting to get a few back in so we're getting to be back toward full strength."
Bairnsdale v Morwell
Morwell travels to Bairnsdale this weekend in search of its seventh win for season 2017.
The Redlegs sit in eighth position with four wins while the Tigers are in fifth with six.
Bairnsdale endured a 73-point loss to Moe in round 14 before last weekend's bye, while Morwell suffered a similar fate, falling ladder leader Leongatha by 31 points.
The Redlegs showed plenty last time they played Morwell in round six and led by 11 points at half-time before being run over to the tune of 15 points at the final siren.
Morwell coach Joel Soutar said the Tigers were wary of Bairnsdale this week after their promising performance in round six.
"We thought they were a pretty good side," Soutar said.
"They're young and up-and-coming in the competition and it's going to be pretty hard to beat them over in Bairnsdale."
With four rounds to go before finals, Soutar said Morwell would look to consolidate its spot at the top end of the ladder.
"We need to make sure we can win as many games as possible before finals, and we know that every win matters," he said.
Ahead of the clash with Bairnsdale, Soutar cited contributions from the Tigers midfield as key to Morwell's success this weekend.
"We got on top in the midfield last time in the second half and that allowed us to use the ball well in forward line, so we need to make sure our midfielders get on top and feed it well into the forward line," he said.
The Morwell line-up is also set to be bolstered by the returns of Kane Grinstead-Jones and Dan Musil.
Drouin v Leongatha
Drouin is faced with the toughest task of round 15 when it hosts ladder leader Leongatha this weekend.
Drouin is in last position yet to record a win while Leongatha is in first with 12 wins and two losses.
Leongatha was infallible in its round six demolition of Drouin, putting on a staggering 36 goals to record a 212-point victory at home. Aaron Hillberg kicked 10 for the Parrots and Chris Dunne seven.
Drouin continued its luckless form in round 14 with a 72-point loss to Traralgon on the road while the Parrots notched their 12th win of the season with a 31-point win over Morwell.
Warragul v Wonthaggi
Wonthaggi got the better of Warragul when the sides last faced-off in round six, edging out the Gulls by 22 points at the final siren.
Warragul relinquished a two-point lead at half-time to lose out by 11 points.
The Power was unlucky not to come away with a win in round 14, giving up a five-point lead at three-quarter time to fall to Maffra by two points.
Wonthaggi coach Stuart Gilmour was buoyed by his sides showing against Maffra last week and hopes the Power can carry the good form into round 14.
"I think we got it pretty right last week," Gilmour said.
"(Warragul) don't travel overly well but Warragul at Warragul is always a tough encounter.
"They present really well on their home ground and we've struggled there in the past."
Gilmour said the game against Warragul away presented an "opportunity to be consistent with effort" ahead of a potential finals berth this year.
Sale v Moe
Sale will look to avenge its nine-point round six loss to Moe this weekend when it hosts the Lions at Palmerston Street.
The Magpies are in ninth position with four wins while Moe is in fourth with 10 wins.
Sale led at every change in round 14 against Warragul and finished with an 11-point win, while Moe was crushing in its 73-point win over Bairnsdale.
Jordan Dessent was huge for in Sale in its defeat, booting six goals.
Sale coach Shane Fyfe said the Magpies had a tough task ahead of them.
"Moe is going along nicely," Fyfe said.
"We probably need to shut down their ball use through the middle and off half back because they generate a lot of run and have a good range of goal kickers."