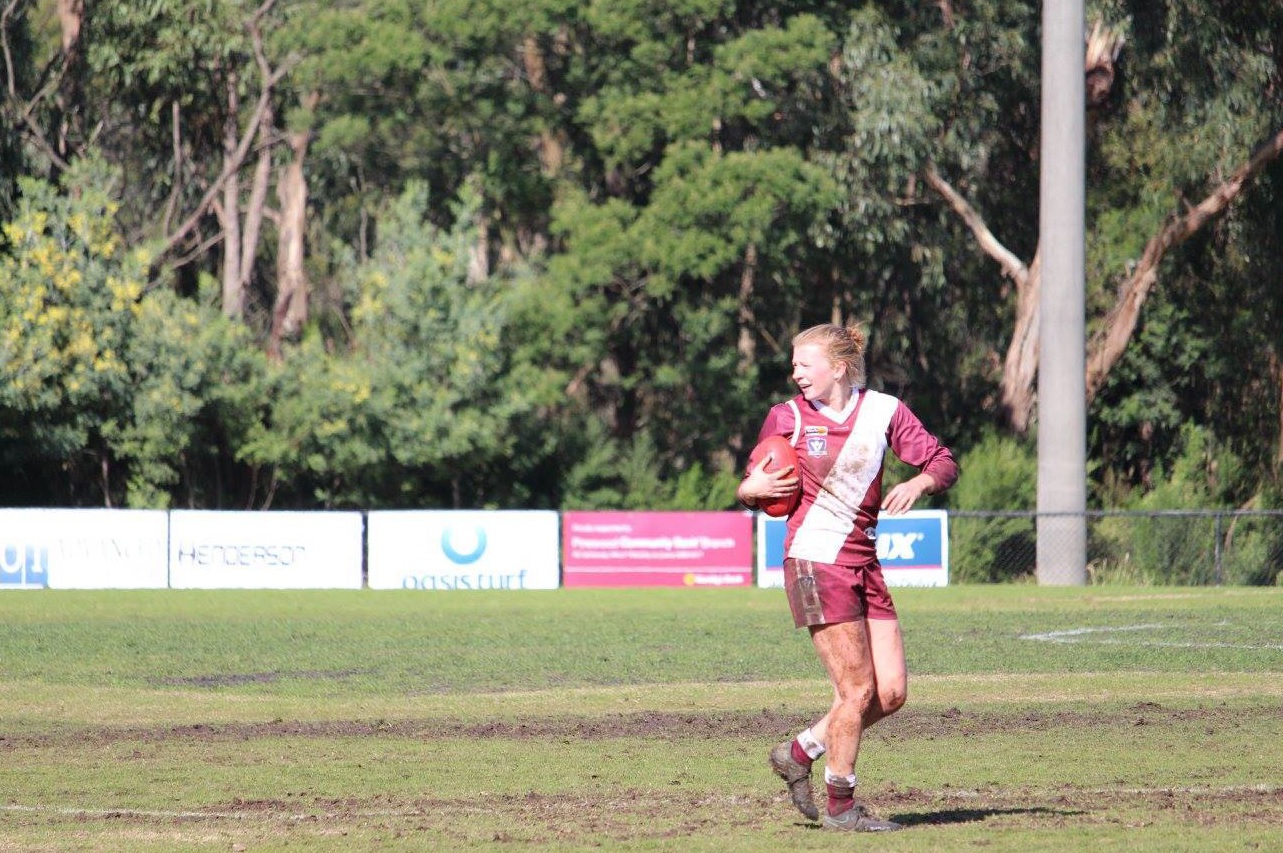 Amy Harrison's first foray into football was an interesting one.

The 23-year-old Longford and Rosedale local was pestered relentlessly by a friend to fill in for her side until one day she finally gave in.
"I didn't want to play football at all to be honest in the beginning," Harrison said.
"I kept saying 'sorry, I've got netball,' until one week I finally filled in and I just didn't miss a game after that."
Four years on and the footy venture has proven a fruitful one for Harrison.
After two years playing in the VFL, the crafty on-baller moved home to play with the Gippsland Maroons and claimed the 2017 South East Women's best and fairest at last week's vote count.
In her debut season for the Maroons, Harrison captained the side and polled 15 votes to earn the gong, three clear of Eastern Devils' Olivia Aing in second.
"The award was completely unexpected, it was just a massive surprise especially because the team collectively didn't do so well this year," Harrison said.
The Maroons finished sixth with three wins for the season but the club still raked in a raft of individual awards.
Harrison was also named as ruck rover in the Team of the Year alongside teammates Tayla Tatterson at rover, Abigail Livingstone at centre half back and Ashley Jans as substitute.
"I was just hopeful that we'd all be named in Team of the Year, and once that happened I was like 'okay, this might be happening'," Harrison said of her best and fairest title.
"I've never won a best and fairest in anything I've done so it was a new experience altogether, so it was a bit surreal and took a couple of days to sink in."
The win may have come as a surprise for Harrison but it was no shock for Maroons coach Nikki Schroeter who had high praise for her captain.
"Amy's knowledge of the game shows on and off the field and she's always leading the girls with a positive attitude," Schroeter said.
"Her skill level and decision making is phenomenal and she is a true team player and is always helping others.
"She has proven her place on the team and has had an outstanding year with many more to come and I could not be happier with her taking out the best and fairest."
Harrison's achievement is made all the more remarkable by the fact she also juggles her football commitments with a starring netball role for Rosedale in the North Gippsland Football Netball League.
"I love netball and I've always loved football, but I've never had the chance to play and there weren't many pathways available for girls so it was sort of a pointless venture until now," she said.
"It wasn't too hard doing both this season, I missed a few games here and there of each but it didn't affect me too much."
After playing in the VFL for two years Harrison developed a desire to play in the newly-formed AFL Women's competition, a goal which is no longer on her radar.
"It completely drained me when I pursued [a career in the AFL] for 12 months and was incredibly disappointed when I didn't get drafted.
"It's hard to get back in to it when you get your heart broken."
Having moved back home to the Latrobe Valley for a change of direction, Harrison couldn't be more content with where things are at now.
"I love my footy but my focus now is on getting my teaching degree and keeping happy and healthy," she said.
"I have no complaints, life is pretty good."