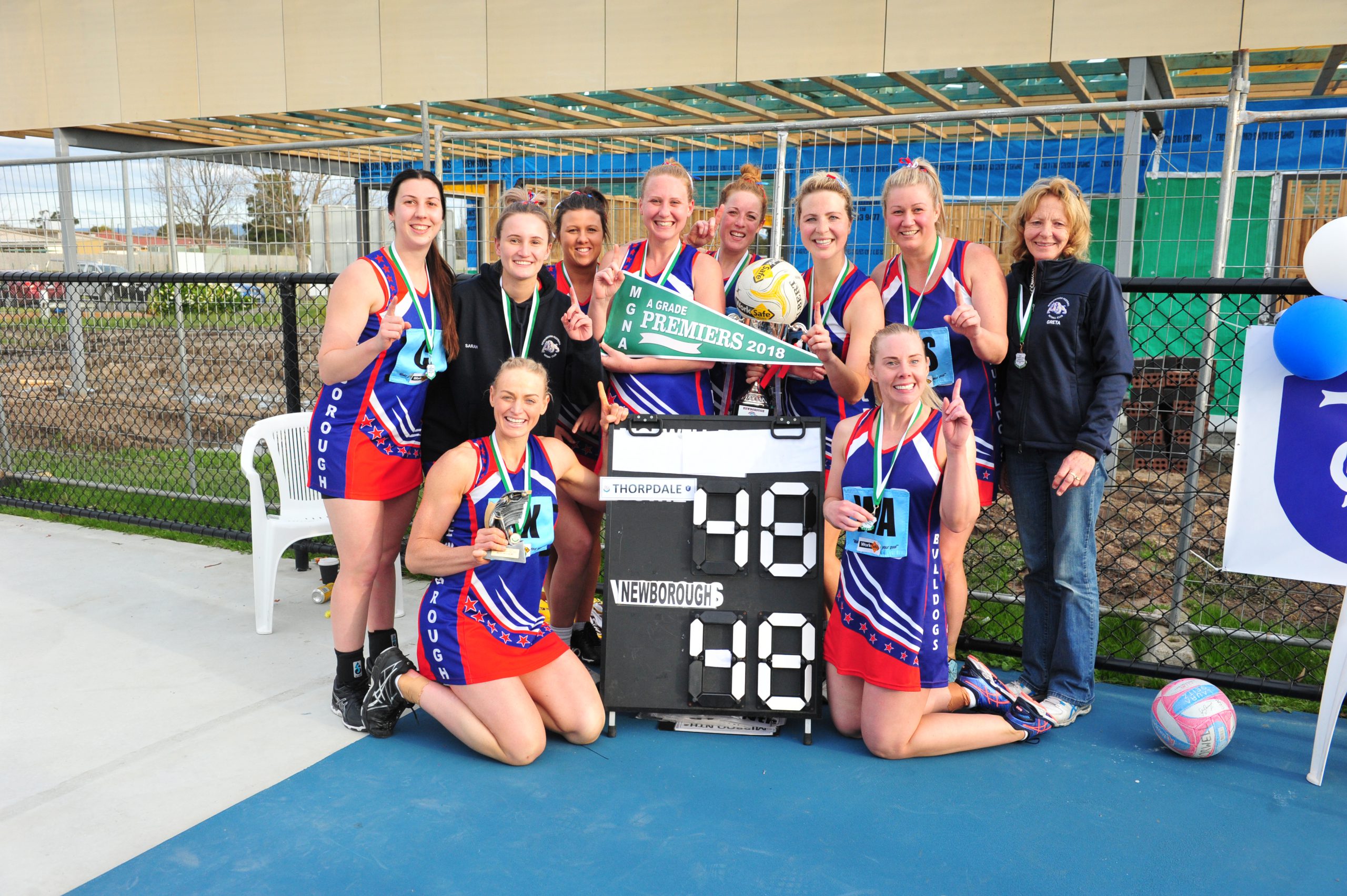 Newborough

Coach: Danielle Duff
2018: Premiers
Reigning premiers Newborough were fittingly dogged in every sense of the word in 2018.

In a thrilling grand final for the ages, the Bulldogs avenged for their semi-final loss to Thorpdale with a stunning two-goal win in over time.
They have lost the services of premiership captain Courtney Risol who will no doubt leave a hole in defence and coach Greta Douch has also departed and will take on the lead role at Boolarra.

Boolarra

Coach: Greta Douch
2018: Ninth
UNDER the lead of a new and well-credentialed coach, the Demons have almost an entirely new A grade side and renewed hope ahead of 2019.
Greta Douch, who coached Newborough to the A grade flag last year, takes over the reins and and brings with her a number of premiership players.
Jackie Price will be a welcome addition to the goal circle along with fellow former Dogs Stacey Windsor and Carrie McGlade.
Abbey Di Corleto, who won the B grade league best and fairest in 2014, will return to the club while other faces at the den include "born and bred Boolarra girl" Lydia Reiske and Michelle Masters, according to netball president Gabrielle Francis.
Carlie Woodbridge also returns to the club after a year with Churchill.
Thorpdale

Coach: Ashlea Stubbs
2018: Runners-up
After finishing runners-up in 2018 the Blues won't field an A grade side this season but have stalwarts Ashlea Stubbs and Claire Hammond leading the club in B grade.
They will also have sides in C and D grade and under 15s.
Netball representative Robyn Savige said a number of returning players have allowed Thorpdale to field three senior sides this season.
Among the departures are former league best and fairest runner-up Tanya Budge, who has left to play with Morwell in the Gippsland League.
Mirboo North

Coach: Ebony Best
2018: Second (semi-final)
A STRAIGHT sets exit in the post season wasn't what Mirboo North had planned after finishing second in 2018 but a familiar face returns to help the Tigers in their bid to go deep in 2019.
Ebony Best, who was part of the 2014 A grade premier side, has slotted right into the top job after a few years with MDU in the Alberton league and knows what it takes to win a flag.
Other player gains for the Tigers in 2019 include Jessie Holland, Aleisha Loh, Veronique Hamilton, Kylie Peters, Sofie Disisto, Laura Robins, Nat Rayson, Kat Smith, Kirsty Richardson and Maryce Oakley.
Up-and-coming stars Miki Hilliar and Maddi Knowles are also expected to feature prominently.
Jess Le Page, Karli Densley, Charlie and Shona Chila, Lexi Andrews and Taleisha Snell have all moved on from Mirboo North.
Trafalgar

Captain-coach: Megan Hancock
2018: Fifth (preliminary final)
MEGAN Hancock will lead Trafalgar in a dual capacity as captain-coach in 2019.
Hancock, who has been with the club for more than a decade, captained the Bloods to the flag in 2017.
They scraped into finals by the barest of margins in 2018 but managed to win through to a preliminary final.
Their hopes of back-to-back were dashed at the hands of eventual premiers Newborough but a relatively unchanged list means they are ready and raring to go again.
Wing defence Georgia Mason has moved to Queensland, meaning premiership player Erica Mason will move from goal keeper into the mid court.
Molli Havers also joins the side from Thorpdale and will fill Mason's spot in the last line of defence.
Yallourn-Yallourn North

Coaches: Narelle van der Velden and Jenni Rohde
2018: Eighth

THE Yallourn-Yallourn North netballers are ready to go for season 2019.
The Bombers have been buoyed by a strong preseason and some handy new recruits who promise to strengthen their stocks across all grades.
Yallourn-Yallourn North netball coordinator Alison Mitchell said her troop was "focused, fit and ready".
"Our players cannot wait for the season to get underway," Mitchell said.
"Over the past couple of years the club has invested a lot of effort into our playing group and it is paying off on and off the court."
Players to watch include the explosive attacking combination of Madison Rohde and Ashlee Johnson who are the reigning best and fairest and runner-up best and fairest for the club.
Yinnar

Captain: Jess Le Page
Coach: Halie McColl
2018: Sixth
IN one of the biggest off-season moves, Yinnar have secured the services of 2018 Newborough premiership defender and league representative Courtney Risol.
The Magpies have also managed to move into season 2019 without the loss of any A grade players.
Halie McColl comes to the club from Mirboo North for her first season with Yinnar and will coach the side.
"Courtney Risol was at our club a couple of years ago and has come back so we're really happy," netball representative Dee Buckley said.
"We've got high expectations of finishing in the top five and hopefully even finishing in the top three.
"We're very hopeful and we've had some good practice matches and we've got a nice bunch of girls and great coaches."
Morwell East

Coaches: Georgia Zammit and Danni Dunn
2018: Fourth (elimination final)
THE Hawks won 12 games in 2018 and teamed home to earn a finals berth before being sent packing by eventual premiers Newborough in the first week of the post-season.
Co-coach Georgia Zammit said there had been "a lot of movement" at Morwell East in the off-season.
"We've had a lot of movement, we've had Sammy leave, she's pregnant," Zammit said.
"We've got Samantha Labros who has come from TTU where she played as a junior and she has also been playing in Melbourne.
"We've also to two players come up from B grade in Stephanie Campbell who is mid court and Elise Campbell who will play in goals. They'll be formidable in attack I'd say."

Zammit said the side was "really looking forward" to a special night fixture against Boolarra in round three.
Hill End

2018: DNP
HILL End didn't field a team in the A grade competition in 2018 but are back on track with a side in the top tier competition in 2019.
The Rovers will kick-start their season campaign by travelling to Morwell East this weekend.