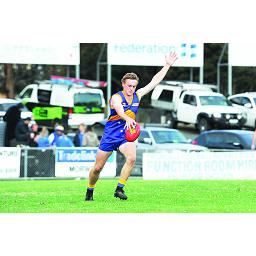 FOOTBALL

NORTH GIPPSLAND
Even though the thermometer might suggest otherwise things are really starting to heat up in the run home to the NGFNL finals.

With six sides still in contention and not a single spot in the top five locked away, the last month of home and away footy promises to be nothing short of outstanding.
Two crucial clashes highlight this week's round 15 action with four of the top six sides battling it out in matches that could determine who finishes where inside the top five.
Churchill v Rosedale

Top-of-the-table Churchill welcome third-placed Rosedale to town this weekend in a match that means plenty for both sides.
A loss for the home side will have them likely drop top spot to Yarram who have a superior percentage and are all but certain to take the points over Gormandale in their game.
On the other hand, a loss for Rosedale would have them, temporarily at least, forgo the top-three spot they looked to have locked away just a fortnight ago.
Rosedale have relied heavily on twin towers Brandon McDonald and Frazar Brouns to kick them a winning score so far this season.
The good news for the home team is that they have multiple options to stop the dynamic duo who have registered 73 goals between them to date.
Kurt Holt, Dean DeGroot, Jarrad Broadbent or even a recalled Kyle Hearn seem good match-ups for the Rosedale forwards.
Indeed Rosedale coach Sam Bristow acknowledged the Cougars "very tight defensive unit" as one of the things that made this week's opponents a very good team.
Churchill coach Chris Williams said that even though his side sits atop the ladder he is "not happy with the way we are playing at the moment."
One of the areas he was keen to improve was midfield defensive pressure.
Williams said Churchill would also need to focus on their forward 50 entries with Rosedale coach Bristow able to turn defence into attack from half-back with his intercept marking and excellent ball use.
The Rosedale match committee will have undoubtedly been throwing the magnets around the whiteboard at selection trying to work out who is best suited to pick up the likes of Brendan Holt, Ben Kearns, Blake Slater and Williams himself, with Bristow particularly wary of Kearns, stating, "on his day he can do anything".
Heyfield v Sale City

After missing the finals last year for the first time in six years Heyfield appointed Rick Galea to the senior coaching role for season 2019.
Galea made it abundantly clear to all and sundry upon his arrival that not only does he expect the Roos to return to the post season this year, he expects them to be participating for several weeks.
Galea acknowledged that the Roos' run home is tough with them taking on Cowwarr, Yarram and Rosedale after clashing with Sale City this week.
"For us finals start this week, we can set our sights on top three or we could drop this game and we could be looking at finishing sixth," Galea said.
The Roos' hopes of grabbing the all-important four points this week will be enhanced with the coach hinting he is likely to be able to call on several players for Saturday's match that have recovered from injury.
In terms of this week's opposition, Galea indicated that the Roos would not be beaten by the obvious; the need to slow City's Nick Grainger and Bohdi Walker in front of goal.
Walker in particular looks to be in red hot form after helping himself to a bag of 11 majors last week.
Galea also suggested stopping the run and carry of Bulldog Ben Chivers across the half-back line would be crucial.
TTU v Glengarry

Coming off their season-defining win over fellow top-three aspirants Rosedale last week, Traralgon-Tyers United will be keen to keep their momentum going when they take on Glengarry.
TTU knocked down the door between themselves and a spot in the top three when they led all day in their nine-point win over Rosedale.
Glengarry, on the other hand, were given a footballing lesson by Yarram.
The only solace the Pies can take from their loss is that they matched it with Yarram in the last quarter.
The problem for Glengarry, however, was that they trailed by a staggering 174 points as the last quarter started.
Woodside v Cowwarr

When these sides last met the local major league had the bye, allowing Woodside to pull off a recruiting masterstroke.
The Wildcats cleared several former players who had opted to test themselves at the higher level in season 2019 back to the club for the day.
Their appearance in the blue and white hoops was instrumental in securing the Wildcats win number two for the year.
Yarram v Gormandale

The league's highest scoring side, coming off a 174-point win, take on the league's lowest scoring side, coming off a 206-point loss when Yarram welcome Gormandale to town on Saturday.
With the AFL now rotating boundary umpires mid-game due to fatigue, the NGFNL may need to consider the same for goal umpires and scoreboard attendants during this game.