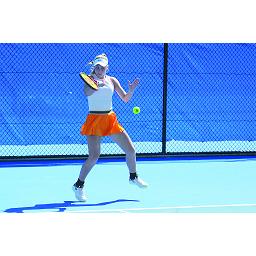 Kate Withers
TENNIS

Australia's best up-and-coming tennis talent will descend on Traralgon in the September school holidays for two Australian Money Tournaments.

AMTs are semi-professional tournaments designed to assist with the junior to senior transition for tennis players and for the first time the Traralgon Tennis Association will host back-to-back silver series events.
The first of three tournaments in the series will be held in Bairnsdale, followed by two in Traralgon.
"The silver Australian Money Tournaments are an opportunity for players to earn valuable points to improve their Australian ranking," TTA manager Susie Grumley said.
"As an example, you get more ranking points for winning rounds in silver tournaments than you do in bronze, so it's that next level for players and gives them a chance to test themselves."
Each of the tournaments will feature open events and events for under 12s, 14s and 16s.
There will also be non-points tournaments run for under 10s.
"It's a great opportunity for people to come and travel from Melbourne and play and stay at the one venue," Grumley said.
"It's also great for local players; we pack them up and travel them to Melbourne to play tournaments so it's a great chance for them to play locally on a surface they train on every week in their own backyard.
"With the under 10s, it's a good chance for little brothers or sisters who want to have a game and play in a tournament that might be their first but gives them a chance to have a go and improve without the pressure of playing for ranking points."
The prestigious Traralgon Inter­national and Traralgon Challenger are played as marquee events every year and Grumley said the TTA was keen to diversify its tournament with more AMTs.
"We really want to start having more of these events. They're great in that they bring people to Gippsland and they stay for the event and it's giving players plenty of good quality tennis, especially our locals," she said.
"It's wonderful to have our two international events and we love them but it's also important to have local events where kids around the state and from Gippsland can have the opportunity to further their tennis.
"We've got such a strong junior base here with lots of 17, 18 and 19-year-olds and to be able to provide the AMT experience for them and give them that opportunity locally is fantastic."
The first tournament in the Traralgon Gippsland Open will run from September 26 to 29 and the second will run from September 30 to October 3.
To enter, visit the Tennis Australia website, phone Susie Grumley on 0419 383 707 or email sec@traralgontennis.com.