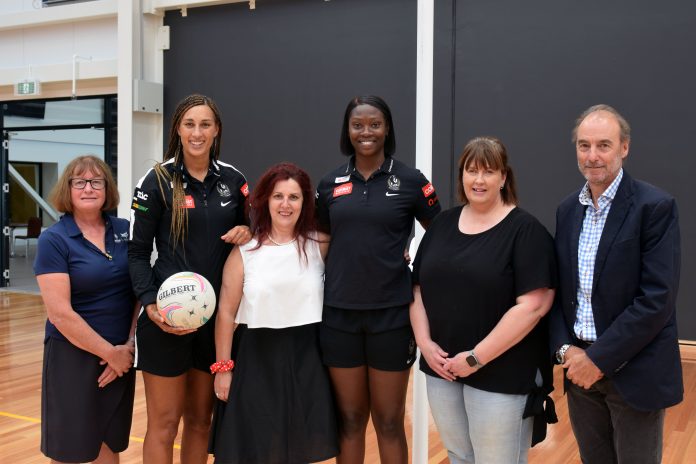 Liam Durkin
Collingwood's strong relationship with the Latrobe Valley is set to continue, with the Magpies netball team returning to the region for a preseason tournament this month.

The Magpies, Adelaide Thunderbirds and Queensland Firebirds will compete in a three-match preseason tournament at the Gippsland Regional Indoor Sports Stadium, Traralgon, ahead of the Suncorp Super Netball National League commencing in early May.
Along with playing three high intensity, high skill and high energy matches, Collingwood athletes and coaches will engage with the local netball community to provide clinics and skills sessions.
The event is a major coup for the Gippsland region, with players, coaches and support staff staying in the region for the duration of the tournament.
Collingwood captain Geva Mentor and goaler Shimona Nelson were in Traralgon recently for the announcement, and took the opportunity to take questions and show students from Kosciuszko Street Primary School some tricks of the trade.
Mentor said the team was looking forward to making the journey down the Princes Highway.
"For us to be able to play in this region is great to be able to connect with our community," she said.

Mentor, a Commonwealth Games gold medallist, hoped her players would help inspire the next generation of netball stars.
"I think the important message that we give to the kids is participate in as many sports as you can and if you decide that netball is the one you really enjoy, pursue that as a pathway," she said.
"Netball is increasing in participation in this country and it's great to be able to play at a high level, so for kids to think that they can have a pathway through netball is brilliant."

The 3000 seat strong stadium offers the perfect facility to host such an event, and as Latrobe City Mayor Sharon Gibson explained, the spin off effects would be far reaching.
"If you can have first class matches and the crowds to go with it, that helps all of the Valley because you've got your tourism and people staying and eating," she said.
"Me growing up I would have loved to have actually had the calibre of the players to watch, to think that we have three games in three days of top class netball – how good is that."
The three-match preseason tournament will run from March 26 to 28.
Tickets are available through Eventbribe by visiting https://www.eventbrite.com/e/magpies on-the-road-traralgon-tickets-144352294599
Collingwood has a strong connection to Gippsland, and has played AFLW premiership matches and AFL preseason games in the Latrobe Valley in the past.
The Magpies last men's football premiership team featured no less than six Gippsland players in Scott Pendlebury, Jarryd Blair, Tyson Goldsack, Dale Thomas, Leigh Brown and Brent Macaffer.

Pendlebury, from Sale, has since gone on to be the games record holder, and arguably the greatest ever player at the club.