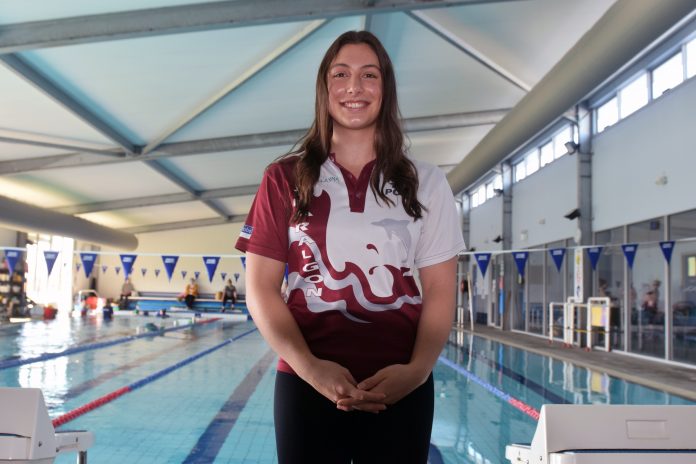 Zac Standish
Morwell local Elayna Pistrin was set to compete in the biggest competition of her young swimming career this week as she qualified for the Australian Olympic Swimming Trials in Adelaide.
However, in what was a cruel blow for the 18-year old swimming prodigy, Victoria's recent COVID-19 outbreak saw the border into South Australia close, resulting in her being unable to travel to the national event.
Slated to be competing on the same stage as the likes of global superstars Cate Campbell, Emma McKeon, Kyle Chalmers and Cameron McEvoy, the trials would have served as an excellent learning experience for Pistrin as she embarks on the next phase of her career in the United States.
Speaking with The Express, Pistrin described the feeling of missing out on this golden opportunity.
"It was certainly disappointing, we found out a couple of weeks ago and we did everything we could to try and get there, we contacted so many people but it was not able to happen unfortunately which is really disappointing," Pistrin said.
Exhausting every possible avenue to try and get over for the event, she explained the process of trying to get an exemption to enter South Australia.
"We were in contact with Swimming Australia and they advised us about what we could possibly qualify for (exemption wise) and then also South Australia Health because one problem was getting over the border but the other was being able to actually get into the event," she said.
"(AFL teams such as Collingwood and Geelong getting exemptions) was something we found out while we were trying to do the same thing and they were able to go while myself and Jordyn (Cargill) weren't able so that was a little bit frustrating."
Forced to watch the event from home, Pistrin said while it was disappointing she wasn't able to be there, it was a thrill to see fellow Traralgon Swimming Club teammate Emily Beecroft qualify for the Paralympic team.
"My 100m breast stroke was supposed to be on Sunday and the 200m breast stroke was on Wednesday so those days were pretty hard, but I did keep up with the results to see how everyone else was doing," she said.
"Emily Beecroft got out before the lockdown started and was able to compete, so we all watched her and it was so exciting to see her make the Paralympic team."
Prior to the COVID curveball, she had been hard at work preparing for this competition, with her hectic training schedule signifying her dedication to the sport and being the best she possibly can.
"A lot of work went into qualifying for the trials, I trained eight times a week in the pool along with two gym sessions as well and a bit of running outside of swimming as well, this is a schedule I have had for years now and I have just become used to it," she said.
"We had national championships in April and then after that we didn't have any other big competition so I just threw myself into training for the Olympic trials."
She said being able to compete in an event such as the Olympic trials would have been an incredible experience as she continues to grow as a swimmer.
"I qualified for the 100m breast stroke in December 2019 and the 200m breast stroke in February 2020 so I was meant to go to trials last year but obviously COVID put a stop to that," she said.
"At these trials I would have just been a new person and it would have been just a really great experience to be surrounded by all those people at the elite level and just getting that familiarity with the highest level as I hope to again qualify down the track.
"It is great to see all those established older swimmers and just see what they do, how they prepare and how hard they work, it is really inspiring and helped me a lot."
Despite this latest setback, Pistrin said she is determined to make her Olympic dream a reality in the future, as she embarks on an exciting new chapter in her career.
"I have been swimming all my life really, I started racing competitively when I was six and I just haven't stopped it is just my favourite thing to do and I could not imagine doing anything else," she said.
"There is nothing more I would love to do (than go to the Olympics), my next steps now are going to College in the US (St Francis University in Brooklyn), leaving in August, and I am really excited about that and being on a swimming scholarship so for the next four years I will be able to train at the highest level at a division one college while also getting my degree.
"It was just an opportunity I would not be able to get in Australia and I am hoping that by the end of it I will be in great shape to qualify for the 2024 games in Paris."