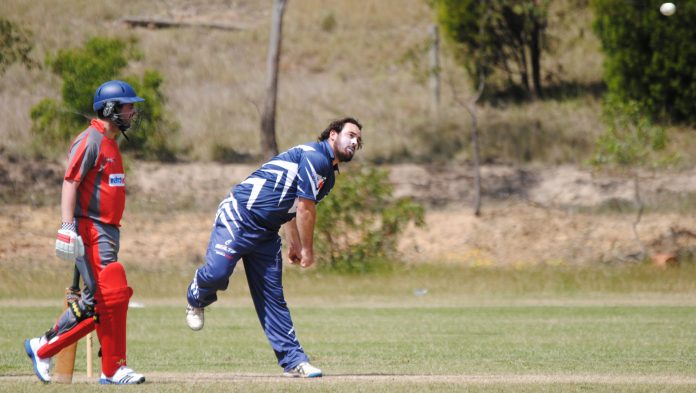 LIAM DURKIN and JOSH FARRELL
Liam Durkin and Josh Farrell
REPRESENTATIVE cricket will commence this Sunday in the Gippsland Cricket League for the senior, under 18 and women's competition.
A severely reduced season brought on by the advent of COVID-19 means the six Gippsland cricket associations in Bairnsdale, Latrobe Valley, Leongatha, Sale-Maffra, Traralgon and Warragul will only play two games each to decide a pool leader, then the two pool leaders will play off for the title.
Each team will play a match at home and away and also have a bye during the pool stages.
This is the second time in as many seasons a pool system has been used to determine which association plays in the final, which is slated to be held in February.
While the regular season might have something of an anomaly factor, there can be little to no doubt this will not matter in the eyes of players and those involved with teams behind the scenes, with the premiership this season carrying just as much meaning as all that have come before.
TRARALGON
Last season: premier
Captain: Lee Stockdale
Fixture: Warragul (home), Leongatha (away)
THE Tornadoes will begin its premiership defence with a grand final rematch against Warragul at Glengarry.
Traralgon will again be led by Lee Stockdale, and its side for the opening round contains seasoned GCL campaigners in Jimmy Pride and Michael Warne, as well as some big hitters in Nat Freitag and Anthony Scott.
The Tornadoes opponents for the opening match successfully chased in every game last season, so Stockdale might look to bowl first just to take the Wildogs out of their comfort zone.
Traralgon has both of its regular season games fixtured before Christmas, and should they win each of them, will have the security of knowing they are in the big dance a long way out from the final.
WARRAGUL
Last season: runner-up
Captain: Sam Batson
Fixture: Traralgon (away), Leongatha (home)
THE feel-good story from 2020-21 will be aiming to go one better this time around.
The Wildogs reached their first GCL senior final in a quarter of a century last season, and with the bulk of its squad retained, players wearing the Warragul colours will want to ensure what happened in 2020-21 wasn't a false dawn.
Returning captain Sam Batson will be joined by confidant Jack Armour as vice, while Jonah Serong, Rhys George and Dane Fawsett are expected to be key inclusions in their campaign.
The spin of Serong could prove to be the missing link for the Wildogs, working in tandem with fellow slow bowler James Williams.
The pair should be ideally suited to bowling in the middle stages or holding pattern period, serving a double purpose to not only scoot through overs but to also eliminate the oppositions access to boundaries.
Although not a huge turner of the ball, Serong's control is impeccable, and generally makes up for any lack in sideways movement with crafty adjustments in pace and flight.
Warragul has just one game before Christmas, and if it can get past Traralgon to start the season, it will provide a great deal of confidence, especially considering the quality of the side the Tornadoes are set to put on the park.
BAIRNSDALE
Last season: third
Captain: Reagan Kyle
Fixture: Sale-Maffra (home), Latrobe Valley (away)
BAIRNSDALE will have to wait another fortnight until it begins its GCL season.
Due to the fixturing, Bairnsdale's first match will be against Sale-Maffra on December 12 at Wy Yung.
East Gippsland cricket legend Reagan Kyle will again call the shots for his home association, and looms as one of the key wickets for opposition teams.
Brodie Anderson and Brayden McCarrey are again expected to bat in the top order, while with the ball, Ricky Tatnell is set to give those he bowls to plenty to think about.
LATROBE VALLEY
Last season: fourth
Captain: Rhys Holdsworth
Fixture: Sale-Maffra (away), Bairnsdale (home)
LATROBE VALLEY will be aiming to take one step closer to making the final this season.
The team wearing red, white and blue has been somewhat inconsistent in recent years, due mainly to the side chopping and changing, and will therefore be hoping a strong nucleus of players commit for the games ahead.
Captain Rhys Holdsworth is set to have a number of fellow captains at club level to lean on in Liam Maynard, Tim Fitch and Jordan Campbell, which means the ideas should be flowing regardless of the situation of the match.
Holdsworth took the initiative to open the batting last season with Maynard, both of whom generally bat at second drop for their clubs, and the pair benefitted from being able to play their naturally aggressive way in the power play while the field was up.
With this in mind, opposition teams might look to open with spin to decrease the chances of the makeshift openers slapping on-pace balls over the infield or getting thick edges fly in all directions, so Latrobe Valley will need to ensure they have contingencies in place.
SALE-MAFFRA
Last season: fifth
Captain: Dylan Bolton
Fixture: Latrobe Valley (home), Bairnsdale (away)
THE powerhouse of the GCL competition will be eager to get the new season underway following an uncharacteristic fall from grace last season.
Having won back-to-back titles in 2018-19 and 2019-20 as well as four of the last five GCL premierships before last season, the Sharks crashed badly in 2020-21 to only avoid the wooden spoon by way of winning a consolation final.
A new season has seen some changes at the top, with Dylan Bolton now in charge.
Bolton has been a mainstay in representative cricket since making his debut in 2006-07. He currently has 69 senior matches for Sale-Maffra and Caledonia (an off-shoot of Sale-Maffra) as well as a season with Bairnsdale.
The Boisdale-Briagolong captain, who takes over the SMCA team from Josh Davis, said he was looking forward to the season ahead.
"I just enjoy playing it, it's just really good fun," he said.
"The league came to me and asked if I wanted to do it and I just made a few calls to make sure we had a good crew.
"The SMCA has been really good, they gave me the freedom to pick my side and have supported it.
"I know a lot of leagues around look up to what we do here."
The Sharks have selected their team for the opening game.
Jack Tatterson is set to be a big inclusion after sitting out representative cricket last season, while Sam Anstee is back on the field and Steve Spoljaric will make his debut to claim cap number 490.
Tatterson has played 113 representative games across juniors and seniors, amassing almost 1900 runs in his career.
Last season's SMCA grand finalists Maffra have no players selected due to availability issues.
"Obviously we would love to have someone like Bedgy (Daniel Bedggood) and there are a couple who couldn't make it but this (senior SMCA team) is a really strong side," Bolton said.
Sale-Maffra will play Latrobe Valley at College Oval, Sale this Sunday.
Like Traralgon, the Sharks have both of their games before Christmas, and provided they win these, could have the ideal preparation in getting everything in place for the final.
LEONGATHA
Last season: sixth
Captain: Daniel Mock
Fixture: Traralgon (home), Warragul (away)
LEONGATHA begins its GCL season on December 12 at Scorpian Park.
The team from the south has drawn the two grand finalists from last season in its pool.
While this might appear challenging at first glance, Leongatha is unlikely to be phased, as the fluctuating nature of one-day cricket and infrastructure of the GCL competition means no team at this level is a walk-over.
Big hitting opening batsman Daniel Mock will again lead the side, and will want to stamp his authority on the contest from ball one.
Leongatha could be sweating on the availability of all-rounder Tom Keily, who provides genuine x-factor in all facets of the game.
Workmanlike players Tim Wightman and Ryan Williams are expected to once again perform a role, which should see Leongatha either win, stay in or remain very competitive in games throughout the season.