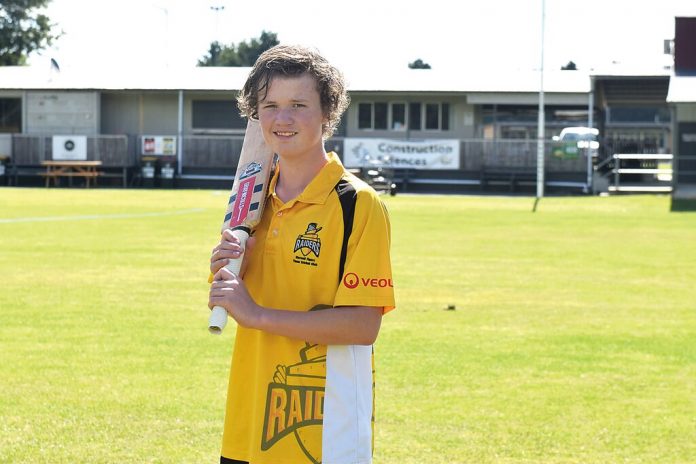 LIAM DURKIN
CRICKET
LVDCL
By LIAM DURKIN
WHEN you have Gippsland cricket legend Anthony Bloomfield saying your innings is "one of the best I've witnessed by an under age player", you know you've played well.
Morwell Tigers Yinnar Raiders youngster Ben Burrows won the plaudits of not only Bloomfield, but all who saw him score 109 not out playing for the Latrobe Valley and District Cricket League Under-15 representative side two Sundays ago.
The 14-year-old brought up the ton playing against the Traralgon and District Cricket Association in what served as the opening game of Junior Country Week.
Burrows' century could not have been scripted any better.
Not only did he remain unbeaten, he raised the bat on his home ground and delivered when his team needed him most.
Coming to the crease in the second over with the LVDCL teetering at 2-9, Burrows was out in the middle for virtually the entire 50 over allotment, seeing the home side to close at 6-241.
With the wide open expanses of the Yinnar Turf ground limiting boundaries, Burrows worked the ball around to craft his innings.
Another tricky period had the game in the balance with Latrobe Valley 5-100, but Burrows was again up to the task, and found a willing ally in Trafalgar's Louis Hennessy, who scored 45 himself in a 118-run partnership for the sixth wicket.
All in all Burrows' 109 was scored off 136 balls and contained five fours in a 197-minute stay at the crease.
As if batting for more than three hours was not enough, Burrows then went out to wicket-keep, and took three catches as the TDCA was skittled for 64 in reply.
Some games you just can't put a foot wrong.
Reflecting on his perfect day, Burrows said he built his innings in stages.
"I just wanted to get myself in to start and try to work the ball around in partnerships," he said.
"After my 50 was when I felt the best out there, it just came easier toward the end, the start was a bit shaky losing a few quick wickets."
As he moved closer to three figures, Burrows had a vague idea of what he was on.
"With five overs left someone ran water out and told me I was on 85," he said.
"I realised I was getting pretty close when most people had the cameras out.
"I was pretty nervous, I was just trying to do it as quick as I could, get it out of the way."
Sitting on 99 and just one moment away from agony and ecstasy, Burrows drove the ball straight back past the bowler to bring up his ton.
Just to make sure he wouldn't be robbed of the mark once the books were added up, the 14-year-old sprinted up and back for two to take his total to 101.
Burrows played a virtually chanceless innings and eclipsed his previous highest score of 81.
At club level, the youngster has started the season in the Raiders A Grade side, and is sure to benefit from having the likes of former first-class players Brad Knowles and Madura Perera, as well as first grade captain Liam Maynard to extract ideas from.
"They all help me out a lot," Burrows said of the Raiders senior stars.
"Liam has given me confidence in A Grade. He's told me just to try and stick around, work singles, do my job, play my part in the game."
Moving forward, Burrows said his aim was to keep improving, with a view to further his game by playing Victorian Premier Cricket in years to come.
Top shelf: Morwell Tigers Yinnar Raiders cricketer Ben Burrows scored 109 not out playing for the Latrobe Valley and District Cricket League under 15 representative side. photograph liam durkin