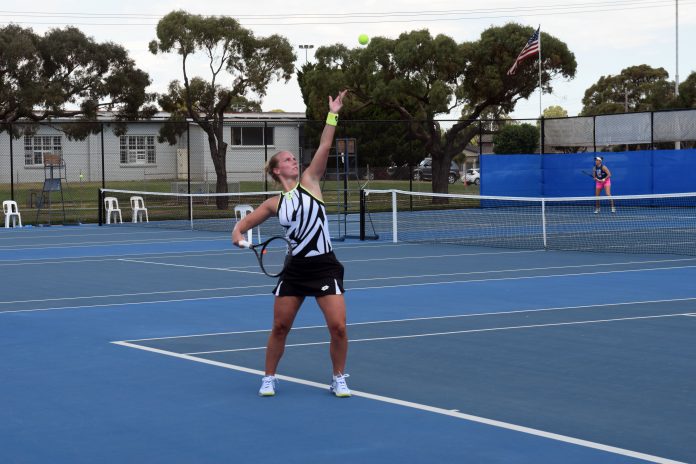 Liam Durkin
TENNIS
TRARALGON INTERNATIONAL
By LIAM DURKIN
THERE was little time for New Year's Eve celebrations in the tennis world, as a host of domestic and international players got to work for the Traralgon International ATP Challenger Tour and ITF Women's World Tour
tournament.
Players began arriving on New Year's Eve to begin preparations for the week-long event.
The dual tournaments are a massive coup for the Traralgon Tennis Association, with this year marking the first time Traralgon has hosted both events.
Players on the Traralgon courts are using the tournament to get match-ready for the Australian Open qualifying rounds, as well as vying for prizepurses of $58,320 and $60,000 in the men's and women's events respectively.
Locals have been treated to world class tennis in their own backyard these last few days, with players such as Frenchman and former world number six Gilles Simon one of the headliners.
Some prominent names have also won on the courts of Traralgon in previous years, including a 15-year-old Ash Barty, who claimed the Latrobe City International in 2012.
Australian professionals John Millman, Jason Kubler and Matthew Ebden have also claimed singles titles at Traralgon.
The arrival of the players coincided with a two-day heatwave across Victoria, which saw the mercury hover around 40 degrees at its peak during Saturday's practise day.
By Sunday, the temperature had subsided to the low 30s, however the humidity still meant there was no shortage of players and officials trying to cool down when they got the chance.
A host of local kids admirably gave up time during their school holidays to serve as ball kids for the tournament, and more than earned their keep and share of icy poles working in the heat.
Traralgon Tennis Association manager Susie Grumley said despite limited preparation, the local tennis fraternity banded together to make it all work
"There has been an enormous amount of work, because we only found out five weeks ago that we would have these two events," she explained.
"Normally planning starts five-six months prior to these events, so it has been a very, very mad rush getting volunteers and getting ball children, getting people to help with working bees to do signage and put flags up – I just can't speak highly enough of all the members and helpers who have put this together.
"Even all the ball kids, here they are on their school holidays out in the heat helping us and parents driving them from Warragul, Sale and Maffra. We feel very humbled and very appreciative of all the help we've been given."
Traralgon and the surrounding area is set to benefit from hosting a tennis event which carries a certain degree of gravitas, as are many local businesses thanks to the sudden increase in population.
"Tennis Australia are doing 17 tournaments over the summer of tennis and this is one of them, so to be up there with ATP Cup and Adelaide International and Bendigo have got the same tournament as us, it is a massive tournament for the town," Grumley said.
"It is a great boost to our local economy and the economic impact will be fantastic for the town and surrounding areas.
"Accommodation places in Traralgon and Morwell are all booked, the players go and eat in town every night, go into the town centre, so it is a wonderful little boost into the city of Latrobe. This year there has been lots of extra things to do with biosecurity requirements but I think the main thing at the end of the day is keeping the event and community safe – that is the main focus."
On Sunday during the qualifiers, Dutch professional Richel Hogenkamp broke away after the first set against teenage Australian Zara Larke, winning 6-4 6-0.
Both players shared moments of dominance early in the piece, but the experience of world number 247 Hogenkamp eventually showed.
The Traralgon heat certainly provided a challenge for Hogenkamp, who quickly quipped it was "a big change from home where it is around zero degrees" post-match.
Hometown duo Eliza Dunbar and Dave Hough flew the local flag at the tournament during the qualifiers, along with Sale's Jess Board, while Traralgon's Josh Charlton received a wildcard into the main draw.
"To have these young local players have the opportunity to play in this event, on courts they've grown up on is just amazing, just a wonderful experience for them, and it is great for the young players here to see them and be able to aspire to that," Grumley said.
"We're very lucky to have a diverse range of courts (in Gippsland), we have all the hard courts (in Traralgon), Maffra has beautiful grass courts, Sale has clay courts, so tennis is really booming, it is a great sport, a safe sport, it has social distancing built into it, so we are very lucky in Gippsland to have such wonderful tennis facilities."
January is well and truly the peak time for the Traralgon Tennis Association, with club organisers to head straight into hosting the Grade 1 ITF Junior event (a lead-in tournament to the Australian Open Juniors) once this ATP and ITF tournament concludes.