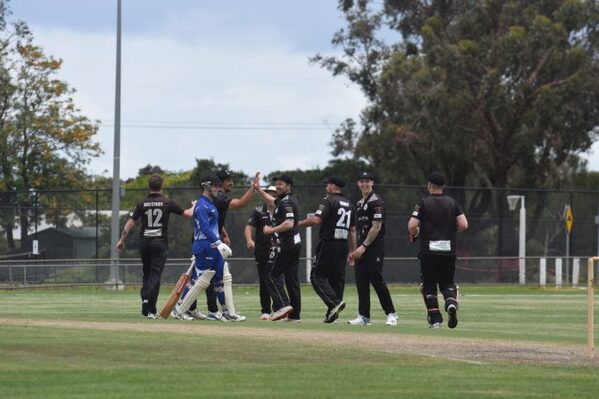 STAFF WRITERS
CRICKET
TDCA
A WET week of weather and COVID-19 isolation protocols meant only one A Grade match was able to be played this past weekend in the TDCA.
Yarram & District Cricket Club travelled to Fred King Oval to take on Glengarry in a match that would solidify one of the two teams' positions in top four.
Yarram & District won the toss and sent Glengarry in to bat knowing that with a few players unavailable they would be able to test the depth of Glengarry's team if they could get early wickets.
The green tinge to the wicket due to the covers being on for the majority of the week gave the Pelicans plenty of encouragement and with Al Jenkin and Glengarry's skipper Nat Freitag opening the batting there was a genuine chance to get into the middle order.
The first wicket fell with the score at 43 as Jenkin departed for 24 which brought Paul Henry to the crease who took his chance to bat up the order and played an excellent support role for Freitag as the two batsmen went about compiling a partnership of 136 runs before Henry was dismissed for a well made 47 from 91 balls.
Freitag would go on with the scoring as a couple more wickets fell before he departed for a well made 126 from 117 balls which included 12 fours and 3 sixes, notching up the highest score in A Grade for the season to date.
Welles Jenkins from Yarram was able to take some late innings wickets which stemmed the heavy scoring a bit, dismissing Freitag with the score on 248, but the damage had been done and Glengarry at the compulsory closure of the innings had amassed 7/258.
As mentioned, Jenkins bowled well for the Pelicans claiming 3/40 from nine overs (all bowled) while Daniel O'Keefe took 2/44 with Ant Scott (1/33) and Harjit Singh (1/46) the other wickettakers.
A hard task was ahead for Yarram & District, but considering how well the Glengarry wicket has been playing this season, they certainly weren't out of the match although they would be relying heavily on captain Scott and need a lot of luck in the process as well.
Yarram started their innings exactly the same way as Glengarry did with the opening batsmen putting on a partnership of 43 for the first wicket.
Daniel O'Keefe looked to be in a hurry as he reached 29 from just 27 balls, hitting four fours and a six in the process, while Damien Quigley played a supporting role up the other end.
Scott then came and went for just two runs and Brayden Askew followed quickly as well adding only three to the score which broke the back of the Pelicans batting line-up.
Young gun Matthew Garland (nine from 42
deliveries) tried to steady the ship along with Anthony Bland (22 from 69) and Peter Griffiths (21 from 48), but the task was just too great as Glengarry knocked over Yarram in the 42nd over for 121.
Hamish Busk looks to be back to full fitness, taking a superb 5/22 which included the big wickets of O'Keefe and Scott.
As Glengarry has done all season, the rest of the wickets were shared around as Cam Graham, Freitag, Brandon Mayberry, Jenkin and Lachlan Clarke all took one wicket each in a win that will now find Glengarry back to the top of the ladder.
Major TDCA round awaits
Imperials v Glengarry
GLENGARRY, coming off a big win against Yarram last round, will face the well-rested Imperials, after having a bye the first round.
Glengarry has proved that they are a forced to be reckoned with over the last season with the appointment of Nathan Freitag as captain.
This has made a massive difference to the team, and helped them not only with bat and ball, but his first-class cricket knowledge, unmatched by almost any TDCA player.
But Ryan Morley, following his appointment as Imperials captain, has done well for his team.
While probably not winning as many games as they had liked, he has been leading from the front and done an excellent job at that.
One to watch: HAMISH Busk, with the ball for Glengarry, could cause havoc for the Imperials top order.
Prediction: EVEN with the home ground advantage for Imperials, Glengarry will prove too strong.
Toongabbie v Yarram and District
TOONGABBIE and Yarram are both very close on the ladder with Toongabbie just two points ahead of Yarram.
This game will be one to watch this week, as they battle for third position on the ladder.
Yarram will be hurting from their last game and will want some redemption from last week, so, they will be ready and raring to give Toongabbie hell.
This will need to be done with both bat and ball for Yarram by the likes of top order batters Damien Quigley, Daniel O'Keefe and captain Anthony Scott.
But this will not be made easy, by the Rams bowling power of Keenan Hughes and gun left arm orthodox spinner Matt Barry, who have both been on fire with the ball this season.
One to watch: Daniel O'Keefe will look to make a big score, and bat Yarram to a win.
Prediction: Going to be a very close match, and is too close to call.
Gormandale v Rovers
GORMANDALE will not be getting much sleep on Friday night, as they will be so excited to play Rovers, who have only won a single game this year, but against Yarram, making it one of the bigger victories they could've got.
But Gormandale will be itching to get their first win, so there is no doubt that they will come out with everything they've got and give it to Rovers.
Rovers duo Tyler Pearce and Dougal Williams are both in good form at the moment, with Tyler notching up his first 50 of the season, and Dougal Williams first 100 of the season, giving them plenty of confidence going into this round.
This will be a challenge however for rovers playing against Nat Campbell, as he is always someone who can tear through the Rovers batting order.
So Rovers will need to watch the ball and make sure they read the ball as it comes out the hand of Campbell.
One to watch: Nat Campbell will be one to keep an eye on, with not only ball in hand, but someone who also has an explosive batting game about him too.
Prediction: This is going to be a very close match and will come down to the team that has the most fight in them. However, Gormandale will come out on top having the home ground advantage against Rovers.