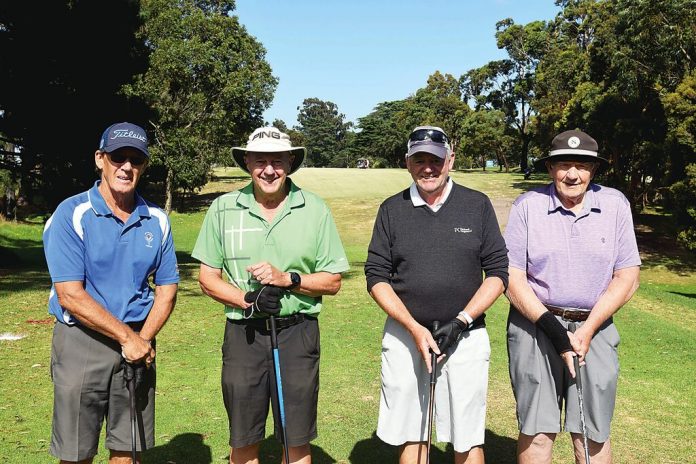 LIAM DURKIN
GOLF
By LIAM DURKIN
THE Latrobe City WIN Television Traralgon Pro-Am Classic tees off tomorrow.
All is in readiness for the club's major event – one of the most prestigious Pro-Am's in regional Victoria.
Over the next two days more than 70 professional golfers will grace the fairways of Traralgon, playing alongside a host of local players.
Some big names in golf are set to showcase their ability at Traralgon, including former US Open player Marcus Fraser, who has a career high world ranking of 53 and also won the Gippsland Super 6 at Yallourn Golf Club last year.
Current leader of the Victoria PGA Order of Merit Tim Hart is also coming to Traralgon, and his long drives are sure to be a feature.
A pair of female professionals in Joanna Flaherty and Steph Vogel will also play, as will
internationals Ben Jackson (United Kingdom) and Luke O'Sullivan (New Zealand).
Traralgon Golf Club president Jim Hagart said all were looking forward to another successful Pro-Am.
"It is our major fundraiser for the year and also great for Gippsland because it brings a lot of new people into the area and promotes golf as well," he said.
"We have a lot of visitors come from all over the state, all over Australia actually to play in it, and we are expecting a lot of people to come and watch as well.
"It is an Order of Merit event, they give points to the Order or Merit which allows them (the
professionals) to play in the bigger events around the country during the year and it has always been regarded as a prestigious event. It has been won by Greg Norman and some of the big names in golf over the years … it does carry a lot of prestige."
As Hagart explained, the pro-am also provides a real life insight for everyday players into the intricacies of the game.
"It is more for the amateur to play with the professional and see how the game should be played, they get a few lessons as well as they go around with the pros that they play with … it is really good for everybody," he said.
"They (the professionals) change the way the course is played because of the distance they can hit the ball.
"They have to play the place a bit differently to what the amateurs do, but they do learn Traralgon, although by Melbourne standards is probably short, if you don't put the ball in the right position you are penalised. It's more about placing the ball rather than how far you can hit it."
A marathon effort has been completed behind the scenes by the Traralgon Golf Club Pro-Am committee, with this year's event planned virtually as soon as the previous instalment finished.
Such is the workload, one committee member described preparing for the pro-am as "like painting the Sydney Harbour Bridge".
The two-day Traralgon Golf Club Pro-Am was first held in 1991 and has been a regular fixture on the Victorian PGA calendar since.
Prior to that, the Traralgon Pro-Am commenced in 1976 as a 36-hole event. The next year it became a fully accredited professional tournament played over 72 holes.
The event went in to recess for 10 years before returning as the Latrobe Valley Pro Am played at Morwell and Traralgon.
Since 1993, the event has been played as a 36-hole event at Traralgon.
Norman won his second professional event at the Traralgon Loy Yang Classic in 1978, returning 12 months later to successfully defend his title.
Current Traralgon Golf Club professional and head coach Darren Cole has won the Pro-Am four times.
Hagart encouraged any spectators interested in witnessing professional golfers in action to come and have a look.
"If you want to see some really good golf in our local area and also have a look at our course everyone is welcome, it is free to come and watch," he said.
The Traralgon Golf Club course is closed today to ensure greens, fairways and surrounds are in prime condition for the Pro-Am.