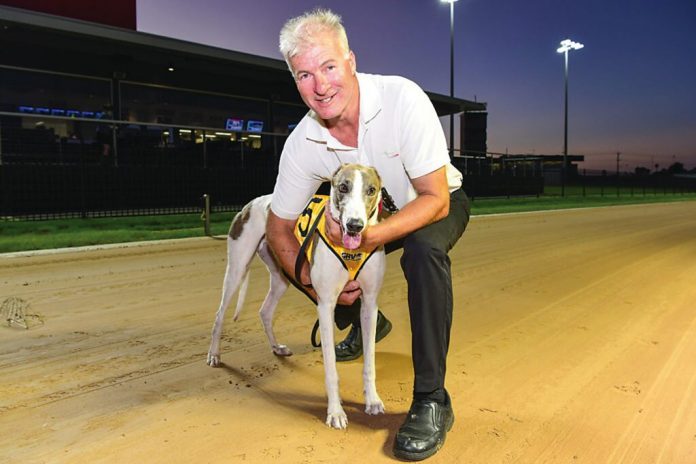 LIAM DURKIN
GREYHOUNDS
By GERARD GUTHRIE
COUNTRY cups king Ferdinand Boy will take aim at a remarkable fourth title in the Group 2 SEN Track Traralgon Cup (395m) tonight after returning to his brilliant best in Friday night's heats.
Eight 'winner-take-all' heats were conducted on the world-first 'J-curve' track, which hosted its first official race meeting last Saturday, with Ferdinand Boy, which won the Ballarat, Healesville and Shepparton Cups in 2021, claiming heat three in 21.65sec.
Ferdinand Boy was the second leg of a heat double for David Geall, after Healesville Cup placegetter Hill Top Jonah won the opening heat in 21.77sec.
Other highlights from Friday night's Cup heats included:
Bendigo Cup placegetter and track record holder Typhoon Sammy was easily the fastest heat winner, setting the time standard in the final heat with an electrifying 21.53s performance, his 22nd win from 33 starts. Trainer Jason Thompson's wife Seona prepared the most recent Traralgon Cup winner, Poke The Bear, in 2018.
Andrea Dailly also claimed a heat double, courtesy of Mebourne Cup runner-up Lala Kiwi running 21.61sec and Indy Honey 21.85sec.
Dailly won the 2015 Traralgon Cup with the great Fernando Bale.
NSW raider More Sauce, a two-time G2 runner-up in his home state in the Black Top and Maitland Cup for owner/trainer/breeder Michelle Lill, will try to emulate his litter brother Robbie Rotten, winner of the recent G2 Warragul Cup, after a 21.66sec heat success.
It comes after a $6 million upgrade of the Traralgon facility, which has delivered a state of art J-curve track along with major upgrades to the club's facilities including new outdoor decking and a massive semaphore screen.
Greyhound Racing Victoria's (GRV) chair Peita Duncan said the new Traralgon track sets a benchmark for greyhound racing worldwide.
"This is the biggest project undertaken by Victorian greyhound racing in decades, using the work of Professor David Eager and his University of Technology Sydney team to create the safest possible greyhound racing environment," Ms Duncan said.
"I would like to thank the local government who alongside GRV funded the $6 million project which has seen us use local companies all the way, to build a truly outstanding venue that maximises safety while also showcasing all the excitement of the sport.
"It is also important to thank the Traralgon Greyhound Racing Club, who have put in countless hours to ensure this is a success."
The Traralgon Cup night meeting is timed to start from 6pm.
FIELD
2022 TRARALGON CUP (395m)
1 Lala Kiwi(Andrea Dailly)
2 Hill Top Jonah(David Geall)
3 Indy Honey(Andrea Dailly)
4 Earn The Answers(Lyn Smith)
5 Ferdinand Boy(David Geall)
6 Paua of Janie(Steven Bruce White)
7 Typhoon Sammy(Jason Thompson)
8 More Sauce(Michelle Lill)
Reserves
9 Paua of Buddy(Steven Bruce White)
10 Mr Fix It(Jeff Britton)