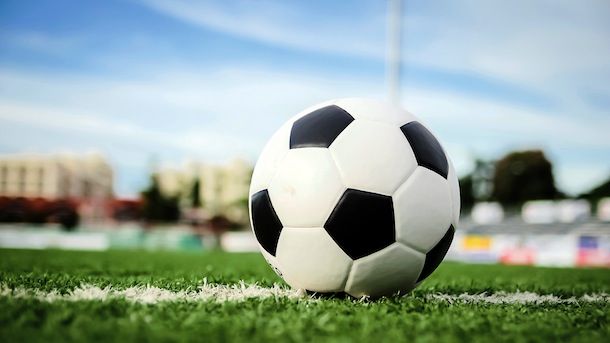 LAURIE WILLIAMS AND TREVOR RIESS
SOCCER
LVSL
By LAURIE WILLIAMS AND TREVOR RIESS
COVID-19 had its first impact on the Latrobe Valley Soccer League season, with Sunday's game between Newborough/Yallourn and Traralgon City postponed due to the former having several players out due to the virus.
Of the remaining four fixtures, a Saturday night special ensued with Falcons 2000 beating Moe United, Fortuna easily accounting for Monash, Morwell Pegasus slamming eight away to Sale and East Gippsland and Churchill sharing the spoils.
MOE v FALCONS
UNDOUBTEDLY the match of the round saw Falcons 2000 travel to Moe United under lights
on Saturday, with both sides vying for early ascendency in the race for the league championship.
The match started at a frantic pace, with the Morwell side quickly inflicting their high-tempo
brand of football but a resolute Moe defence saw that the game remained goalless at the break.
The second half quickly saw Falcons continue in the same manner and were eventually rewarded with some intricate interplay in the final third finished at close range by Nonda Lazaris.
The home side looked spent physically and with 20 minutes to go the game was seemingly put to bed when captain Sam Amaira expertly finished a lovely sweeping forward move.
Moe, despite missing a number of players on the night, would continue to press and in stoppage time Matt Shearing brought them back with a sublime finish inside the box.
Despite Moe piling on the pressure, Falcons held their nerve to remain unbeaten and going some way to avenge the 7-2 loss they received last year before the season was brought to a halt.
FORTUNA v MONASH
AFTER last week's admirable loss to Moe United, Fortuna looked to bounce back to claim their first points of the season away to Monash with a resounding 5-1 victory.
Goals to Hayden Tanti, Damon Scott (two) and new signings Ryan McAuley and Daniel Cooper ensured the win at a venue that teams can often struggle to claim maximum points.
PEGASUS v SALE
MORWELL Pegasus put their names firmly in the league championship discussion with an impressive 8-2 win away to Sale.
It was expected Sale would put up a decent fight given their early preseason form however the Flying Horsemen quickly put paid to that with a gluttony of goals that took them to the top of the summit after Round 2.
Pegasus are already making a name for themselves in the goals-for column, amassing 12 goals thus far in only two games, however bigger challenges await in the coming weeks as they are yet to play some of their equally fancied rivals.
CHURCHILL v EAST GIPPSLAND
RIGHT from the first whistle Churchill looked to have East Gippsland on the back foot.
In only the third minute, a Sam Dicereo left foot screamer bent around a flailing keeper into the top corner.
Two one-on-ones with the keeper resulted in two goals to Blake Whykes continuing his goalscoring streak in style rounding the keeper.
East Gippsland got themselves back into the contest in the last minute of the first half through a Matt Desio goal giving the Eagles a much-needed boost going into the sheds.
The second-half started as a stalemate for the first 20 minutes, with neither team able to dominate for any length of time until East Gippsland capitalised on a Churchill mistake to chip the keeper from 30 yards.
It was game on from then and an own goal for East Gippsland's third goal put the game on equal terms to really turn the pressure up.
East Gippsland kept pushing forward without being able to break down Churchill's defence, and Churchill's wingers got deep and played plenty of balls into the box to keep the tempo high.
With Eagles' players going down with cramp throughout the last 10 minutes it was too much for some as the East Gippsland coach was given his second yellow card within five minutes and sent from the dugout for referee abuse.
When the referee blew for full-time both teams could feel like it was two points lost with ample opportunities for both to win and the scoreboard reading 3-3.
ROUND 3 PREVIEW
NEWBOROUGH/YALLOURN v FALCONS
WITH two wins on the trot Falcons are on the road again, this time to recent rivals Newborough/Yallourn.
The Combine will come off a week's break and it is anyone's guess as to whether this will be of benefit or not when they face their in-form opponents. Irrespective of all that, games between these two friendly foes are always tightly fought with any result possible on the day.
RECORD – Played: 38 Falcons 21, Newborough/Yallourn 13, 4 drawn. Last time: Newborough/Yallourn3-2.
CHURCHILL v SALE
CHURCHILL has another chance to register their first win of the season against a struggling Sale.
The Rams have been playing well with two draws to open their campaign and they will be extremely motivated to grab all three points on their home
turf.
Sale, pointless at the end of two rounds, will look to make a better account of themselves than they did last week.
RECORD – Played: 91, Churchill 62, Sale 18, drawn 11. Last time: Sale 2-0.
MONASH v MOE
MOE will be hurting after their loss to Falcons and they have no better opportunity to bounce back against their postcode rivals in Monash who have a solitary point to their name.
After a disappointing 5-1 loss last weekend, Monash will look to bounce back, and one things
for sure – they will fight until the death which will make it a tricky encounter for the Red Devils.
RECORD – Played: 116, Moe 67, Monash 32, drawn 10, Last time: Moe 2-1.
PEGASUS v TRARALGON CITY
PEGASUS are known to be big scorers against the lower clubs and with 12 goals on the board after two matches they will be putting the pressure on Traralgon City who had an unexpected rest last weekend.
They will be keen to get back into action and give Pegasus a solid workout.
Played: 87, Pegasus 37, Traralgon City 25, drawn 5 Last time: Pegasus 1-0.
EAST GIPPSLAND v FORTUNA
FORTUNA should be too strong for East Gippsland but they won't forget their first meeting in 2021 when the Eagles forced a 3-3 draw.
This time around Fortuna will be a hard team to beat especially after their solid win the previous week.
Played: 9, Fortuna 7, East Gippsland 1, drawn 1. Last time: 2-2.