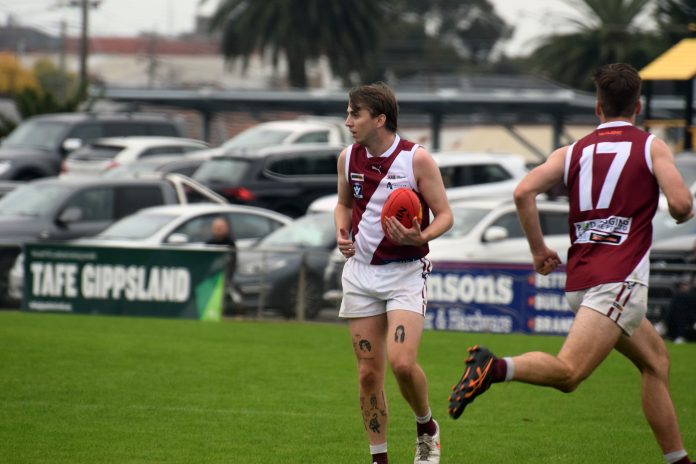 LIAM DURKIN
FOOTBALL
GIPPSLAND LEAGUE
By LIAM DURKIN
THE formative stages of the Gippsland League continued in Round 3.
Rivalry round showcased a number of marquee clashes across the weekend that saw two matches played on Sunday.
At a time of year where results tend to fluctuate, there was one constant, and that was the might and standing of Leongatha.
The Parrots took care of another predicted finalist with relative ease, again sending an ominous message to the rest of the competition.
Granted the season is only three weeks old, Leongatha appears to be the Bradman of Gippsland League teams – they are so far ahead you don't even bother comparing them to anyone.
TRADITIONAL rivals Traralgon and Morwell faced off on Sunday.
The match was played at Morwell and won by Traralgon 14.13 (97) to 6.13 (49).
The game was also the WorkSafe Victoria Game of the Month. WorkSafe used the day to celebrate 21 years as naming right sponsor of local football.
Western Bulldogs premiership hero Tom Boyd was a special guest at Morwell and spoke to dignitaries of both clubs at half-time.
As part of Game of the Month billing, Boyd trained with Traralgon during the week.
The man who sealed the Bulldogs fairy tale flag in 2016 looked every bit the hulk of a key position player one would expect, and was certainly befitting of the colloquial term 'big boy'.
More locally, there was some crossover in football journeys between those now playing for Traralgon and Morwell who were coached by former Tigers coach Harmit Singh.
Singh, the best local football coach this writer has seen, was spotted watching on as his Vermont premiership teammate Jake Best coached Traralgon and his Morwell premiership teammate Boyd Bailey (set to coach Morwell next season) played in the yellow and black.
The match itself saw Morwell take an 18 point lead into quarter time.
The Tigers got off to a flyer, kicking four goals to one to take the early ascendency.
It appeared Morwell identified Traralgon would more than likely look to Best and Brett Eddy as focal points inside 50, and dropped extra numbers back to help on defence.
This forced the Maroons to kick long, which played into the Tigers hands as they were able to use the out number to their advantage and run the ball out as they had amble opportunity to spread.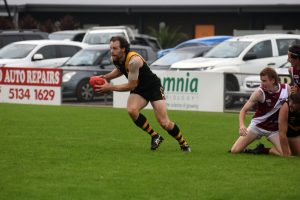 A classy set shot on a tight angle from Bailey at the Princes Highway end on the wrong side for a left footer gave Morwell further inroads and maintained the Tigers dominance.
At this point, while all appeared rosy for those in the yellow and black, there was perhaps one warning bell – Dylan Loprese was clunking everything at half forward for Traralgon.
Traralgon appeared undeterred at quarter time, and hit back with three goals in relatively quick succession to start the second.
From there, the game became a stalemate that was played between the arcs in what was very much kick-to-kick between the two teams until the half-time siren signalled things were all tied up at 4.6 (30) apiece.
The Maroons made some structural changes at the main break which went on to have a significant say in the result.
Running machine Haydn Hector tagged Bailey, and Best injected himself into the midfield.
The presence of Best gave the Maroons some grunt in the contest, and also freed up Mark Collison who was able to find width on stoppage exit to give the side some clean looks going forward.
Collison had 14 disposals in the third quarter alone and Traralgon broke the game open with seven goals to one to take an 11.7 (73) to 5.9 (39) lead at three quarter time.
Loprese well and truly had the sticky mitts out by now and kicked a team lifting set shot just before the break, backed up by a set shot from Eddy right on the siren.
Facing a 34-point deficit at the last change, Morwell players were instructed to break the equation down and approach the final quarter in five minute blocks.
Unfortunately for the Tigers, Traralgon kicked a goal 20 seconds into the last courtesy of a Luis D'Angelo soccer. This effectively killed the contest and saw the Maroons carry their momentum all the way to the end.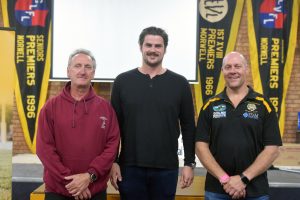 Traralgon defender Tye Hourigan played a great game, rebounding the ball on many occasions, and was presented with a best on ground medal from AFL Victoria football manager Richard Black for his efforts in the marquee game.
Others to play well in the win were D'Angelo, Matt Northe, Harvey Neocleous, Conor Little and Hector.
Best for Morwell was Max Linton, Dan Musil, Tristen Waack and Sam Walsh.
Speaking post-match, Best said he was proud of the way his troops responded after a slow start.
"All credit to Morwell, they jumped us big time. I was happy that we steadied the ship and had a better second half," he said.
"We changed up dramatically at half-time and it made a massive difference. We locked down a bit more, that was a big thing, we got the game on our terms.
"We had some really good contributors today. I felt especially after quarter time guys started playing their role. Our midfield is good, we didn't have our ruckman so it was always going to be a challenge, but guys came in and played their role."
The Maroons first choice ruck David Brinker-Ritchie was on duty with Box Hill in the VFL.
Best said his selection for Traralgon would be a week-to-week situation depending on his commitment to Box Hill.
The Gippsland connections continue at Box Hill, where former Drouin player Clinton Proctor is head coach.
Traralgon will now need to recover quickly from a six-day break heading into its next match against Moe.
And for those wondering, there is still no net behind the goals at Morwell.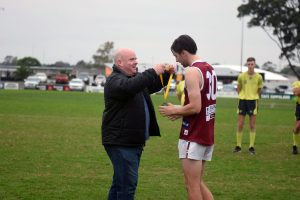 MOE maintained its unbeaten start to the season.
The Lions won a match that never really reached any great heights at Ted Summerton Reserve, defeating Maffra 10.9 (69) to 3.14 (32).
Both teams exchanged periods of dominance in the first quarter, before Moe established a three goal buffer in the second.
The Lions built on this for the rest of the game, and found life became much easier once they identified what tempo to play at after half-time.
Such a realisation would have surely been pleasing to Moe coaching staff as the Lions have been guilty in the past of trying to play at 100 miles an hour regardless of the state of the game.
The Lions' desperation in defence was again prominent, with some moments worth mentioning including a diving mark to Matt Heywood and the work of Ben Maslen in taking key Maffra goal sneak Mitch Bennett out of the game, so much so Bennett was moved to the backline in the second half just to find some action.
Kicking to the famous Can Bar end to finish, Moe forward Harry Pepper sealed the deal with a clinical set shot right in front of the parochial supporters, who he duly celebrated with as the ball went through.
Lions' favourite son Clinton Taylor had a chance to repeat the dose, taking a set shot from 40 metres on a slight angle. With his mother looking on with phone in hand ready to record the moment, a collective groan was heard as the kick drifted for a behind.
Perhaps there was a positive to Taylor missing the goal – there probably would have been an earthquake in Moe if it sailed through.
Jacob Wood was voted best for the victors, along with Declan Keilty, Scott Van Dyk, Harri Sim, Jacob Balfour and Jordan Ceppi.
Ed Carr and Kade Renooy had plenty of touches for Maffra, as did Hudson Holmes.
A scare went through the Eagles camp after Daniel Bedggood was slow to get up following a contest just before the final siren. While it did not look too serious, Maffra will surely be monitoring his situation closely.
ELSEWHERE, Sale and Drouin got their first wins of the season on the board.
The Magpies returned from Bairnsdale with the four points after recording a 14.11 (95) to 9.7 (61) win, while Drouin dispatched Warragul in the Western Derby 11.9 (75) to 3.11 (29).
Leongatha sent a fierce statement to its competitors after rolling Wonthaggi on their home deck by 36 points.
The Parrots 13.12 (90) to 7.12 (54) win perhaps only told part of the story, as there was just as much to be said about who wasn't able to get a game in the victors starting 22.
If Josh Schelling is playing twos, Leongatha must be unbelievably good.