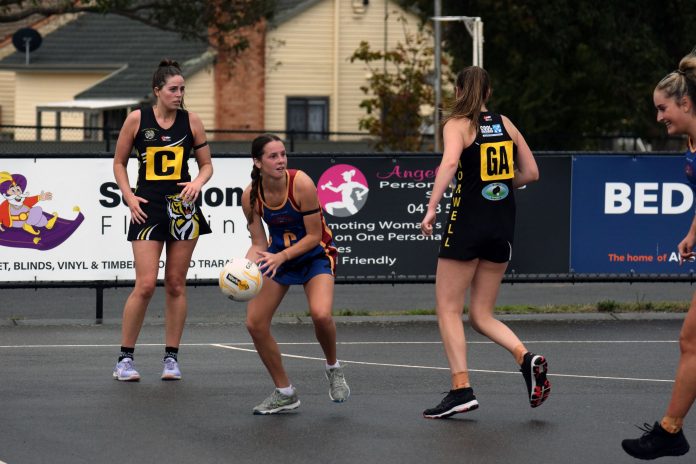 LIAM DURKIN
NETBALL
GIPPSLAND LEAGUE
By LIAM DURKIN
MORWELL remains unbeaten after four rounds of Gippsland League netball.
The Tigers latest victim was Warragul, who they defeated 38 to 30.
The visiting Gulls took it right up to the Tigers in what was a margin that surprised a lot of people.
Warragul netballers, much to their credit, have put in honest performances this season amid the great inconvenience of needing to play off-site as their Western Park facility is still being upgraded.
Those who have played for sporting teams unable to play at their actual home ground will attest to how much of a hassle it can be, with not just the on-field or on-court action taking a hit.
Moe and Traralgon played out an equally good game.
The Lions prevailed by 10 goals, 57 to 47 at Ted Summerton Reserve.
The win made it back-to-back wins for Moe and also went some way to the club winning the inaugural Riley Pearce Cup that was being played for in the name of mental health between the two clubs.
Goal attack Georgia Moody was best on court, followed by Macy Gardiner and Laini Galea.
Traralgon is still yet to get off the mark in 2022, although in fairness has played four teams expected to be finals bound in Leongatha, Drouin, Morwell and Moe.
This tough draw should give the Maroons a battle hardened edge for their upcoming games, and their match against Warragul this Saturday looms as very much season defining.
Drouin won a close encounter against Wonthaggi, getting the points 44 to 38 at home, while Leongatha thumped Bairnsdale 68 to 28 at home as well.
In the Battle of the Birds, Maffra was too strong for Sale, winning 42 to 27.
Taking the home court advantage, the Eagles bounced back from their loss to Moe last week to enjoy better success this time around.
Jaz Schellen was voted best on court, along with Abbey Pleydell who took out the Pam Birss Memorial Medal.
Rach Ronaldson and Katy Troughton played well for Sale.
MID GIPPSLAND
TOORA is still tops in Mid Gippsland netball.
The Magpies consolidated their position at the head of the competition ladder after smashing Stony Creek 61 to 11.
Toora and Mirboo North remain the only unbeaten teams from those who have played at least three games.
The Tigers took care of Yinnar with surprisingly relative ease, winning 65 to 40.
Yinnar, a powerhouse of recent years, have been in uncharacteristic form in the last fortnight. The Magpies only won their Round 2 encounter against Morwell East marginally, and have now lost to Mirboo North by 25 goals.
The Tigers could not be faulted in their performance, and found solid contributions from Louisa Pratt and Abby Forrester.
Newborough recorded their first win of the season, defeating Hill End 52 to 36.
The Bulldogs played well at home and were well served by Caitlin Prestidge, Tayla Knowles and Olivia Rock.
Morwell East won easily against Thorpdale, getting the job done in a 74 to 23 rout.
Steph Campbell stood out for the winners.
In other results, Tarwin defeated Foster 43 to 23 and Fish Creek scrapped home against MDU in a 32 to 29 scoreline.
Boolarra had the bye.
The Demons are third on the ladder, with Morwell East, Tarwin and Fish Creek behind.
Foster, Hill End and Thorpdale remain win-less heading into Round 4.
NORTH GIPPSLAND
WOODSIDE is the only unbeaten team in North Gippsland netball.
The Wildcats are four from four, and hold a one game lead over neighbouring rival Yarram on the competition ladder.
Woodside played a competitive match against Glengarry last weekend, and did enough to win 57 to 54.
Heading into the game with top spot up for grabs, the contest did not disappoint, as teams traded momentum throughout the match.
Yarram consolidated its place in the top three after recording a 47 to 36 win over Sale City.
The Demons bounced back strongly from their defeat to Woodside last round and handed the Bulldogs their first loss for the season.
Yallourn Yallourn North got on the winners list with a 41 to 36 victory over Gormandale.
The victory was welcomed for the Jets who faced a danger game against the Tigers brimming with confidence following a win the week prior.
Samira Heffernan collected the plaudits for best on court, followed by Paige Roberts who played a great game.
Rosedale got back to business with a commanding win over Heyfield.
The Blues were rarely challenged and took control of proceedings from the get-go, eventually winning 47 to 16.
Cowwarr won their second match for the season, accounting for TTU in a two goal thriller.
The Saints had their noses in front when it mattered most, winning 44 to 42.
Cowwarr is now sixth on the ladder, equal on points with fourth placed Churchill who had the bye last round.