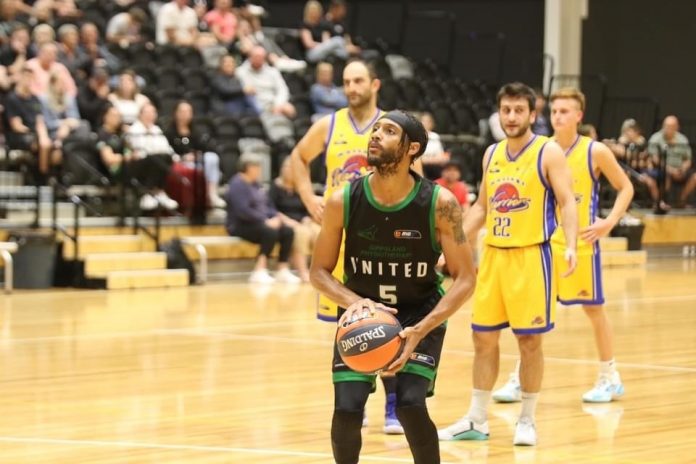 LIAM DURKIN
BASKETBALL
By LIAM DURKIN
GIPPSLAND United men continued their strong first half of the Big V season,
defeating Surf Coast last Saturday.
Travelling to Torquay, United put in a dominant second half to win 86-60.
The win consolidated United in second position on the ladder and took their ledger to an imposing eight wins from nine starts.
Star import Brandon Armstrong led the scoring with 33 points, while youngster Ben Waller saw seven and a half minutes of action.
United are on the road again this weekend, and will travel to Mildura.
THE women had a hard-fought game against Wallan, and went down in a good contest by four points, 63-59.
A poor third term proved United's undoing, as they let the home side tip 20 points in while only managing 12 themselves.
An arm-wrestle in the last saw the two teams score 14 points each, meaning United had to make do with running second on the night.
Chloe Hogg scored 14 points and import Makenzie Miller 11.
Joanna Watson shot two three pointers to go with eight three point assists.
United women are sixth on the 10-team ladder with four wins and just as many losses.
BIG V DIVISION 2 LADDER
MEN: Pakenham 9-2, Gippsland United 8-1, Sherbrooke 8-1, Altona 7-4, Mornington 6-4, Wallan 5-6, Mildura 5-5, Craigieburn 4-6, Whittlesea 3-6, Maccabi 3-8, Surf Coast 2-8, Melton 0-9.
WOMEN: Altona 8-0, RMIT Redbacks 7-2, Mornington 6-2, Coburg 5-3, Blackburn 5-4, Gippsland United 4-4, Wallan 4-4, Corio Bay 3-5, Collingwood 0-9, Surf Coast 0-9.