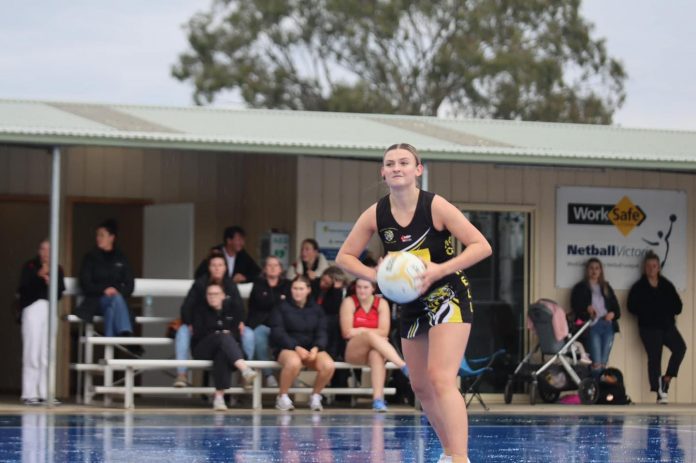 LIAM DURKIN
NETBALL
GIPPSLAND LEAGUE
By LIAM DURKIN
MORWELL has maintained outright first spot on the Gippsland League A Grade netball ladder.
The Tigers are still unbeaten after six rounds, with their latest victim being Maffra.
Morwell was too strong for the Eagles, winning 56 to 30 on the road.
A solid second half performance saw the visitors to victory, and they will now look at taking care of Wonthaggi this Saturday.
Traralgon had an important win in the context of its season, defeating Wonthaggi by 10 goals.
Heading into the match eight points adrift of the fifth-placed Power, Traralgon needed to win to make the task of qualifying for finals all the more easier.
The Maroons celebrated being back on their home court for the first time in 12 months, and appropriately, were able to make it a double celebration on Ladies Day for the club.
Best for Traralgon was Sophie Lecchino, Amy Harrison and Stacey Jacobsen. Jess McRae played well for Wonthaggi.
Traralgon now gets to play the bottom two sides in Bairnsdale and Sale across the next fortnight, which should put it in reasonable shape come the halfway point of the season.
Moe was never troubled by Sale.
The Lions won in a canter 74 to 27.
Macy Gardiner was best on court for the Lions, who gave their percentage a decent boost.
Moe sits third on the ladder and will face a litmus test this Saturday when it travels to Drouin to take on a side equal on points.
The Hawks had little trouble accounting for Bairnsdale last week, and won 52 to 28, while Leongatha had a similarly easy win over Warragul to the tune of 33 goals.
MID GIPPSLAND
MIRBOO North went equal with Toora on points at the top of the ladder after Round 5 of Mid Gippsland A Grade netball.
The Tigers demolished Fish Creek by 36 goals to take their ledger to five wins from five starts.
Best for the winners were Charlie Bickerton, Linc Chila and Amy Conlan.
Toora had the bye, but thanks to a whopping percentage, was able to stay in first place.
Yinnar also added to its percentage, courtesy of a 63 to 19 blitzing of Foster.
The Magpies are fourth, having dropped just the one game, and are still looking every bit the strong side they were last season.
Morwell East is one spot above Yinnar, and made sure their place was cemented after creaming Stony Creek.
The Hawks showed absolutely no mercy, winning 86 to 6.
Maddy Burney was best on court, in what was a field day for those under the ring.
Newborough had a determined win over Boolarra.
The Bulldogs broke away to win by 10 goals, 53 to 43, with Charlize Bird, Demi Caldow and Caitlin Demczuk prominent in the victory.
Newborough is now only a game outside the top five, and will face a good challenge to prove themselves when they play Morwell East away from home this Saturday.
Hill End got the job done against MDU, winning 39 to 17. Emma Grunwald and Jessica Baillie were best on for the Rovers.
Thorpdale was beaten by Tarwin 52 to 39.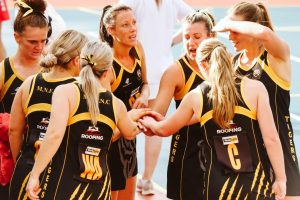 NORTH GIPPSLAND
YALLOURN Yallourn North provided the biggest talking point in Round 6 of North Gippsland netball.
The Jets defeated a highly fancied Churchill 40 to 27, making it arguably their best win as a North Gippsland club.
Playing at home, YYN could not be faltered, and took the points thanks some great efforts from Shellby Carr and Samira Heffernan. Sale City gave its percentage a good boost after defeating Gormandale by 40 goals, and is now second on the table.
Woodside remains outright first on 20 points, and easily accounted for Cowwarr last Saturday, winning by 34 goals.
Glengarry is also setting a good pace and it is nipping at the heels of the Wildcats and Bulldogs.
The Magpies overcame a determined Heyfield outfit to win by 10 goals, and keep their position inside the top three.
Rosedale and Yarram played out the closest match, and it was the Blues who got up in a one goal thriller.
Spectators were left biting their nails as the game played out, with the final whistle setting off a huge sigh of relief for those wearing the Rosedale colours.
The win was very important for the Blues' season, as they are now equal with Yarram on points.
Rosedale and Yarram make up a logjam of teams on 12 points, along with Churchill and Cowwarr taking places from four to seven on the ladder.
Traralgon Tyers United had the bye and will face a YYN side full of confidence this Saturday.