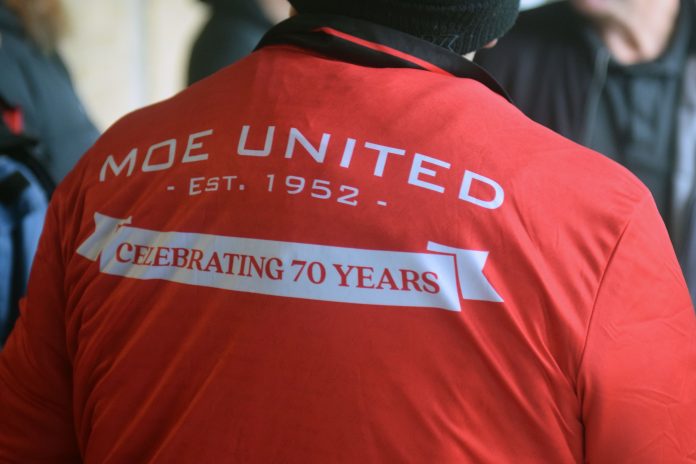 SOCCER
LVSL
By LIAM DURKIN
MOE United Soccer Club celebrated its 70th anniversary last Saturday.
Players, officials and supporters gathered to reminisce, recall and remember deeds
performed during their days with the Red Devils, with a number of specials events taking place as part of the celebrations.
A past-players match was arranged by club legend John Cardona, and played as a tribute
game in honour of late Moe United icon Bert Lietzau.
A formal event was then held later in the evening at the Moe Racing Club, where the Red Devils announced their greatest team of all time.
Ever the professionals, Moe United players of today did not see the club's anniversary or
the fact there was no competition matches across the weekend due to the Queen's Birthday as an excuse not to train, taking to their Olympic Park pitch on Saturday morning.
Perhaps it is this commitment that has led Moe United to become arguably the most successful club in the Latrobe Valley Soccer League since starting out way back in 1952.
A CLUB IS BORN
MOE United Soccer Club was formed in November 1952 and played its home matches
at the racecourse.
The racecourse set-up was indeed primitive, as the pitch was used as a car park whenever
there was a meeting on.
In terms of geography, the old Moe United home ground was located near where Apex Park is now.
The Red Devils were a strong team from the outset, finishing runner-up in the league four
years running from 1953-56.
It had to wait until 1960 however to put something in the trophy cabinet, winning the Battle of Britain Cup.
During the early years there was also the formation of the Moe Rapids, a Dutch contingent of the club that broke away to form their own team.
Come 1971, the Red Devils found a new home ground at Olympic Park along Vale St, a place that has been home ever since.
In a stark contrast however, that same year playing stocks were stretched to the limit, with youngsters fronting up to take part in junior, reserve and senior matches all on the one weekend.
While some of the hits were severe, they paved the way for Moe United to dominate in the years to follow.
And dominant they did.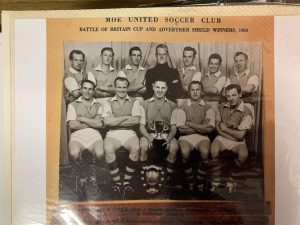 GOLDEN ERA
MOE United won the first of a quartet of LVSL titles in 1975 … and just kept winning from there.
As well as senior titles from '75-'78, the team also claimed the Battle of Britain in 1976 and '77, Charity Bowl in '77, Six-a-Side trophy in '77 and Joe Hutchinson Trophy in '78.
The Red Devils had exceptional bench strength during this time, with its reserves winning four league championships in five years between 1974 and '78.
Chris Tullett was the man to lead Moe to its first ever senior championship, before Les Stansbury took over and saw the team go back-to-back
1977 proved to be Moe United's greatest season.
The Red Devils swept the LVSL clean, winning all league trophies on offer in the seniors and reserves.
TESTING THE WATERS
HAVING blitzed the local scene, Moe United decided it was time for a new challenge.
The club's 25th year coincided with a record fourth consecutive championship in 1978,
and the following season, the Red Devils were accepted into the Victorian Provisional League.
The step up certainly proved a different dynamic, with little old Moe competing against metropolitan clubs and teams from much larger towns and with much larger budgets such as Geelong and Shepparton.
The Red Devils were not totally disgraced in their five-year stint at the higher level, winning half a dozen or so games most years.
Moe United made it as high as Division 2 in 1982, while its best finish was eighth of 12
teams in 1980.
However, with the financial pressure to stay competitive at Provincial level mounting, the Red Devils hand was eventually forced, and they returned to the LVSL in 1984.
BACK WITH A BANG
IT did not take long for Moe United to again be on the podium at LVSL level.
The Red Devils won back-to-back league championships in 1988-89 under club legend
Andrew Bednarski.
By now Moe United's women's team was also enjoying success, and won a hat-trick of
league titles from 1988 to 1990.
The 1990s saw another senior league title added in 1997, while trophies were also sprinkled across the reserves and second division side.
MODERN DAY MARVELS
AFTER a bit of a dry-spell in the 2000s, Moe United has enjoyed its second-best era in recent years.
The club welcomed new clubrooms in 2012, which saw two more senior championships
added in the four years to follow.
The Red Devils most recent championship came in 2016, in what was an emotion charged moment as Bert Lietzau presented the winning trophy.
That win marked Moe's ninth title, making the Red Devils, the LVSL's most successful
club in terms of senior championships.
Moe United looked set to make it a 10th last season before it was decided not to award a
championship amid the COVID pandemic.
The Red Devils were in a virtually unlosable position, four points clear on top of the ladder with a game in hand and five rounds to go.
THE MIRACLE OF 2013
OF the nine senior championships won by Moe, one belongs in a category all on its own.
Forget Cinderella stories, forget fairy tales, forget rags to riches, what Moe United managed to pull off in 2013 is surely the most improbable win any team in Gippsland has ever seen – in any sport for that matter.
While the full story can be saved for the 10-year reunion, in short, the Red Devils were eight points behind Churchill with three games to go, and went on to win the league by a point.
The ending was one of the most dramatic finales in LVSL history.
Moe United, needing to win the last game of the season against Traralgon City to claim the silverware, hit the lead on the stroke of full-time, sending a disbelieving public into raptures.
Even the most diehard Red Devils were ready to concede with three weeks to go, as
was coach Lee Dastey.
One can only imagine what the odds of a Moe United championship were at that stage.
The odds of something like it ever happening again are probably even higher.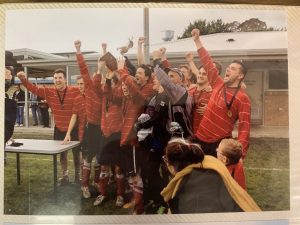 GALAXY OF STARS
MOE United has produced no shortage of great players across 70 years.
A litany of those who have donned a red shirt have gone on to have stellar careers at national or metropolitan level, with one even making it all the way to the Australian team.
Matildas goalkeeper Teagan Micah started her career at Moe United, and has played
eight internationals to date.
The local product keeps tabs with her old club, and a Teagan Micah signed Australia shirt with the words 'to Moe United, cheers' takes pride of place in the Red Devils rooms.
Other Moe players to have progressed far in their soccer include Manny and Peter Gelagotis, Adrian Savage, Ross Duckworth, Keegan Grealy, Lee Dastey, Andrew Bednarski, Jason Koppen, Sam Gatpan, Jobie Heusmann, Marc McHallam, Joel Baldwin, Joe Gauci, Les Stansbury, Bob Duljas and Werner Broad, who all played metro or National Soccer League.
Stansbury is universally regarded as the best player to ever play for Moe United.
He won seven best-and-fairests for the Red Devils and coached the club to three consecutive senior championships (1976, '77, '78). In a true show of his class, he was runner-up in the Provisional League Division 3 league best-and-fairest in 1979.
Marc McHallam has five club best and fairests to his name, while Joel Baldwin and Gordon McHallam each have three.
Current goalkeeper Peter Albanese has played the most games for the club, with a remarkable 1200 or so to his name.
Past player John Cardona has been awarded best clubperson 11 times, and is still an active member of the committee and has done an extensive amount of research detailing the club's history.
AND NOW
TAKING a moment to reflect on the club's 70-year milestone, club president Reg Poxon said the anniversary had been a great celebration of all things Moe United, more so the people rather than any trophies.
"I look at this club and the people I have met here are family. You meet people and I think that is what sport is all about," he said.
Heading into the immediate future, the club has plans to host more night games now that it has adequate lights, and connecting further with other Moe sporting organisations through initiatives such as dual membership.
With such a rich history behind them, it seems a certainty one will still hear Moe United players singing their club song to toast victory in another 70 years:
Ho! Ho! Ho! We are the Moe
It's only now and then we lose a game, we lose a game
Oh we play them all around
On our home or any ground
If they only play a fair and honest game
We are the Moe
We are the team
We can't be beaten
That's easily seen
At the end of the season
You'll know the reason
Moe are the premier team