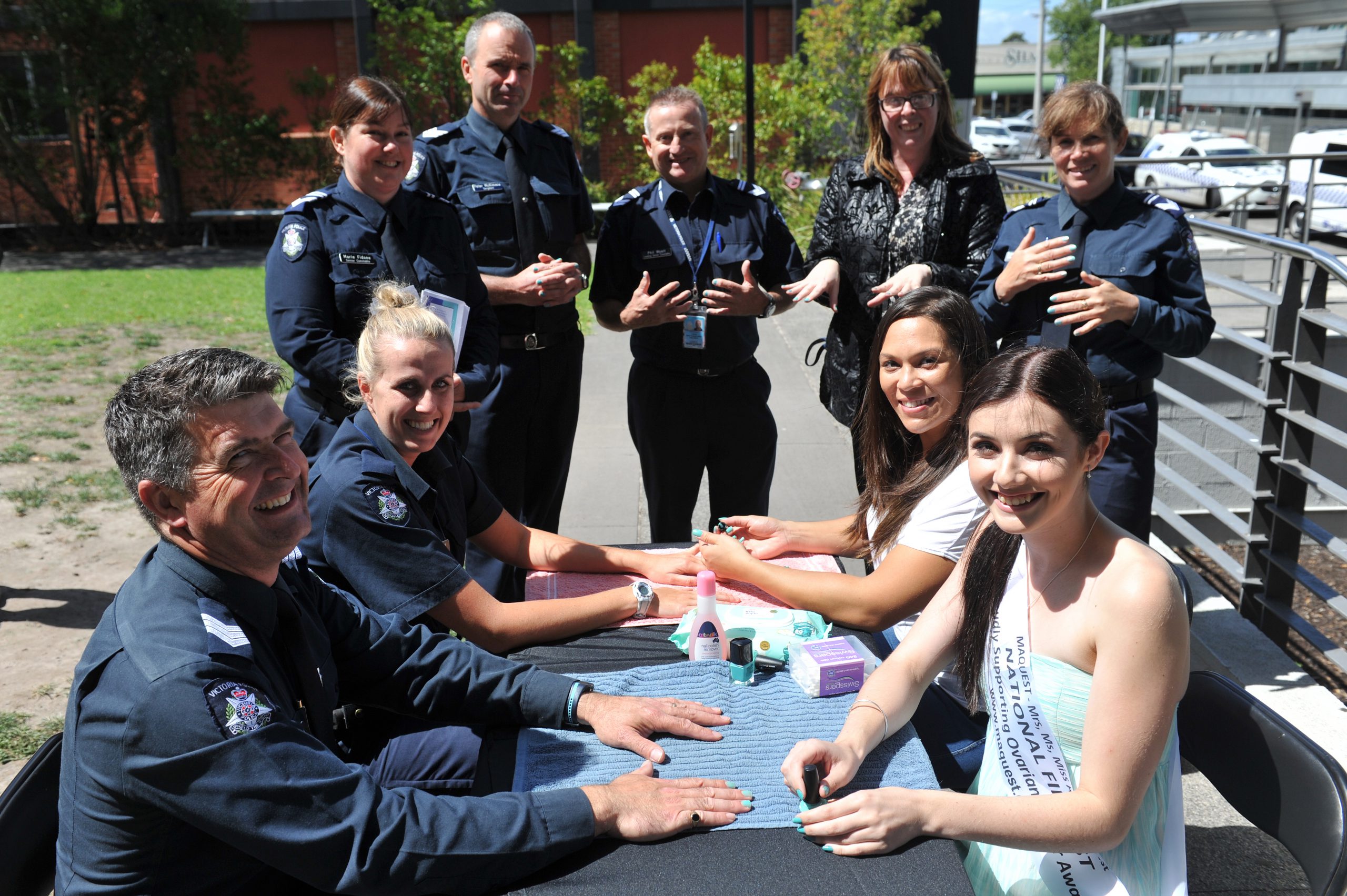 TEAL was a 'steal' for Latrobe Valley professionals last Thursday, when the legal precinct took up free manicures to raise awareness for ovarian cancer.

Miss Australia national finalist Nicole Fidone set up shop outside Latrobe Valley Court Complex in her quest to support the 'Teal Wings of Hope' campaign.
Police officers, lawyers and magistrates jumped in the queue to get their nails painted teal – the official colour used to educate society about the 'silent killer'.
Nicole, who has just completed her nursing diploma, said joining beauty pageants often meant supporting important causes.
"This particular cause is good, because there's no early detection test for ovarian cancer," Nicole said.
"It's all about trying to get the symptoms out there, so people can catch the symptoms early."
The 20 year-old is one of 10 finalists who will showcase their personality in Sydney from 8 to 13 April.
Contestants are judged via interview, charity, fundraising and personality sections, with the focus on promoting beauty through healthy lifestyles and self-development.
Ovarian cancer is the pageant's main cause, encouraging contestants to raise awareness and funds by starting a community conversation.
About 1400 Australian women are diagnosed with the disease and almost 1000 will lose their battle each year.
There is an 80 per cent chance of surviving ovarian cancer after five years of being diagnosed if the disease is detected early.
"It's always found so late, so it would be really good if word can get out there," Nicole said.
"Especially when people see the police men getting involved – people might ask, 'why are your nails teal?', and then they can talk about it."
Nicole's mother, Marie, is a Morwell prosecutor who helped her daughter rally up the legal community.
"This is just an awareness campaign, because it is often referred to as a silent killer and the more people who understand the symptoms, the better," Marie said.
Senior Sergeant Mick Lynch, of the Southeast Prosecutions Region, was one such officer who showed his support by painting his nails teal.
"Obviously we're in full support of Nicole to bring awareness of ovarian cancer to the public," Snr Sgt Lynch said.
"I think it's a great initiative and we support it totally."
Snr Sgt Lynch said the polish would stay for the rest of the day, but he would return to "standard dress codes" on Friday.
If you're seeking more information, phone Ovarian Cancer Australia on 1300 660 334, visit www.ovariancancer.net.au or consult your doctor.