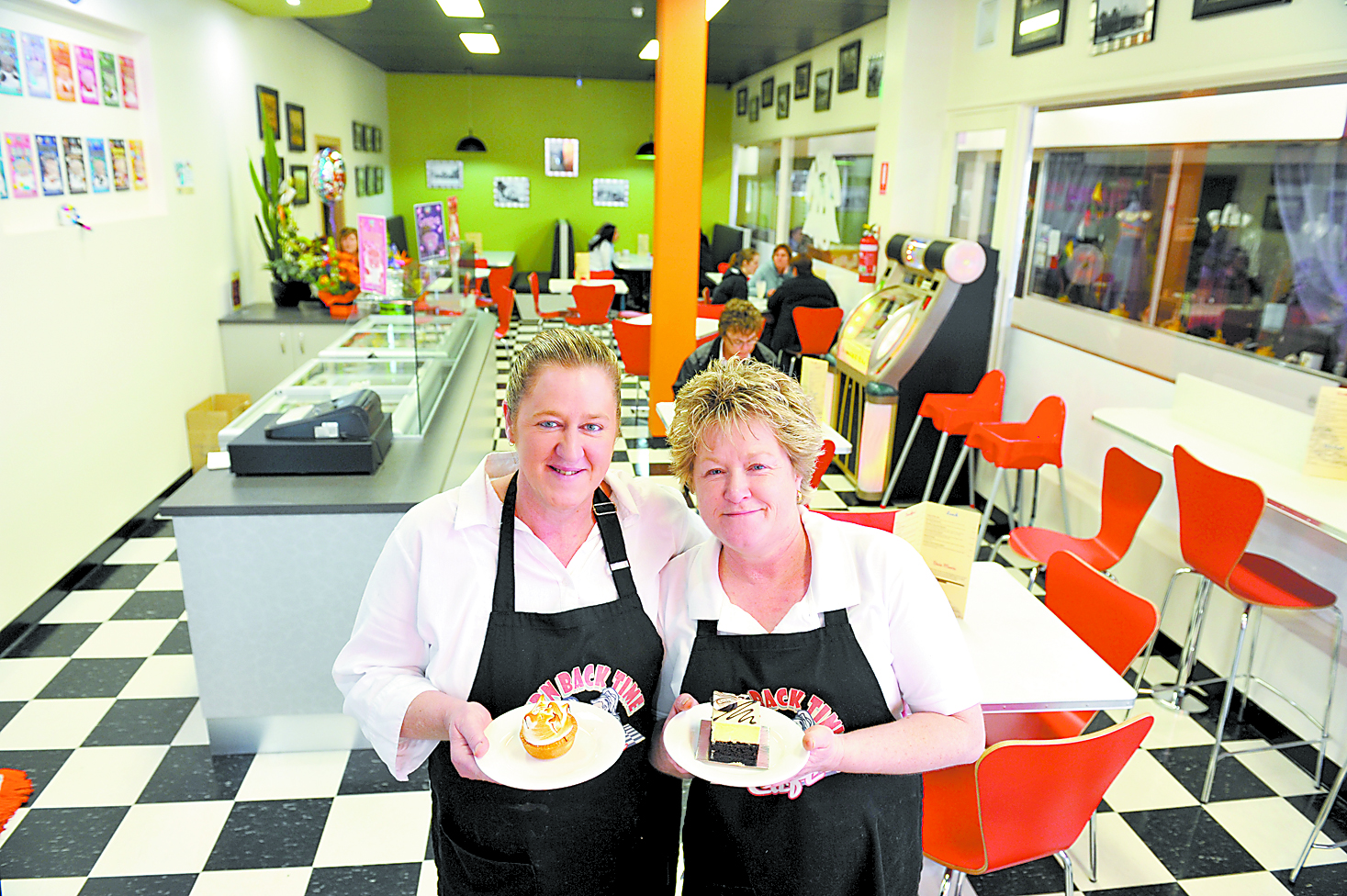 Two "born and bred Moe-ites" have looked to the past for inspiration for their new cafe.
Christine Waterhouse and Susan Broadbent, with their husbands Neil and Craig, recently opened Turn Back Time Cafe in Moe's George Street.
Mrs Waterhouse said they wanted old fashioned food and service in a fun place and "something totally different to everywhere else".
Inside the cafe looks like a 1960s diner and the walls are lined with framed photos of Moe's "yesteryears", which the families sourced from "all over" including the historical society, old business owners and Moe residents.
While customers dine they can look over past copies of the Latrobe Valley Advocate from the 1960s, a newspaper that was printed in Moe.
"We have more than 25 laminated copies for people to come in and read on request," Mrs Waterhouse said.
Mrs Broadbent said customers have read the old newspapers and found stories about themselves or their relatives.
"The other day another lady found her wedding photo in there," Mrs Broadbent said.
Mrs Broadbent and Mrs Waterhouse are passionate about Moe and said "they wanted to make the town as good as it can be".
"I'd encourage other people to just jump in and have a go. The amount of support that you get makes it all worth while," Mrs Waterhouse said.
The cafe is a family run business, which also employs nine Moe residents.
They are part of the Moe Traders Association, which they say works together to create a friendly atmosphere for not only shoppers, but also retailers.
"Me being president and Sue being secretary is another thing that inspired us to start another business," Mrs Waterhouse said.
Mrs Broadbent said the idea to open a cafe was born when they were on a "brief lunch break".
"We wanted to offer a service that was ready to go, but wholesome for the people on limited lunch breaks," Mrs Broadbent said.
The families began planning in October 2010, settling on a cafe with a "60s diner atmosphere" and the motto "happy days are back again".
They said during the 10-month building process, the two families worked tirelessly over days, nights and weekends.
"We did most of the stuff ourselves and used local trades people for stuff we couldn't do. A lot of friendships were built," Mrs Waterhouse said.
"We've got a lot of people to thank for helping us realise our dream."
The cafe is open seven days a week and since its opening has been "crazy busy" and the families have been "run off our feet".
"It's a dream we had and it's now been fulfilled. We're tired, but happy," Mrs Waterhouse said.