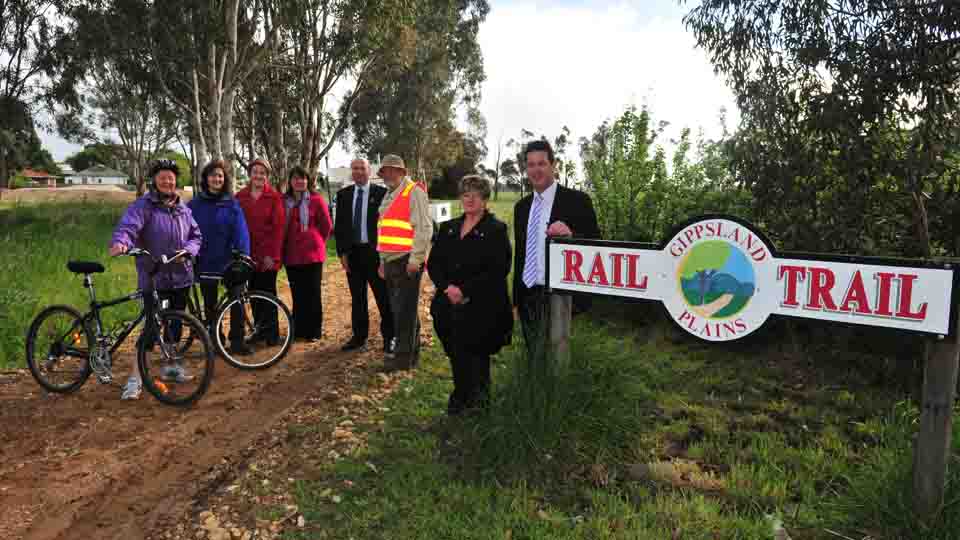 WORK is underway on the first stage of the Gippsland Plains Rail Trail upgrade, after the State Government announced funding for the project yesterday.
The government announced $200,000 for the project, which will complete 14 kilometres of a shared-use section of the trail from Glengarry to Cowwarr.
Gippsland Plains Rail Trail committee chair Helen Hoppner said prior to the 2010 commitment, the only way to fund the upgrade was through disaster relief packages, which she said was "no way to fund a project".
"We're very happy about the funding and I'm sure the communities surrounding the trail will be very happy about that," Ms Hoppner said. She said the existing track was usable, but "not of a good grade" and this upgrade would "iron out all the lumps and bumps".
"People will be able to ride their bikes or walk their prams and walk off the track with relative safety and comfort," she said.
She said the funding would also go to resurfacing the track and constructing a crossing over Eagle Hawk Creek. Work on the Glengarry to Cowwarr section is expected to be completed by April, but Ms Hoppner hoped the project would be "seriously on track" by the end of November.
"We're hoping the whole process will move along quickly," she said.
Ms Hoppner said the group was already looking toward the next stage which would be from Glengarry to Traralgon. She said the committee was also looking to establish a Friends of the Rail Trail group.
State Member for Morwell Russell Northe said the 67-kilometre GPRT stretches from Traralgon to Stratford. The funding was part of the $800,000 2010 election commitment to the GPRT.