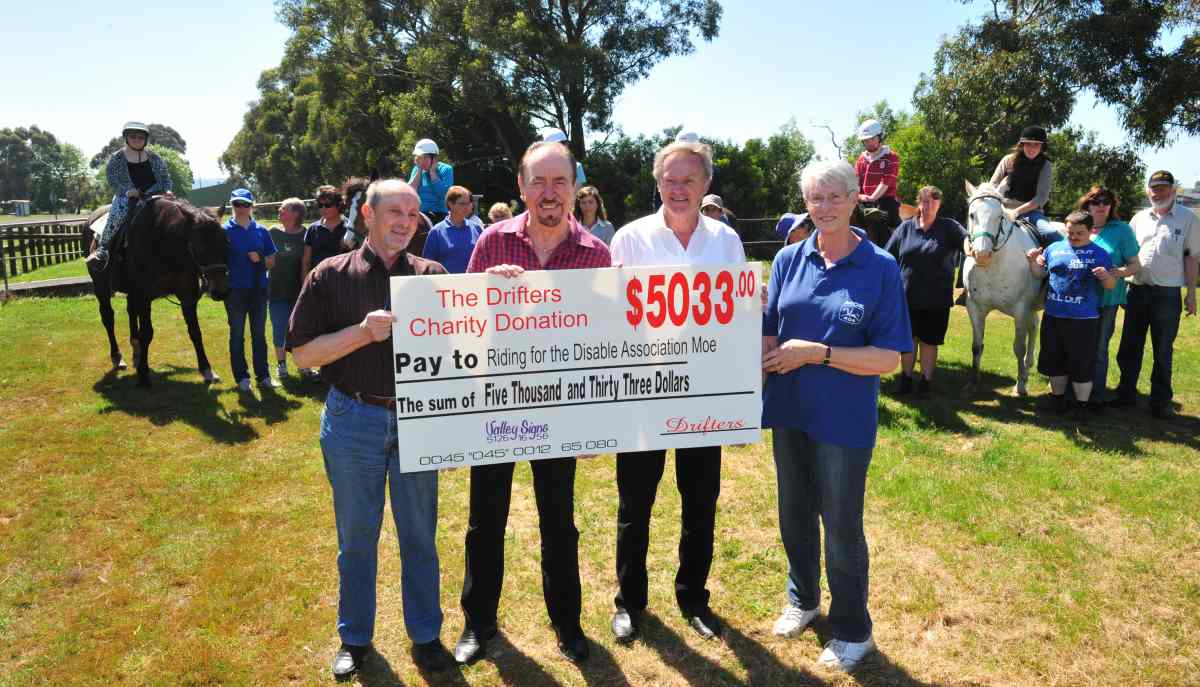 Latrobe Valley band The Drifters raised more than $5000 for Moe Riding for the Disabled Association with its annual concert last month.
Karl Loehr, Brian Less and Phil Celima handed over the cheque of $5033 to the charity at their stables.
The fundraiser was a success with about 250 people rock and roll dancing to the band's 1960s tunes and supporting acts.
Mr Loehr said while numbers were down on previous years, they had a lot of raffles going which boosted the money raised.
"A lot of local businesses came on board and donated a lot of things to us. Wights Toyota donated two AFL football guernseys signed by players which were auctioned then negotiated with a buyer for $500 each," Mr Loehr said.
Moe Riding for the Disabled Association secretary Jenny McNab said she "had a ball" on the night and it was a "fun way of raising money".
"We are very grateful to The Drifters, who are so very generous with their time and effort to groups like ours," Ms McNab said.
"We think we'll buy some new saddles. Some of the horses need specially fitted saddles and with this money we should be able to get them fitted.
"The best thing (about the money) is it keeps our fees down. We don't have to charge our riders more than a nominal fee."
She said the group had two special carriages which could accommodate people in wheelchairs and the money may also go to repairing one of the carriages.
The charity's Moe branch opened in 1985 and has 15 riders and three carriage driving members.
Mr Loehr said the band once again sponsored the association to raise much-needed funds and awareness.
"There seems to be not that many people who know of their existence or what they do. They do such good work helping people with disabilities have a better kind of life," he said.
The band said they had plans to hold another event next year on 12 October and will coordinate with rock and roll groups so that they can get back to the attendance of previous years.
"We go by the people coming out of the hall saying 'yes, we want another one next year'," Mr Loehr said.