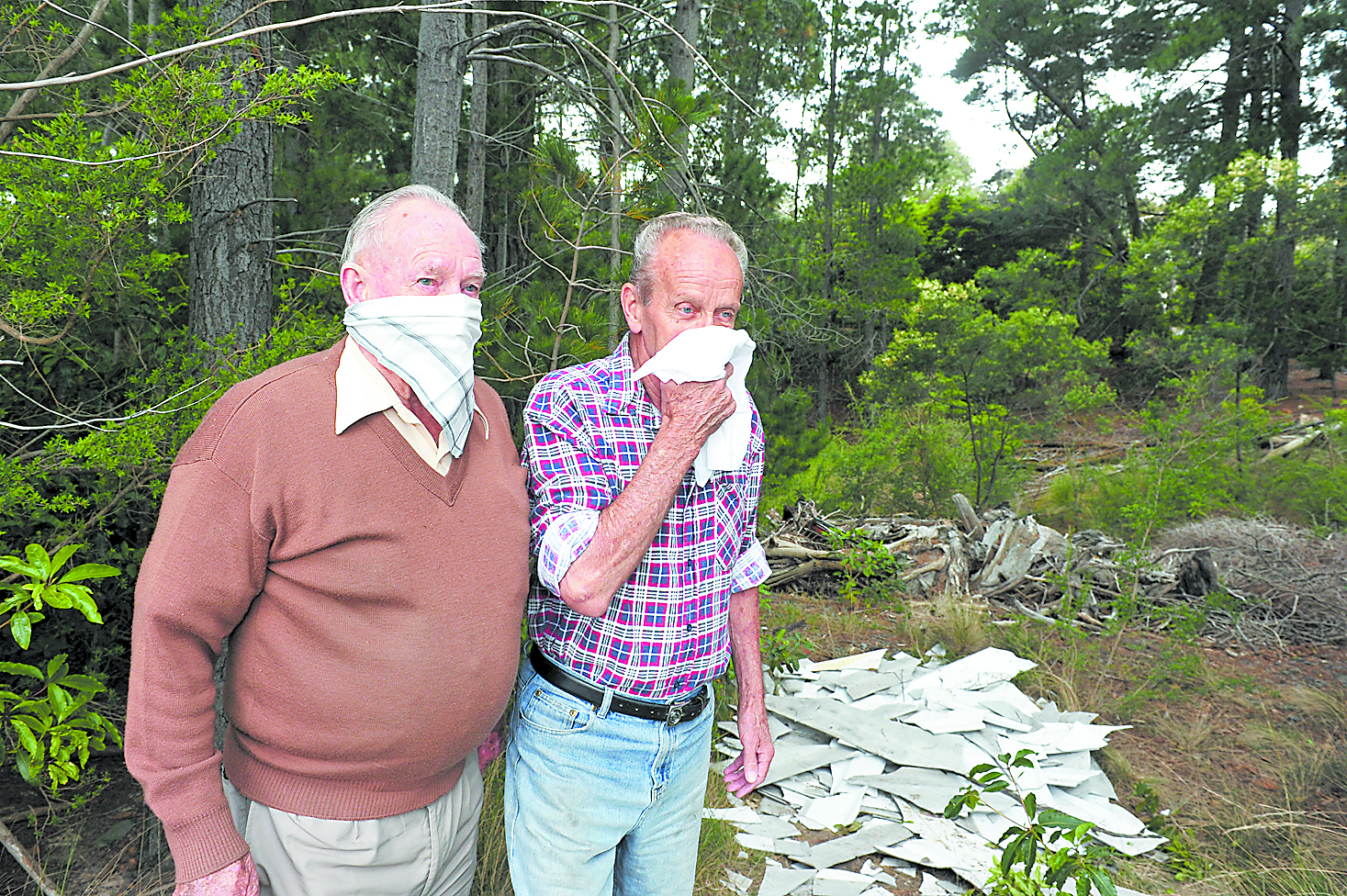 A SUSPECTED illegal asbestos dumping less than 200 metres from the Tyers residential area has reignited calls for Latrobe City Council to drop tip charges for disposal of the dangerous material.
A pile of broken sheets, which is believed to be asbestos fibre board, was discovered by a local resident over the weekend at the former Tyers water supply reservoir, an area used recreationally by bush walkers and mountain bikers.
Resident and former Tyers Community Association president Mike Forwood spotted the dump site from his ultra-light plane, when flying overhead on the weekend.
"I just happened to be flying over this location… I could see clear wheel tracks where they had reversed in and dumped it, I pretty much could tell straight away that it was asbestos," Mr Forwood said.
In a bizarre coincidence, the land is owned by Slater and Gordon asbestos lawyer Stephen Plunkett, who has lobbied local governments to drop their tip charges for asbestos disposal, which he said was discouraging individuals from discarding the material safely.
"What this event does highlight is the need for councils… to absorb the cost of people delivering dangerous materials to tip sites so they can be disposed of properly, but right now, the higher tip fees are clearly discouraging people," Mr Plunkett said.
Current tip charges at Latrobe City's Hyland Highway transfer station put the cost of the domestic disposal of asbestos at $30 per cubic metre.
Mr Plunkett, who as the property owner will now be required to have the asbestos professionally removed, a job he said could cost in the thousands.
"Latrobe City really should be encouraging people to dispose of asbestos safely, I would argue they should be paying people to deliver it to their landfill so its not ending up out in places like this," Mr Plunkett said.
Tyers resident Rob Fulton, 90, has lived in the area his entire life, and described the dumping of the asbestos as "vandalistic".
"The community doesn't appreciate this at all… the closest house would be 150 metres away, and is right next to a land subdivision that will be developed," Mr Fulton said.
Gippsland Asbestos Related Disease Support's Vicky Hamilton said the incident showed the dangers of asbestos were still not getting through to the wider community.
"There is clearly still a lot of complacency about asbestos in the community, and people think a small amount of exposure won't do you any harm: you need to be very careful and you need to protect yourself from it," Ms Hamilton said.
Latrobe City Council did not respond to questions by print deadline.