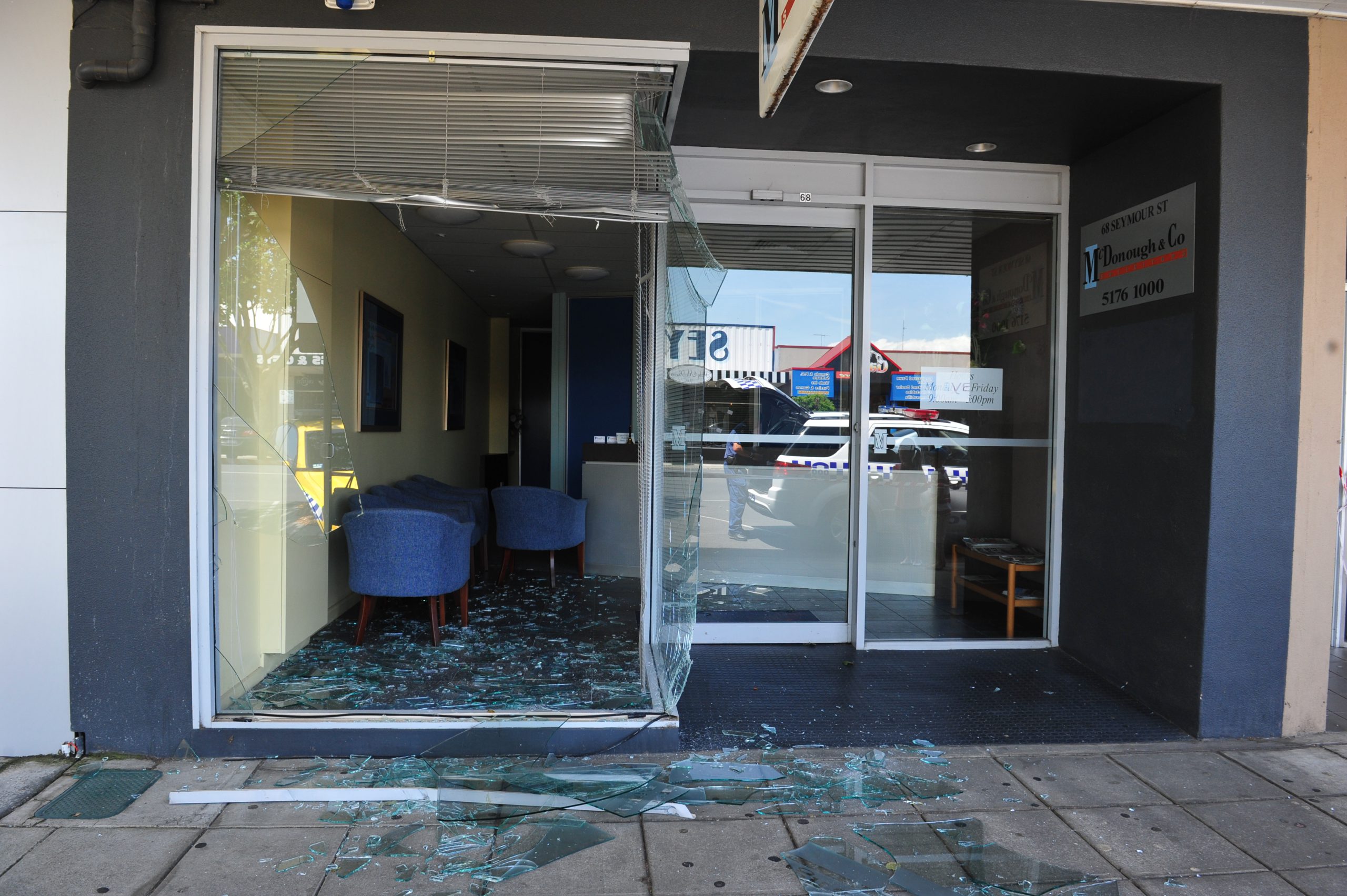 VICTORIA Police is seeking information following an incident in Traralgon at the weekend where a woman who drove her vehicle into a shop window in Seymour Street fled the scene.
According to police investigators, on Sunday a woman, driving a blue 1999 Mitsubishi Magna, drove into the shop window at 68 Seymour Street, at 12.45pm, causing significant damage.
The woman reversed out, and after a male passenger removed debris and glass from the car, they drove away.
Nobody was believed to have been injured in the incident, but police have requested public assistance to identify the driver and the passenger of the car.
Anyone with information is urged to phone Latrobe Highway Patrol on
5127 2222 or Crime Stoppers on 1800 333 000.
Missing man found
A TRARALGON man who had not contacted his family for a week was located by police about 8pm on Monday night in Traralgon.
Russell Roberts, aged 49 years, reportedly last spoke to his family on 21 November.
His family reported him missing as he has a medical condition which requires constant monitoring.
Charged for counterfeit
A 17 year-old Toongabbie boy was arrested and charged for counterfeit documents and obtaining property by deception on Monday.
He was bailed to appear before the Latrobe Valley Children's Court at a later date. According to police, the use of counterfeit $50 notes had been reported in Traralgon, Sale and surrounding areas.
Police urge anybody who may have obtained the notes to report it to their local police stations.
Smash-grabs in Traralgon
TRARALGON was the target of a series of burglaries on Monday night, when at least three businesses were broken into and had cash stolen.
Police said between 10pm and 11pm, a bakery in Franklin Street as well as Three Little Birds Cafe and Latrobe Flowers in Hotham Street had glass at the front of their stores smashed with a rock and an unspecified quantity of cash stolen.
Unknown offenders also attempted to break into Karl's Mega Sports but were unsuccessful.
Investigators are searching for a balding man described as being between 30 to 40 years old who may assist in the investigation.
Suspect evades cops
MOE police are searching for a man of medium height and a medium build wearing a green hoodie who may assist in an investigation.
According to police, an unknown offender threw a rock through the front door of Lifeline in Fowler Street, Moe, about 1.30am on Tuesday morning.
Observing the offender, police gave chase but the man evaded them.
Brawl in Morwell
A BRAWL between seven residents of a boarding house in Morwell on Saturday afternoon involving pieces of wood and a knife resulted in the arrest of two people.
According to police, two men aged 28 and 31 years were arrested and charged with various offences; the older man also faced various drug offences.
A number of the people involved in the brawl were taken to Latrobe Regional Hospital, including a man with a broken arm.
The two men were remanded in custody and will be facing court.