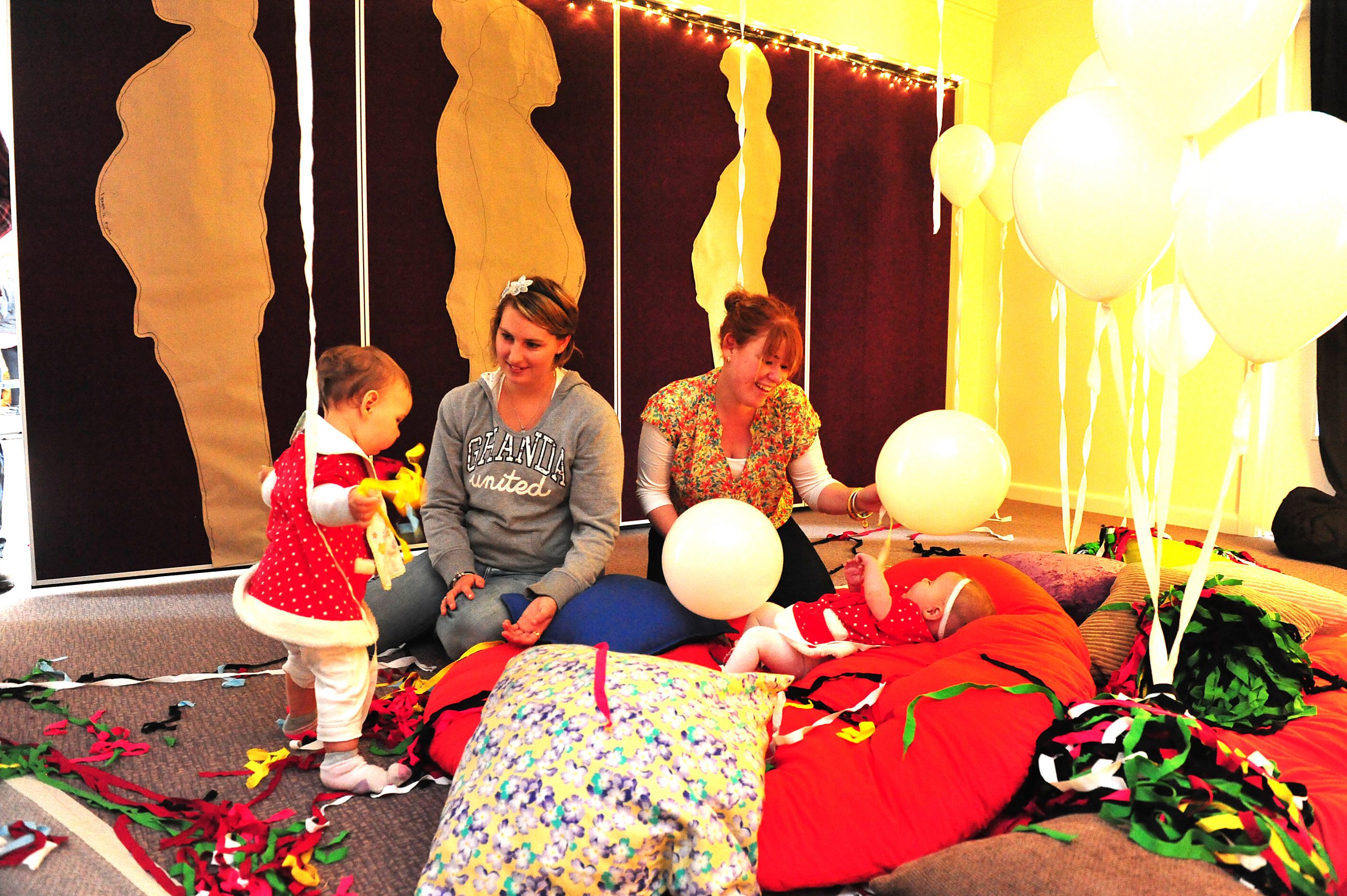 YOUNG local mothers who joined an artistic workshop from May this year may have been expecting a child, but they have also found the unexpected benefits of friendships and support.
At the community celebrations for Melbourne-based Polyglot Theatre's Latrobe Valley Expecting Something workshops, participants Ebony Van Heurck and Jade Hanning said they enjoyed the weekly meetings during and beyond their pregnancies.
"I have friends and family who supported me, but here you get the extra support, and they don't judge you," Ms Hanning, mother of five-month old Logan, said.
"I love the activities; recently we did quilting and then made (a cast) of little footprints in plaster, which was fun."
Ms Hanning, a Traralgon resident, said she found out about the group via social networking website Facebook and urged other pregnant or young mums under the age of 25 to join.
"I'd never have met (Ebony) or the others if I hadn't joined; our sons are just about a week apart, so we reckon they will grow up as friends, too."
Morwell resident and mother of Cooper, Ebony, said while her older sister was pregnant at the same time as her, she enjoyed the support from the other mothers in the group.
"My midwife at Latrobe Regional Hospital recommended the group to me," the 17 year-old said.
Polyglot Theatre project director Jessica Wilson said the blossoming friendships were a direct benefit of the workshop, as was the bond formed between mother and child.
"The best part is seeing the women bond and connect more with their babies, and think about parenting," Ms Wilson said.
"The program has been a success because we are aware of the immense challenges of finding and convincing pregnant women to join (the workshops); it's easier when people have already had children."
The program aims to build skills, combat feelings of isolation and celebrate pregnancies of young Latrobe Valley mothers under the age of 25 years.
"Next year, we will be expanding our 'Invisible Project', which we give young pregnant women a gift such as a mobile pack they can build for their babies, through midwives, and have them send us photos of their work," she said.
Ms Wilson said the project helped create ways for women who found it difficult to attend the sessions be involved.
"There will be another seven months of workshops (in 2013) with a public artwork created at the end," Ms Wilson said. Expecting Something workshops will resume in February.
This year, the workshops were held at the Traralgon East Community Centre from 10am on Thursdays, and at St Lukes Uniting Church in Morwell from 2pm.
Transport for the young mothers was provided across the Latrobe Valley. To join Expecting Something, visit www.facebook.com/ExpectingSomething or phone facilitator and project coordinator Lis Blake on 0451 081 705.